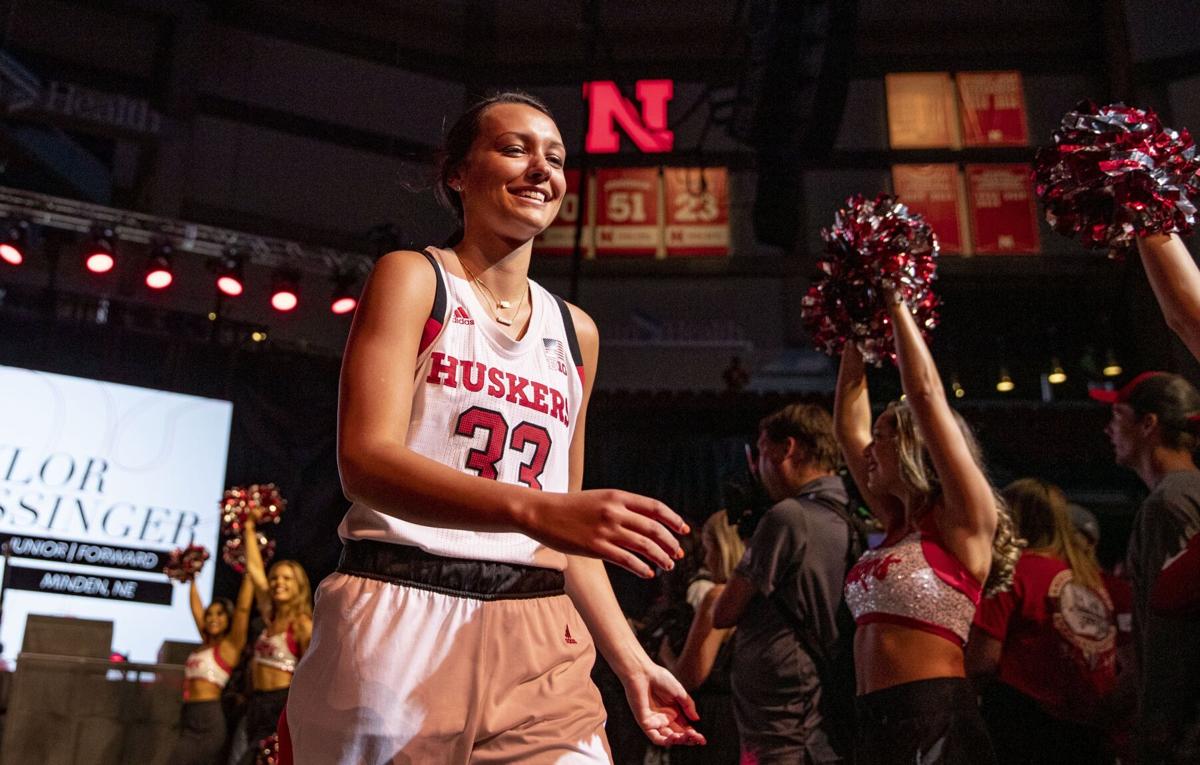 LINCOLN — Talk about going out with a bang.
In a game that would eventually be Taylor Kissinger's last as a Husker, she led Nebraska to an 83-79 victory over Duke on Dec. 4, 2019. She had a team-high 19 points and shot 6 of 9 from behind the arc. She tied her own school record of six 3-pointers in a game.
One month later, on Jan. 3, 2020, she would undergo a season-ending hip surgery that eventually factored into her decision to retire before her senior season.
Kissinger is also Nebraska's all-time leader in 3-point percentage in a season (.456 in 2018-19) and a career (.407). She also was the most accurate 3-point shooter in the Big Ten in 2018-19.
As much as she loved basketball and as much as it seemingly loved her, it was time to move on to a new phase of the game.
"My body was telling me it's time to move on to different things even though that's not what my heart wanted," Kissinger said.
She is now a student assistant for the Huskers and has been able to learn more about the duties of a director of operations, her future career field.
Nebraska women's basketball director of operations Amanda Hart has taken Kissinger under her wing and provided her with a unique internship-like experience. The team jokingly calls her the "Assistant Director of Operations," Kissinger said.
"I was given the opportunity to still be around the team and be with some of my best friends," she said. "I am grateful for that opportunity that I was able to learn from a great coaching staff and still be a part of the program as much as I can be."
Kissinger was a part of coach Amy Williams' first recruiting class at NU. The five-star recruit grew up in Minden, Nebraska, population 2,800.
"Growing up in Nebraska, you always dreamed about wearing that scarlet and cream, and I was able to fulfill my dreams as a little girl for at least a couple of years," she said. "Even though it was one of the hardest decisions, I'm glad that I made that decision to come here, and it was even harder to retire."
The 6-foot-1 former guard/forward said she was able to help build the foundation and culture that Williams strived for in her first season and has seen it through.
"I guess you can even see that now — with the team that we have and how close we are together — that we're getting back to that culture, the Nebraska way," Kissinger said.
Kissinger said that when she told her teammates her decision, they still wanted her to be involved in team activities. She said that was a pleasant surprise because Nebraska has a lot of transfers this season and she had only known most of them for a few months.
Before telling the team, she had a one-on-one conversation with her best friend, point guard Sam Haiby.
"She's not a super emotional girl; she's not going cry for you, but you could just tell that she was really bummed, just as much as I was," Kissinger said.
Kissinger's retirement greatly impacted her teammates on the court, too.
"Taylor made life easier, that's for sure," Haiby said. "Just always having that option to drive and kick and it going out to a shooter that shot the ball as well as Taylor did during her career here."
Haiby said she misses having Kissinger on the court but said she has enjoyed watching her journey from player to student assistant.
"Obviously, I miss suiting up with her every day," she said. "She was a great asset to our team. I loved playing with her every second that I had the chance to, but she's played a great role on our team and has been awesome off the court, just as much as she was on the court."
Williams and her coaching staff are also key members of Kissinger's support system.
"It just makes you feel good about yourself that even though you're on the sideline, coach Williams still cares about you," she said. "That's one of the greatest assets of hers, is she cares more about what you do after basketball and off the court than what you do on the court for her. You don't find that a lot."
Off the court, Williams and her staff are providing Kissinger with an opportunity to learn more about the inner workings of basketball operations.
Kissinger said she hopes to be able to use the connections she has made with Nebraska's staff and the relationships she created with coaches while she was being recruited to find a job after she graduates in May.
"Maybe I wasn't supposed to play for them, but maybe I'm supposed to be there, like, work for them," she said. "God works in mysterious ways."
Through parting with her basketball shoes and subsequently part of her identity, Kissinger said she has learned that she is much stronger than she thought she was.
As for now, she is just taking in all the emotions of her approaching senior day and reflecting on her journey at Nebraska.
"I never thought it would be this way, and I don't think really anyone thought this would be my outcome for my college career, but I'm just following what my gut tells me to do, what my heart tells me to do," she said.
"I think I'm exactly where I'm supposed to be right now."