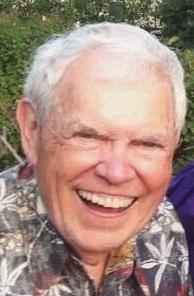 Duffy, Robert Byrne "Bob" Age 88 - July 27, 2020 Bloomington, MN. Passed away peacefully at home on July 27, 2020. He cherished his family and enjoyed every minute with them, cracking a smile, even at the end, when he would hear his grandchildren say, "We love you, Bobbo." He was fortunate to have very close, loving friends with whom he looked forward to an occasional happy hour. Preceded in death by his parents, William and Beatrice; sister, Bee; and brother, Tom. Survived by his wife of 40 years, Linda; children, Courtney (Dan) Shaughnessy, and Devin (Julia); grandchildren, Quinn and Jack Byrne Duffy, and Finley Shaughnessy; brother, Bill (Kathryn); sister-in-law, Jan; a niece and many nephews; and dog, Cormac. Ordained a Catholic priest in 1957, he served as Pastor and educator at St. Patrick's Catholic Church in O'Neill, Associate Pastor at St. Mary Magdalene Church in Omaha, and Principal at Paul VI High School in Omaha. Bob left a lasting impression with his students, many of whom continued to keep in contact with him over the years. In 1979, he resigned from active ministry and moved to Minneapolis and began a new chapter of his life as husband, father, and grandfather. In Minneapolis, Bob held management roles at William Mitchell College of Law and Boulay PLLP where he continued his career as a compassionate leader. Diagnosed with Parkinson's Disease in 2006, Bob fought the disease with grace and tenacity, never complaining about any of its complications. Bob worked tirelessly with the great staff at the Struthers Parkinson's Center to mitigate his symptoms and maximize his quality of life. In his great life, Bob had no enemies, only friends. He truly accepted everyone wherever they were on their journey. He is in a better place, watching over his family, friends, and those who provided him loving care. In his forever Home, Bob is assuredly enjoying a glass of bourbon and a front row seat at a Twins game. A Small Family Service will be held on Saturday, August 22nd, at 11am and will be live streamed at www.bobduffymemorial.com. Please contact the family for more details. In lieu of flowers, memorial donations may be made in Bob's name to his favorite charities, Arm in Arm in Africa, P.O. Box 3425, Minneapolis, MN 55403 (online at aiaia.org); or the St. Joan of Arc Outreach Fund, 4537 Third Avenue South, Minneapolis, MN 55419.
Obituaries Newsletter
Sign up to get the most recent local obituaries delivered to your inbox.