As complex, self-contained systems of multiple energy fields unified into one being, how do we each heal?
In the physical body, healing is evident in new relationships of cells and tissues as wounds close, scabs heal and cancers disappear. Emotional healing shifts beliefs out of past resentment toward forgiveness, literally transcending the old self through expanded consciousness; unhooking neuropathways of fear and pain while bringing compassionate relief.
But how do we transcend the fear and trauma of ancestral encoding of DNA, an ancient survival mechanism meant to help us respond to a similar traumatic event in the future?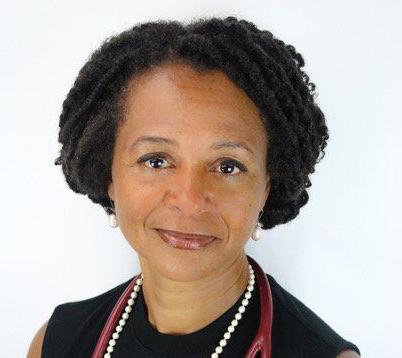 Recently I was forced to call Omaha police to extinguish the alcohol-fueled meltdown from my next-door neighbor. I was fearful my decision could bring greater disaster. The 1969 killing of Vivian Strong followed by the rage and violence that destroyed our beloved North Omaha community has psychically encoded fear of white Omaha police into my DNA.
Mapping Police Violence documents show that most police killings occur in suspected non-violent offenses or cases where no crime was reported. Since the killing of George Floyd, an average of three people a day have perished from police actions. Like the unconscious programming telling us to run from a saber-toothed cat, my Black body told me to run behind the safety of my glass storm door before I would speak to the white Omaha police officer who responded to my call.
From the first moment of contact with quiet strength and a gentle, compassionate disposition, Officer Caleb Hanish became my environment of care and instrument of healing.
"Just being human, you deserve to live in peace," he interrupted while I was tearfully justifying the value of my Black existence; reciting a long list of professional accomplishments, unconsciously hoping he would deem me worthy of police protection against White male rage. Officer Hanish used a preternatural emotional intelligence to wrap me with compassion as he gently reminded me being human is enough to live in peace. In that moment I saw his humanity and I knew he saw me as human as well.
Nurse theorist Jean Watson's Theory of Caring defines this as a transpersonal caring moment. Transpersonal caring seeks to consciously embrace the soul of the other though the authentic process of caring in the moment. Just like that, 50 years of conditioned fear, anger and resentment toward OPD was shifted in the simple act of sincerely affirming my humanity.
I was in the presence of a soul genuinely concerned for my well-being. The meaning of Black Lives Matter lives not in the display of virtue through posters, but in the soul of White people who shelter and uplift our humanity.
Thanks to Officer Hanish, my neighbor is quietly receiving the alcohol treatment he needs, eliminating the steady amplification of alcohol-fueled rage and despair in our Dundee neighborhood. I also love waving at Officer Hanish as he rolls through the neighborhood, an act of good old-fashioned community policing, ensuring things remain peaceful.
I believe we can come closer to the Rev. Martin Luther King Jr.'s idea of the Beloved Community that I've written about after sitting down with Officer Hanish. I have to thank the Omaha Police chief and public relations officer for their help by allowing me to spend time with Officer Hanish to write this article.
The major takeaways from my experience at this anniversary of the death of George Floyd is first and foremost, there is massive healing power available for officers trained in mental health crisis intervention. Officer Hanish participated in a 40-hour federally funded program through Heartland Crisis Intervention Team and Lutheran Family Services, which can accommodate only 40 police officers each year. While OPD has not made the training mandatory, the department pays for the 40-hour training and encourages participation.
Unfortunately, at the current rate of training it will take many years to get the entire department trained. Instead of relying on federal funds and outside agencies, if OPD diverted money for mandatory training for every police officer, just imagine the healing that would emerge. Additionally, that old-fashioned community policing, with officers actually building trust with residents, humanizes everyone in the experience.
Healing is emergence of order from disorder; a process of birthing the "right relationship" in any system. Coming into right relationship decreases chaos and increases coherence subsequently, maximizing energy. Therefore, right relationship is emergence of order out of disorder, a self-organized unfolding toward greater diversity, complexity, creativity and love. Indeed, healing at any level creates an entirely new state of being. Together, Officer Hanish and I have reached a new state of being. I now have faith in the healing power of police presence and transcendental caring. And at the very least, I have a new friend.
There is massive healing power available for officers trained in mental health crisis intervention.
Courtney Allen-Gentry, an RN with a master's in nursing, is a board-certified advanced holistic nurse, nurse educator and coach specializing in the integration of science, spirit and plant medicine into public health.