Spring is here! In reverence, appreciation, wisdom and wonder, it's time to throw off the shackles of snowflakes and peer into a burgeoning, bright, new reality. No doubt, you've felt the call of renewed life forces, ready to spring into action as we assert our unique contributions to this thing we call life.
After passage of the American Recovery Plan, I'm feeling more hopeful. Pandemic help, especially for hustlers, gig workers, urban farmers and sole proprietors like myself, is here with loans under the renewed Paycheck Protection Program.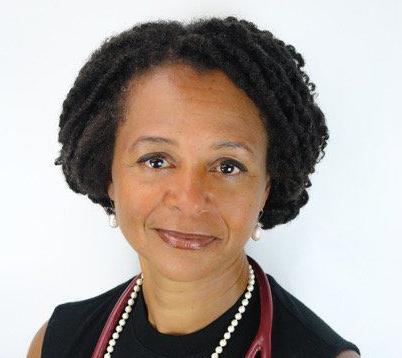 Banker Mary Laughlin at my neighborhood Dundee Bank has helped me navigate this new PPP loan, making this Black life feel like I matter.
According to WhiteHouse.gov, 70% of sole proprietors without employees are woman of color: Asian, LatinX, First Nation and Black. We woman of color hold up half the sky while quilting together income as solopreneurs. Many of us live without life partners or families to lean on and are frequently overlooked by banks.
In 2011, the onset of sudden left eye blindness and loss of leg sensation demanded I repackage my education, experience and skills into a method of paying my mortgage while healing from severe autoimmune disease and multiple sclerosis; without a life partner or family to lean on for support.
Although it has been a hard-earned blessing, long gone now is the burnout, stress, PTSD and toxic exposures nurses, physicians, caregivers and other essential workers have experienced this past year with COVID-19. Today, just knowing optimism and faith is the best thing for my health, even in the face of uncertainty, I keep getting up every day, living like each day is my last.
This past year has taught us about the proverbial "darkening of the light" and subsequent grief of more than 500,000 dead, plus the six Asian American women in Atlanta, the 10 shoppers in Colorado and others who lost their lives to rage and gun violence. May all families suffering loss have peace, love and compassion in grief.
It's said that "grief is like a brick you learn to carry." The loss of a loved one is exactly like carrying around a brick. It gets easier to bear the burden with time, but you never get to put that brick down. Ever. Which leads me to think, "What if I become a brick?"
Waking up one day recently I heard, "you're going to die tomorrow." My first thoughts were, "I better make sure I wear nice pajamas to bed since my roommate will find me." Then what? What will he need to do?
As part of my spring cleaning and future readiness, I am creating my own "in case of death" instructions for my housemate and family. I encourage all to do the same, as an act of love for anyone we may leave behind. Involve your family and friends in conversations about all the beautiful, environmentally friendly, cost-effective afterlife options available to us.
Death planning seems premature and morbid, especially when we are just trying to just get through the socially distant day. Unfortunately, sudden funeral costs and the responsibility of respectfully handling our dead bodies is a huge burden. I clearly remember how difficult making funeral arrangements were after the murder of my own brother.
Nineteen years after cremation, and I am still researching afterlife options while sharing a bedroom office with my brother Stacy's ashes.
Ashes from cremation are apparently toxic to plant life from excessively high sodium and PH levels. However mixing the beloved ashes of family, friends or pets with a soil mix from letyourlovegrow.com can turn the ashes into soil healthy enough for a tree or potted plant to thrive.
However, since cremation is a leading contributor to urban pollution, I'd prefer to be buried and let the worms take me back to Nebraska earth. This means no embalming and a pine casket without glue.
According to Jimmy Thomas of Thomas Funeral Home, in Nebraska, a funeral director must be involved in the disposition of a body. If, like me, you want to be buried without embalming, then you need to be buried before a maximum refrigeration time of 96 hours. Making arrangements with a funeral director in advance can save much time, sorrow and cash.
Mr. Thomas estimates that the cost of simply taking custody of a dead body for refrigeration may be under $500 if you supply the casket and forgo mortuary services, pickup and delivery to the cemetery.
A DIY funeral can really save costs, but it is definitely something that must be planned.
A simple, typed and notarized note with clear afterlife instructions is all you need to put these plans in writing. The Five Wishes, advanced directives is wonderful option for helping plan for illness, incapacitation and death with more details.
Happy Solstice. Get to planting the seeds of your dreams, because life is fragile. Happy Spring.
Courtney Allen-Gentry, an RN with a master's in nursing, is a board-certified advanced holistic nurse, nurse educator and coach specializing in the integration of science, spirit and plant medicine into public health.