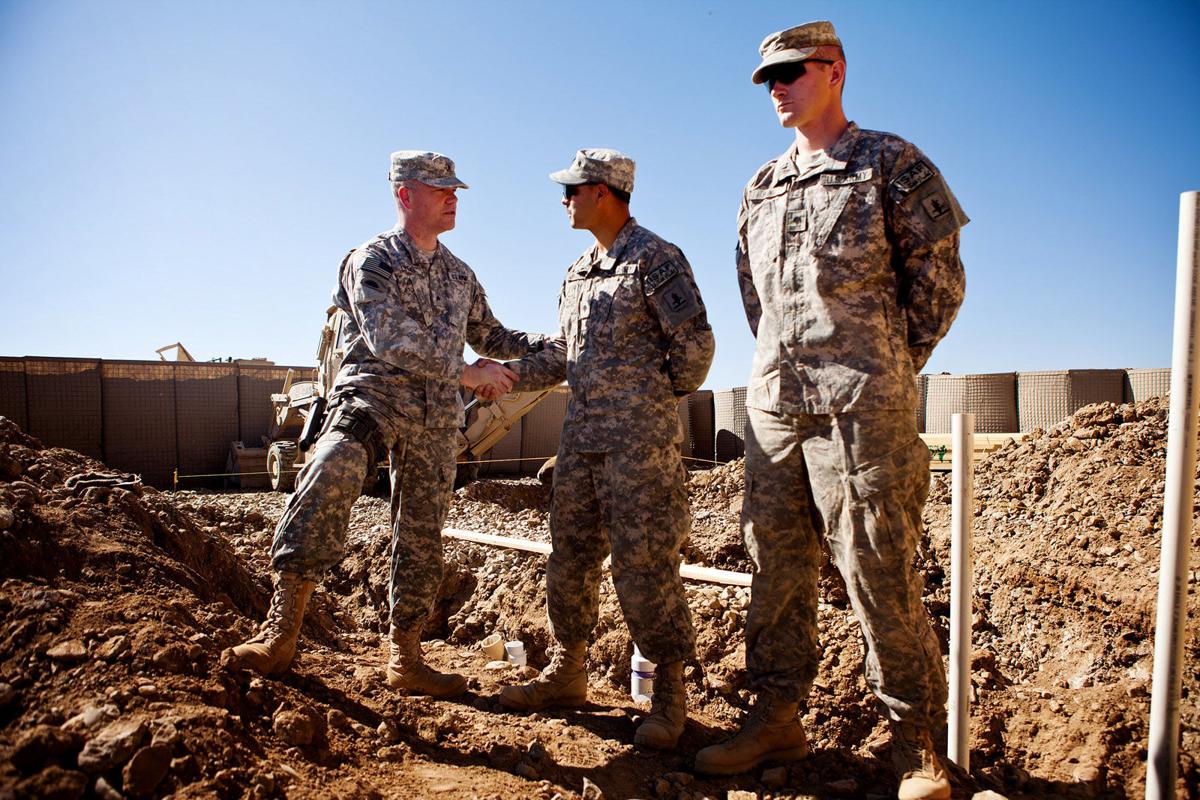 President Biden is carrying out former President Trump's strategy of retreat in Afghanistan, and it will be a disaster. The last two administrations have abandoned our allies in the region, and pursued weak policies that have led to more chaos and death — not a safer America.
Prior to our arrival in the country in 2001, the Taliban let terror groups like al-Qaida use it as a staging ground for attacks on the West — including the 9/11 attacks. With a relatively light footprint, American troops and our Afghan partners have kept Islamist radicals from completely retaking Afghanistan.
Politicians and pundits who support retreat often argue against so-called "forever wars," as if our only choices are a massive occupation or an immediate withdrawal. This dishonesty ignores the current reality on the ground. Politicians don't tell this truth: America doesn't have a nation-building occupation force in Afghanistan. A relatively small group of troops is supporting our Afghan allies. Americans aren't building empires or fighting unwinnable battles.
Our troops didn't lose this war. America's young men and women served with honor. They were needed and they are still needed. Politicians from both parties are choosing defeat. They naively hope that diplomacy without muscle will stop a Taliban takeover. They cynically state that Afghans alone must determine their own future, as if Afghan women really want a return to the Taliban's theocratic oppression.
The Taliban isn't interested in negotiations or a political solution, just terror. They've already capitalized on our retreat, and a majority of Afghanistan territory is now outside the control of Kabul. They will most likely continue to build on our defeat, reverse 20 years of serious progress for Afghans, and could land crushing blows on America and our allies.
The most plausible outcome of American retreat is that our partners will be slaughtered. As good people in Afghanistan lose our support, radical Islamists are planning to murder them all, and fast. Many of our Afghan friends face two bad choices: surrender or flee.
It's easy to see how American retreat could give a major propaganda coup to the jihadists. The Taliban will likely market themselves as a "superpower-slayer." First, they kicked the Soviets out of the country in the 1980s. And now, decades after Afghanistan-based terrorists struck New York City and the Pentagon on 9/11, the Taliban can declare victory over the sustained might of the U.S. military.
The Taliban will exploit every image of American retreat they can. Here's one likely way the Taliban propaganda campaign could go down: If the government completely collapses, we might not be able to defend our embassy. If we have to evacuate, we'd give the Taliban and jihadists worldwide images like the evacuation of Saigon that cemented communist control of Vietnam.
Jihadists will flock to the "hallowed ground" where the Taliban just defeated the "infidels" and Afghanistan will become a sanctuary for international terrorist groups all over again.
Al-Qaida affiliates are hell-bent on hurting Americans, and giving terrorists an uncontested base of operations will strengthen their resolve. We've already seen the deadly consequences of terrorists exploiting the vacuum created by retreat from Iraq in 2011 — they could do it again when we retreat from Afghanistan in 2021.
Here's what strength looks like: In order to prevent terrorists from plotting global attacks from Afghanistan, we need human, on-the-ground intelligence. For the CIA to recruit informants and for the U.S. to take swift and lethal action, we need to own the sky. That can't happen with hours and hours of costly flight time from remote airfields. It takes air bases in the country — like the Bagram Airfield we just abandoned. We don't need to wage ground offensives — we need troops to defend airfields so our covert operations can decapitate terror organizations. The Afghan government and the Afghan people want this. The Taliban and Al Qaeda are the only ones who don't.
Defeat and dishonor are never inevitable. Retreat is a choice.
Ben Sasse is the junior U.S. senator for Nebraska.