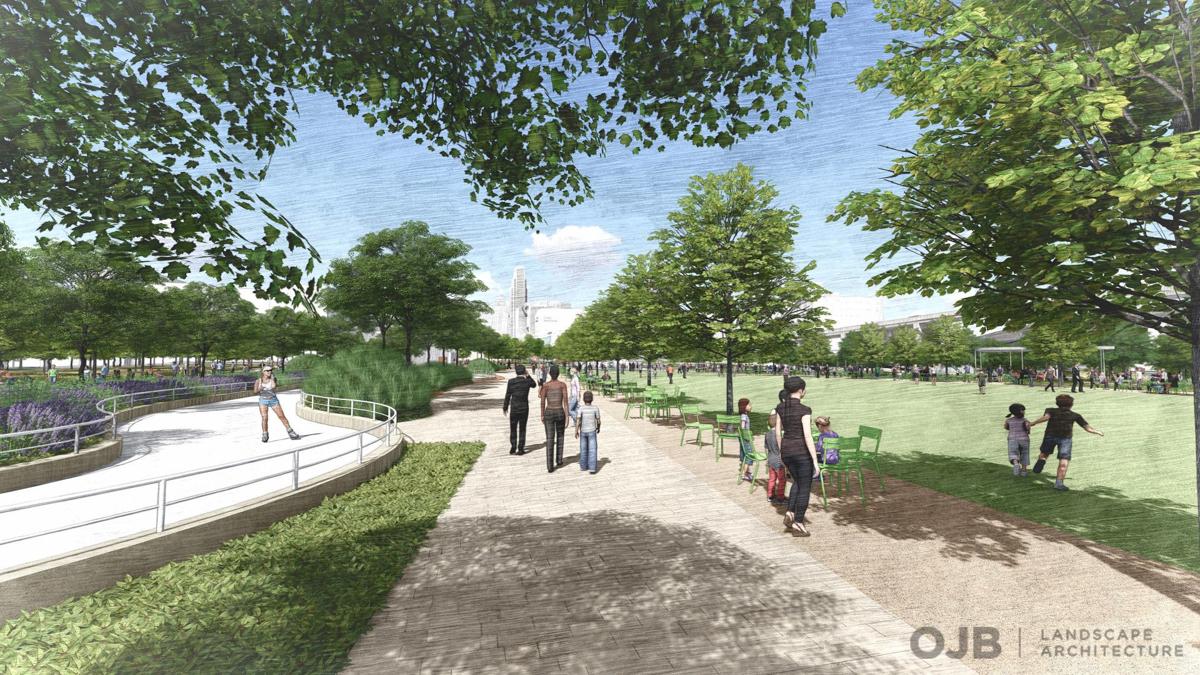 The planned transformation of Heartland of America Park looks to give Omaha an important civic amenity it has sorely lacked: an accessible, attractive public connection to the riverfront, along with ample adjoining green space.
Omaha's moves toward revival along the Missouri River at the turn of the current century provided improvements at Lewis and Clark Landing, and Conagra Brands' Heartland of America Park, which opened in 1990, has picturesque elements. But the public still lacked direct, easy access to the riverfront from downtown.
Plans by Omaha city government and private donors to transform Heartland of America Park are set to remedy that. The planned connection, a walkway eastward from Eighth Street, will be both practical and picturesque. Omahans and visitors will be able to stroll along the walkway and, if they like, enjoy adjacent green space for picnicking and other activities. New open spaces will provide space for festivals and concerts. A ribbon-shaped rink will provide seasonal in-line skating and ice skating, The World-Herald's Aaron Sanderford reported this week.
The park will also have an improved connection to Lewis and Clark Landing once the existing pedestrian bridge over rail lines is revamped.
Because crews are raising Gene Leahy Mall to street level, people will be able to walk from the W. Dale Clark Library eastward to the river's edge. That impressively long, straight walkway will open up a new, visually striking east-west vista.
This project, with completion set for 2024, will complement the $500 million transformation now beginning for 23 acres on the Conagra site downtown, involving residential, commercial, office, hotel and entertainment uses.
The end result should offer impressive new opportunities for Omaha. It's a civic vision worthy of a forward-looking, ambitious city.
Catch the latest in Opinion
Get opinion pieces, letters and editorials sent directly to your inbox weekly!