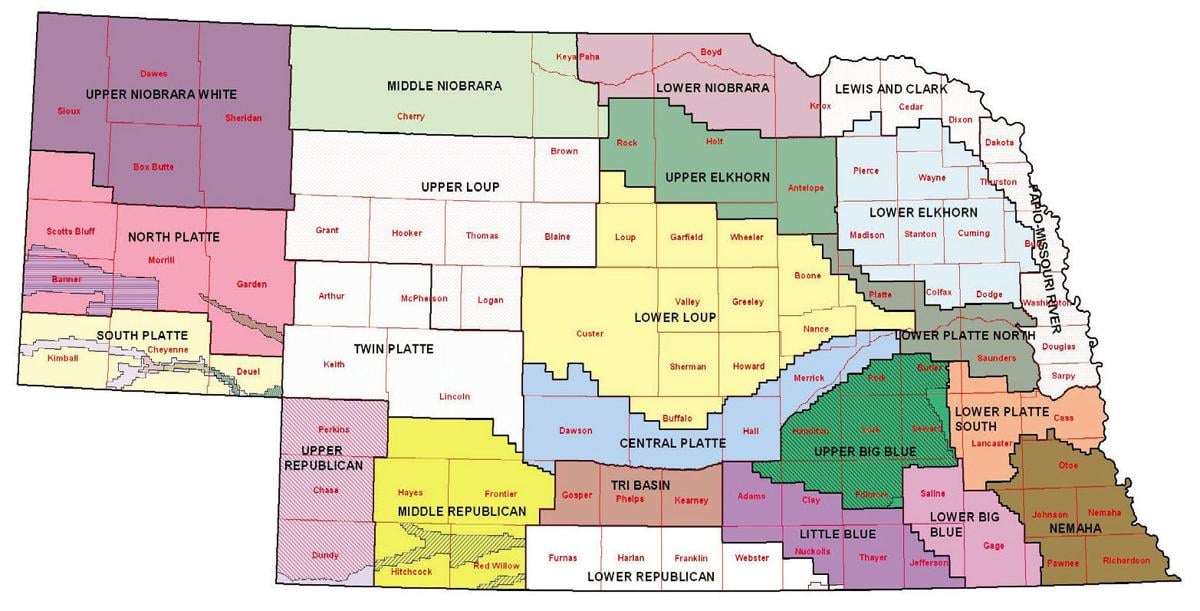 About 88 percent of Nebraska residents rely on groundwater to provide their drinking water. Safeguarding water quality — keeping groundwater and surface water free from fertilizer contamination, for example — is vital.
Many agricultural producers are aware of the need for proper stewardship and are careful in their applications. State and national agencies impose specific regulations.
On the positive side, stronger water-purification capability and improved fertilizer practices in some parts of the state have helped reduce the number of occasions where nitrate levels are above the safe-drinking threshold, requiring local water systems to take remedial action. Monitoring in 2017 indicated 44 such occasions, down considerably from 139 in 2008. When two nitrate violations occur within a nine-month period, the state issues an "administrative order" directing the local water system to take remedial action. Last year the state issued seven such orders, up from five in 2016, affecting areas with a combined population of 642.
In some parts of the state, the nitrate concentration in groundwater has risen to troubling levels. Natural resources districts and University of Nebraska specialists are working with producers to address the problem, using management plans that vary depending on the nitrate level in specific parts of the local river basin.
The Little Blue NRD in southeast Nebraska has designated eight "water quality management areas" to address nitrate concerns.
In northeast Nebraska, four NRDs — the Lower Niobrara, Upper Elkhorn, Lower Elkhorn and Lewis and Clark — have adopted a regional water management plan, the first such joint effort to receive federal approval.
Recent reports from NRDs and the state Department of Environmental Quality describe water quality concerns. Some examples:
» In the Lower Niobrara NRD, 75 percent of reporting ag producers are applying more nitrogen than recommended by specialists at the University of Nebraska-Lincoln. Overall nitrogen use reported was 17 percent more than the recommended rate per acre.
» In some parts of the Little Blue NRD, nitrate levels "exceed the maximum contaminant level of 10 ppm (parts per million)" considered the safe limit for drinking water. "Because of the nature of nitrate pollution," the NRD noted, "reversing the trends is a challenging venture which requires many years of careful and intensive management to solve the problem."
» In the Lower Niobrara NRD, eight areas were identified with high nitrate levels.
» In the Lewis and Clark NRD, "monitoring has indicated concern of increased nitrate contamination over the last 10 years."
» The Lower Elkhorn NRD sampled more than 700 wells in Pierce and Madison Counties in 2015 and 2017. The average nitrate concentration was 13 ppm, above the 10 ppm safety threshold.
» In the 756-square-mile area of northeast Nebraska covered by the four-NRD cooperative plan, average nitrate concentrations since 1980 "have increased, with some areas (having) three times the levels safe for drinking water," the NRDs report. The Lower Elkhorn NRD held a hearing last month on proposed changes to the water management plan.
The natural resources districts, the university, DEQ, the Nebraska Environmental Trust and federal agencies provide technical or financial help to agricultural producers to reduce nitrates and other water-quality concerns. Conservation steps include adjusted application levels or schedules, avoidance of overwatering, use of cover crops, decommissioning of old wells, proper maintenance of septic systems and wetland restoration.
Notably successful cooperative projects between NRDs and local producers over the years have included work in the Central Platte NRD that reduced fertilizer levels while maintaining strong crop yields, and in the Lower Platte North NRD, where a major cooperative effort has restored the Shell Creek watershed. Because 60 percent of Nebraska's community water systems serve communities of fewer than 500 people, NRDs commendably join together in regional cooperation in some areas, to boost small communities' water treatment capability.
Nebraska is blessed with a robust agricultural economy, and it's vital that sound environmental stewardship be part of that effort. Stakeholders should continue their cooperative work to tackle this problem, for the benefit of us all.