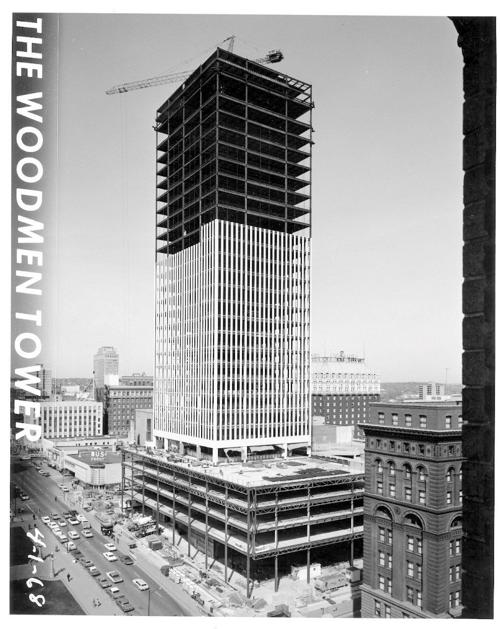 Omaha, like any community, is constantly evolving. Some longtime structures remain, connecting the city to its past. Other buildings pass into memory. Meanwhile, new generations bring their own innovations, spurring change for the future.
The present moment illustrates the point: This month, the Woodmen Tower marked its 50th anniversary as a landmark downtown structure. Meanwhile, Gerda's German Restaurant and Bakery, in business at 52nd and Leavenworth Streets for more than four decades, has closed, only weeks after another Omaha restaurant fixture, B&G Tasty Foods, ended operation after 66 years. Meanwhile, Amato's, a staple of central Omaha dining for 45 years, where the late owner Sam Amato was a larger-than-life fixture, just closed on Sunday.
It's an occasion to reflect on local restaurant history, and on Omahans' ongoing conversations about what's best for downtown.
Familiar buildings are part of community self-identity, and this is particularly true of restaurants. In the heyday of the old-time packinghouses and cattlemen's visits to the Omaha Stockyards, Omaha was rightly held up as a premiere steak town. Some of the old-time T-bone and prime rib eateries remain, but others have exited. Among them: Ross' Steakhouse, the original Caniglia's Italian Steakhouse, Angie's, Mister C's, the Venice Inn and Piccolo Pete's.
For many Omahans, it's similarly difficult to imagine 13th Street without the Bohemian Cafe (closed in 2016 after 92 years) and its boiled beef, dill gravy and Czech goulash.
The restaurant business is supremely challenging, of course. Indeed, it's constantly in flux as the next generation pursues its own visions and opportunities. At the same time, the passing of longtime restaurants understandably stirs memories and contemplation of local traditions.
As for downtown Omaha, the Woodmen Tower project arose in the late 1960s as a number of other construction plans were moving forward amid Omahans' strenuous debate about the best course for downtown. A voluminous "Central Omaha Plan" in 1966 studied the downtown's circumstances and presented a set of recommendations. The World-Herald studied survey information indicating that 50% of women in Omaha shopped downtown in 1956, but by 1967, the figure had fallen to 29%.
"To most Omahans of the late 1960s, 'downtown' was not the all-purpose place it had once been," Omaha historian Harl Dalstrom has written. "They were no longer flocking downtown to do their routine shopping or to go to the doctor or a movie. The new downtown which was starting to emerge would have a different focus from that of the central business district of the past."
In the same era when the Woodmen Tower was constructed on the site of the old City Hall, the city police and fire headquarters were being built. Omaha and Douglas County leaders were engaged in an extraordinarily protracted debate over the specifics of a planned Omaha-Douglas Civic Center — finally completed in 1975 after almost nine years of city-county tussling and other delays. The city-county building project in 1971 spurred the creation of the Omaha-Douglas Public Building Commission — this year a high-profile player in the debate over whether to site a proposed juvenile justice complex downtown.
Another late 1960s controversy involved the decision to tear down the old main Post Office and build a bank building and hotel complex, spurring major debate over historic preservation. The project's closing of 16th Street, shutting off a longtime connecting artery between downtown and north Omaha, was not included in the Central Omaha Plan and has remained controversial ever since.
Cities evolve, sometimes through growth, sometimes amid fierce disagreement. This month, with the Woodmen Tower anniversary and local restaurant closings, it's an occasion to consider our city's past and present, and the best course it needs to pursue for the future.