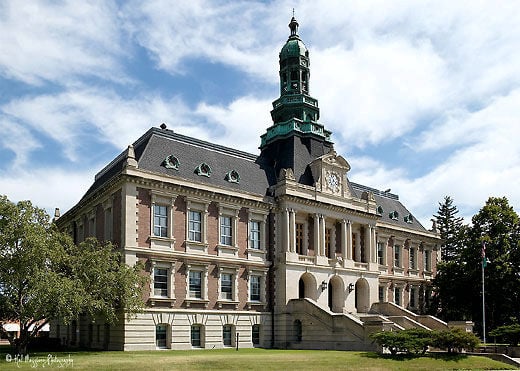 As part of our editorial page's outreach, we have worked with eight Nebraska communities this summer to learn about their civic vision. Here is a full list of the information they provided us. This is an ongoing project for The World-Herald. We plan future looks at additional communities, large and small, across the state. We look forward to learning about their progress and sharing that information with readers. 
Scottsbluff 
Scottsbluff and western Nebraska have been experiencing an influx of new residents from larger cities all over the U.S., most looking for safe communities with required amenities to fit their needs and we have been able to attract many of them. People moving into the area has created a housing shortage like we have not seen in recent years. The City of Scottsbluff was successful in acquiring a grant in 2020 through the Nebraska Department of Economic Development for Owner Occupied Rehabilitation in the amount of $732,000 and it has seen some success but is only available to income-qualified homeowners.
The city also invested $350,000 from the Economic Development Fund as part of matching funds for another successful grant through the Rural Workforce Housing Fund (RWFH) also administered by the NDED. This effort was a regional and received matching funds from three counties (Scotts Bluff, Kimball and Morrill). There is a $1.8 million fund available to contractors to build "workforce housing," described in the NDED guidelines as final home cost of $285,000 or less or the construction cost of $215,000 for multifamily units.
The majority of Downtown Scottsbluff buildings have been either purchased or rented/leased and there are very few available. The Western Pubic Service building, a four-story building built in 1931, was formerly used by Consumer's Public Power and Nebraska Public Power, has been empty for many years but was recently purchased and will be developed into a first-floor restaurant, second-floor office space, third-floor extended stay apartments and a fourth-floor penthouse will bring life into this area of Broadway.
Many homebased businesses have made the move to storefronts in the downtown area and there seems to be much more walking traffic and activity. The Downtown Scottsbluff Association, which is made up of a large group of downtown business owners, has been active in bringing activities to the area such as Bands on Broadway, Sidewalk Sales and Pop-Up Shops. Uptown Scottsbluff (formerly known as the Monument Mall) has also seen some activity and additional tenants. According to their management, they have letters of intent from a couple of large retail stores planning to locate in some of the empty mall space. Three developers (two from San Francisco and one local) have purchased a former Montgomery Wards Building and another building on Broadway in Scottsbluff and plan to offer retail space and also some smaller apartments.
We have had a couple of manufacturers expand their physical space and add additional employees; a couple of these took place last year during the pandemic and have continued to grow. The City of Scottsbluff has an economic development fund that has been able to help with startups and expansions of businesses in the area.
Community festivals and events have been going strong throughout 2021 including Oregon Trail Days — "Nebraska's Longest Continuous Running Celebration," and the 100th was celebrated this year — the Greek Festival in Bridgeport and Camp Clark Days in Bridgeport, just to name a few. The Bands on Broadway Eight Week Summer Concert Series just wrapped up in Scottsbluff and a record number of people came week after week. The Old West Balloon Fest and 2021 U.S. National Hot Air Balloon Championships recent concluded. There were 45 competition pilots and another 40 casual pilots flying over Scotts Bluff County over a week's period of time. The Scotts Bluff County Fair held the first week of August was well attended and all of the grandstand events completely sold out. Aug. 16-21 will be the celebration of the 10th Annual High Plains Riot, a rat rod competition for gearheads of all types from rat rod, hot rod, motorcycle, lowriders, mini truckers and all other enthusiasts.
Scottsbluff has been successful in attracting movie and TV filming with the Coen Brothers Ballad of Buster Scruggs being filmed north of town in 2017, Nomad Land in 2018-2019, Street Outlaws reality TV show and most recently Belvedere Films, LLC, a production company out of Los Angeles and Vienna, were in Scottsbluff filming an '80s-era movie with the title not being disclosed at this point.
* * *
North Platte 
The "Shot in the Arm" housing incentive program started Phase III earlier this summer. After two successful phases of the program geared toward housing development have produced impressive results, Phase III will mirror the previous phases in some aspects. It will also include some important new incentives available for developers, including those looking to enhance Upper-floor Downtown living quarters.
Speaking of downtown, North Platte's Downtown Association has been busy! They recently unveiled the archway that greets people as they come to our historic Canteen District. The archway is just one of several things the Downtown Association, local businesses and the community have done the past few years to help revitalize downtown North Platte and honor the support our local volunteers showed during World War II at the North Platte Canteen. Other improvements include electronic message boards, "new" retro light poles and new awnings/vintage-looking signs outside some of the businesses.
A group spearheaded by a few local cattle producers has led an initiative to bring a beef packing plant to North Platte. They see this as a way to help reduce some of the price risk most cattle feeders face when they market their cattle and also as a way to bring nearly 900 jobs to the area. This project and the ancillary businesses that may follow could have nearly a $1Billion impact the local economy annually according to a study completed by Ernie Goss with Creighton University.
The North Platte Mall has new ownership and is currently underway with a much-needed massive renovation/expansion project which will create a modern, sophisticated property similar to what you might see in a metro area. This will be something definitely unique for western Nebraska and should be a major draw for people to and from North Platte.
There is also some major excitement with the recent passing of LB40 and the potential for a rural rail park development in a nearby community. Our local Chamber and Economic Development Committee have been diligently working on putting plans in place for this possible site and have already starting fielding interest from companies interested in the location and the potential access to Union Pacific's main line. I see a lot of upside with this project when it comes to value-added ag business/industry, and specifically, for where we are located.
A group of us also started a peer group called Think North Platte. This is a group of business professionals, medical professionals, ag producers, small business owners, etc. with the goal of helping use our resources and connections to spur and support economic growth locally, and to give our kids more opportunities to want to move back to the area to work and raise a family. There are some interesting studies that have been done by the Aksarben Foundation that shows how Nebraska as a state needs to be better about attracting/retaining that next generation of workers to our state and communities. Several communities across the state have already begun working on their own local projects to help address this. We hope to get our group in front of the Aksarben Foundation yet this summer. We also have our Think North Platte group meet and bring in speakers involved with some of the other economic growth projects mentioned earlier. It's a great way to keep them informed and allow for healthy discussion about these projects.
* * *
Grand Island
Here are some key developments for Grand Island:
JBS has donated $400,000 toward a Early Childhood Learning Center. The 50,000-square-foot facility will be ready for this school year.
New Fed Ex distribution center — 240,000 square feet. This, coupled with NDOT, could result in safety features being added to Highway 281.
JBS will have a $95 million expansion in 2021/22.
Grand Island Public Schools (GIPS) has transitioned into a career academy model.
All Advanced Placement and duel credit classes are free to GIPS students. Students will have an opportunity to obtain a minimum of 21 college credits FREE while still in high school. This opportunity is provided by Central Community College and Wayne State College. 
Partnering with Wayne State College on internship program for GI, will bring college students back to GI for their senior year of college to work for area businesses.
Multiple housing projects from senior living to affordable/missing middle housing.
The $100 million Grand Island Casino Resort.
Two dual served rail projects, with large and smaller applications.
Grand Island CHI hospital/GIPS are developing a Health care Academy/AKSARBEN. Focusing on the health care profession.
New $7.85 million sewer line to Central Nebraska Regional Airport. 
* * *
Valentine
Valentine's progress since the start of the pandemic:
We just completed a fiber-to-the-premise project that was a public private partnership between the City of Valentine and Allo Communications which brought gigabit service to every property in Valentine.
In partnership with NDOT, the City just approved bids for a complete Main Street renovation — which looks to be the largest infrastructure project in Valentine's history.
The City is finalizing plans to extend sewer and water infrastructure to a 40 acre plot of City-owned land to launch a new housing development. We also have several spec houses either in-planning or under construction and an affordable housing development that is working through the competitive grant process.
The City is extending our community trail system with an important link along the commercial highway district.
The City is in the midst of finalizing plans to renovate an old gymnatorium into a community recreation and wellness facility. (A YMCA-type facility.)
We have well over 100 new jobs that will have been created in Valentine since the start of the pandemic — a retail store that's operating, a retail store that is finishing construction, a new golf course that opened this month, and a hog confinement that is scheduled to begin construction sometime soon.
We just hired a two-year rural economic development fellow through Lead for Nebraska/AmeriCorps to work on housing, entrepreneurship and leveraging broadband for community development. 
The Valentine Children & Families Coalition just received a Think Make Create Lab through the Nebraska Children and Families Foundation to activate afterschool programs.
This is the time for rural communities to shine, and Valentine is ready. The only problem is that our growth is outpacing our population, but we're working on a fix.
* * *
York
Business is doing well in York. Businesses fill most of our storefronts, and many of the business downtown continued their revitalization project through COVID (see quote below). Our hotel and restaurant businesses took a hit, and some are now struggling to hire workers. However, our sales taxes only fell a couple of months and have rebounded well. It appears COVID encouraged York consumers to shop local, and so a good amount of the stimulus money got spent in York.
ChancesR, perhaps our best-known restaurant in town, is back to full crowds for lunch and dinner. Many of our civic groups (Rotary, Optimists, Seretoma) meet there, and they are all back meeting for those lunches there. They did discontinue breakfast during COVID and have not brought that back.
York summer festivals are back on schedule including a Fireworks Frenzy on July 3 and Balloon Days on July 16 and 17 with tethered hot air balloon rids, a city-wide water fight and a drive-in movie at the aquatic center, among other activities.
"The Chamber of Commerce has been working closely with the City of York throughout the Downtown Revitalization Process (DTR) since 2016. When the shutdown came, we thought for sure the projects would stop. Quite the opposite: We had new inquiries for funding, and property owners that had started their projects prior, were committed to see them through. As we move forward to the final funding phase of DTR, we are seeing a continued commitment of property owners to invest in their buildings so York can remain being an attractive location to live and do business."
— Madonna Mogul, executive director, York Chamber of Commerce
"The Holthus Convention Center is excited to have groups meeting and celebrating once again! The past few months have been busier with weddings, meetings and conferences. Safety measures have been put in place to ensure that our guests can come together once again in a comfortable and spacious environment. With fall just around the corner, we are anticipating a return to a more normal schedule of events to accommodate our wonderful clients and guests."
— Terri Carlson, director, Holthus Convention Center
The City and surrounding communities have been eager to get back to their normal routines, and we are happy to be able to offer all our wellness amenities, youth programming and adult leagues as well as our pre-pandemic hours at the Family Aquatic Center. York has a huge heated aquatic center, and the Parks and Recreation Department was able to get all 90 lifeguards hired to have the facility up to full capacity this year.
York Parks and Recreation is also happy to offer our full baseball and softball season to the community and welcome 12 ball tournament to the York Ballpark Complex. We are aware of the risk associated with all our programming and activities. However, we are taking all the necessary precautions and disinfecting more than ever.
McLean Beef Meat Locker project. This project consists of a Custom Exempt and USDA retail facility for harvest, rendering, aging, fabricating, assembling, packaging, and freezer/cooler storage for local raised beef and pork. Facility will have "Modern-State of the Art" equipment. They will have a smoke room to process meats and a certified kitchen and service bar to prepare tasty entrees. They have an area designated for processing online shipping orders, pickup delivery, and curbside pickup service. The retail store will offer fresh meet and complimentary foods. The Vending Machine in the foyer will offer 24-7 purchases of meat products. The retail store will be at the east end of the facility. They also offer one-eighth, one-quarter, one-half and whole beefs, as well as pork products. As far as I know, this will be the first meat Vending Machine in Nebraska.
This is a $3-plus-million investment and will create 10-20 jobs for our area. They have hired an executive chief along with the facilities manager. 
* * *
Laurel
If you visit Laurel a year from now, you might not recognize it. The community of 1,000 residents has tabled a number of major projects for several years, and now, each of them is finally coming to fruition. Among those projects are a revitalization of the community's downtown streets, sidewalks and sewer system, the separate construction of a new Community Center, and a new Fire/EMT building. Construction of the new Laurel Volunteer Fire Department building is already underway, as is the upheaval of a 3½-block stretch of downtown streets and sidewalks. Community Center construction began June 1. The three projects have combined to total more than $10 million in cost.
Downtown Revitalization Project (DTR)
Dilapidated sidewalks, battered streets, an absence of effective sewage and poor handicap accessibility have marred Laurel's downtown for several years. The $3.6 million Downtown Revitalization project will include new water and sewer lines, new storm sewer, new streets and sidewalks and new street lights. The project will run down 2nd Street from west of Elm to Pine Street. The underground storm sewer will extend south at Spruce Street past the softball field to the drainage ditch. There are currently no storm sewers in downtown Laurel, and the sidewalks were in serious need of replacement. The Downtown Revitalization Project is expected to be finished in November 2021.
In 2018, the city passed a proposed 1% sales tax specifically designated for a downtown project or similar projects. Collection of that sales tax began in April 2019. That funding gave the city enough to service a $2 million bond, The remainder of the funding is being raised by revolving loan funds through the State of Nebraska. JEO Consulting of Norfolk engineered the project, and Penro Construction of Pender is in charge of construction, which began on April 19.
Community center
Construction of the new Community Center is underway. This project began in 2017, with a facility needs assessment on the current auditorium that showed this community request from prior Strategic Planning meetings was a "need" and not just a "want." The new facility will include a Senior Center, large open area for events up to 400 people, meeting rooms, a kitchen, social gathering room, secured storage areas and City municipal offices. Construction is anticipated to be completed by the end of May 2022. The new facility will enhance the offerings to Laurel-area residents and provide a place that provides hospitality to all ages. The building will serve as a hub for community bonding, family fun and enrichment. The Center will also serve as a catalyst for recruitment and retention of businesses, industry and community members. The cost of the project is tagged at $4 million and funds were raised through private donations and grants. Carlson-West-Povandra Architects is the project architect and Otte Construction is in charge of construction.
Already under construction, a new 12,000-square-foot fire hall is estimated to be completed by September or October this year, according to Laurel's Fire Protection District Board. After close to four years of consideration, construction began on the facility along Highway 20 on the southwest end of town. The existing facility, located along First Street downtown, is too small to hold the necessary equipment and fire trucks required at a department in a growing community. The physical size of the newer fire trucks no longer fit in the current building.
Multiple locations for the new fire hall were discussed, but the chosen location was selected because of quick access to the highway for rural fire responses. The facility will have space to hold the department's two ambulances and six fire trucks, as well as a meeting room that can hold up to 90 people for training space. Offices, storage space for supplies and a storm shelter for the fireman on storm-watch are also included.
Early Child Care and Learning
Immanuel Lutheran Church recently assisted the community's efforts to address child care needs in Laurel. Shepherd's Care opened in early 2021 and offers child care for children from six weeks to 12 years old. Shepherd's is now accepting enrollment for preschool in the 2021-2022 school year.
In the last year, Laurel has seen much activity with business transitions, and new and expanding businesses. T&H Meat Company and Fine Spirits recently relocated to a storefront in downtown Laurel, next to the same owner's bar and grill — Knuckleheadz. T&H offers meat from local farmers and promotes food products and wine Made-in-Nebraska.
The Scoop ice cream and gelato shop, replaced T & H Meat Co & Fine Spirits building along Highway 20 and provides a safe haven for local students to gather before and after school activities, as well as family-dining.
Local, newly-retired business owners have transitioned their well-established businesses to new owners, and all are fully operational. Laurel's Hometown Market (formerly Gary's Foodtown), Cubby's Convenience Store (formerly Urwiler's Cornermart), and heating and cooling company Campbell's Service (previously Lackas Service).
In addition, the owners of Laurel True Value converted the business to Laurel ACE Hardware. Building upgrades have allowed new space for rental equipment and a new greenhouse.
A full-service flower shop and greenhouse, Floral Footprints, also recently received renovations by the shop's new owner.
A new seed business, Top Crop, opened in late 2020.
There is renewed interest in the residential areas for new housing builds. The Norris & Galvin Additions are located on the southwest corner of Laurel, and the Norris Addition has sold four of six lots since May 2020. One of the lots is a Spec home that currently is sale pending. The Galvin Addition has sold two of six lots.
Laurel's Community Redevelopment Authority (CRA) purchased 110 acres in August 2019 on the southeast corner of Laurel. This area has generated much interest in those seeking property along the golf course and Hillcrest Addition, and is in the planning stages for development.
Laurel-Concord-Coleridge School provides high-quality education for the youth in our district which includes the communities of Laurel, Coleridge, Concord, Dixon and Belden. It's been nearly a year since our school district was preparing for pandemic-impacted teaching and learning and a new school year. We came together and safely reopened our schools with much support, encouragement, and good will from our community leaders, families and staff. LCC maintained in-person teaching and learning throughout the entire academic year.
We witnessed the commitment that LCC School staff have to our students, but more importantly, we saw many of our students demonstrate grit and flexibility, even though their lives had, in many ways, been turned upside down. We continue to support our students by not focusing on the things that have been lost but, instead, on the life skills they have obtained by consistently showing resilience and perseverance. It is in these real-world work/study practices that they have found the greatest impact moving forward.
Laurel-Concord-Coleridge School District patrons just recently approved a $18.5 million bond issue as part of a comprehensive school facility improvement project valued at $25 million.
This election marks a process that began in earnest three years ago, with a facility needs assessment and much study and analysis by board members, and has continued through this past year when the district pulled together a community group to make recommendations on the best options to address the identified needs.
The bond funds renovations of student learning environments (25,550 square feet), specifically in the elementary school, where classrooms will have permanent walls, secured doors, and expanded space. The focus is on improving overall building safety, security, accessibility and efficiency of student, staff, and patron flow, both inside and outside of school facilities.
The bond encompasses significant new construction (58,830 square feet) designed to update and modernize classroom facilities that will effectively meet teaching and learning needs well into the future. This includes all new high school classrooms, science labs, state-of-the-art career and technical education facilities (agriculture, industrial technology, family consumer science, business), cafeteria/concessions/commons, multiple-purpose/storm shelter, and community fitness center.
A new $250,000 splash pad was approved by the Laurel City Council at the July meeting. An anonymous donor contributed $125,000, followed by the approval of a $40,000 grant from the Laurel Area Community Foundation Fund, a member of the Nebraska Community Foundation. The remaining funds will be provided by additional donations, grants and the City of Laurel. Construction is expected to begin in the Spring 2022.
Economic Development Certified Community (EDCC)
On April 12, 2021, Lt. Gov. Mike Foley and DED's Northeast Nebraska Business Development consultant Lyndsy Jenness visited Laurel and recognized local leaders for Laurel's continued membership in Nebraska's Economic Development Certified Community (EDCC) program.
Laurel is one of 40 Nebraska communities to earn EDCC status in the program, sponsored by the Nebraska Diplomats and administered by DED. State officials established the EDCC program in 2005 to recognize communities for preparedness to attract new industries and grow existing businesses. As part of the certification process, qualifying communities must identify a well-defined program that actively engages with their existing business community and offers a supportive environment for welcoming new economic development projects. Laurel received their original EDCC certification in 2010 and earned program recertification in 2015 and 2021.
The opportunities for "What's Next?" are already in process. The CRA has 12.47 acres of land zoned for commercial/industrial use along the BNSF railway, just across the tracks from the established Industrial Park. All types of housing are needed, and the already mentioned 110 acres that is zoned for residential and is ready to be developed.
* * *
Norfolk
Growing Together, an Aksarben Workforce Initiative, has been gaining traction and spreading the message of its plan outlining the transformation of Northeast Nebraska's regional economy and population growth. To transform Northeast Nebraska's future, addressing the outmigration of young people ages 20-34 is a top priority. The goal is not to recreate or model towns like Omaha or Lincoln. Instead, using placemaking and density, focusing on a 3x7 block area of downtown Norfolk, to create an environment that is more than one would ever expect in a town this size.
Downtown Development. The second cohort of 45 Growing Together Scholars started their freshman year at Wayne State College this week. The first cohort is beginning their sophomore year and preparing to live in downtown Norfolk and working at area businesses their senior year (2023.) Currently, Wayne State is working with a local developer to construct apartments for student housing in the 3x7 block area of downtown.
Riverfront/Johnson Park Redevelopment: Like other progressive cities in the region that have transformed their downtown areas and their entire community by emphasizing their natural features, Norfolk seeks to redevelop the North Fork riverway and its riverfront, as well as an historic park that will anchor the downtown development efforts of Growing Together. The city is working with the Natural Resources District to remove the river's remnant dam structure and replace it with a series of drop-down structures that will create a white-water park in the heart of Downtown Norfolk. This $11 million project will create an attraction for outdoor enthusiasts and a platform for private development in the area. Major renovation will also occur at Johnson Park including the addition of an amphitheater for live performance arts. Fundraising efforts for the remaining $2.5 million are underway.
Founders & Business Development. Invest Nebraska is a partner of the Northeast Nebraska Growing Together Initiative. As we look to proactively transform the Northeast region's economy and grow its population, Invest Nebraska is hiring a community development manager to office in Norfolk. This person will be the lead point of contact connecting Northeast Nebraska entrepreneurs with Invest Nebraska. The idea is to co-locate Invest Nebraska in a shared working space in downtown.
Regardless of the pandemic, the Growing Together committee and the city Economic Development staff have been showing off Norfolk to several new businesses to encourage them to open an office in downtown. It's important to note that we're looking for high-wage, high-skill jobs. Madison County's average wage is about $20/hour, whereas in Columbus the average wage is $22/hour. Norfolk is below the state average in hourly wage.
Workforce Needs Assessment: Supplying the demand of workers needed in Nebraska can't be done by a one-size-fits-all approach, so we created a workforce survey to gather information. After 85-plus surveys, some themes emerged:
• Employers find it easiest to recruit local people because they want to stay local.
• Recruiting to Norfolk from other places is a challenge; outsiders come for the job but only stay for a few years.
• Lack of social life is a real issue; making downtown the connecting spot will help.
Alumni Survey: This past winter/spring Growing Together conducted a study of current and former Northeast Nebraska residents on what it would take to keep them living here or get them to move back. The study was completed in May of this year and is hereto attached. We primarily used the study to test the initiatives of the Growing Together effort in an effort to ensure we are on the right page as we work to attract 20-29 year-olds to live in our area. The study does essentially say that if we have any chance at all to recruit people to stay living in this area or move back, they really have to make that decision before age 25.
Early Childhood Education. A virtual town hall was held in December to discuss the child care issues in small town Northeast Nebraska. We know that quality child care is an issue, not just in Norfolk but in small towns throughout the region too. It becomes a workforce issue when there are not enough daycare spots for current or future employees. We heard from parents, employers and providers that talk about the struggles to find enough child care opportunities.
While there are some questions as to how to rebound from the effects of the COVID-19, we really feel that now is the time to capture all of the people who now know they can successfully work remotely, want to stay near their families and understand that living in Northeast Nebraska doesn't keep them from the rest of the world.
* * *
Nebraska City 
Housing: Nebraska City fell far behind our new construction needs over the past 20 years, but has gained momentum. By partnering with local and regional builders, we have added roughly 40 housing units (combination of single family and townhomes) since 2017. The pandemic halted or delayed a few projects, but this (2021) building season we have 38 more under contract. By the time you go to print, we will announce 28 more aimed at retirees (federal/state tax credit project). Job creation must also include an available address and child care.
Child care: Working with the Nebraska Children and Family Foundation and their Communities for Kids program, we gained modest funding for a part-time community coordinator with other support funding. We worked with local child care providers and were able to assist the opening of a new child care center (licensed for 62). We have a core team of city and business leadership helping guide our efforts and a support group for local providers, assisting with training, problem solving and best practice resources. We are now taking our child care efforts county-wide this year.
Our organization's sister 501c3 is applying for a matching grant via Nebraska LB 566 to complete a sports complex (soccer, baseball, softball) that was interrupted by the pandemic. We have so far raised $630,000 and expect to raise an additional $1.5 million toward the $5 million project.
Another nonprofit is working to complete the restoration of the Veteran's Memorial Building, a $5 million project that can be completed if their LB 566 application is approved. The building would be used as a community meeting space with a stage, kitchen and offices.
We also had just joined the Omaha Chamber's Economic Development partnership just before COVID hit, and the new relationship has helped bring triple our new requests for information tied to companies looking to locate in this region.