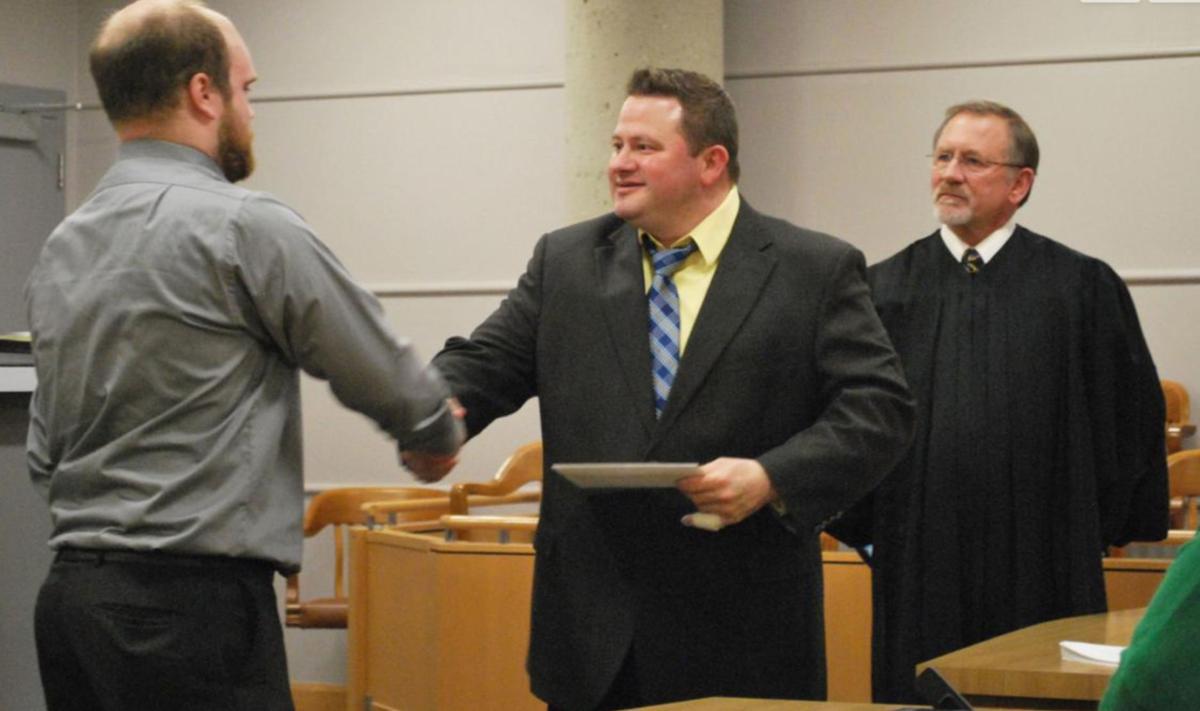 The ongoing series of troubling actions by Dodge County Attorney Oliver Glass raises a question of statewide import: Should Nebraska lawmakers set some sort of automatic punishment when an elected official crosses a threshold of lawbreaking?
Perhaps the state, for example, could establish an automatic recall vote when officials cross a defined line. Or an automatic prohibition against seeking reelection. Some situations might merit automatic removal from office.
At present, Nebraska law contains no such required punishment. But when an elected official indulges in repeated violations of the law, to the point of facing a jail sentence, consideration of some type of automatic penalty is worthy of serious consideration by lawmakers.
The string of actions by Dodge County Attorney Oliver Glass provides a major example. Glass last week violated his DUI probation. He spent the weekend in the same jail with offenders he normally prosecutes. Violating probation in Nebraska usually results in jail time: The prospect of a county attorney sitting in incarceration — while the deputy county attorney once again subs for him in court due to Glass's troubles — is a concerning circumstance.
Perhaps Glass will resign. But if not, this situation calls for review of election law.
Glass suffers from a major alcohol problem, as his own attorney acknowledges. Such an addiction, no question, is a terrible burden, for the alcoholic and others affected by his actions. The condition deserves understanding and treatment. But there also comes a point when the individual's repeated disregard for responsible behavior warrants a strong response.
In January 2020, a routine probation test found alcohol in Glass' system. Two months later, he was arrested for DUI. In that incident, a 911 caller following Glass reported that he was driving slowly, swerving and hitting curbs on a road on the edge of Fremont. In August, a judge placed him on 15 months' probation and ordered him to abstain from alcohol. That is the probation Glass violated last week after he reportedly showed up drunk to pick up his children for his parenting time.
Dodge County residents are also familiar with Glass's run-ins with Nathan Schany, a Fremont man who dated Glass's estranged wife. In March, an inebriated Glass allegedly fired off a long series of abusive messages at Schany via 10 phone calls and 46 texts. Glass referred to a character in the hit series "Breaking Bad" getting his head blown off and suggested that he could get all kinds of drugs for Schany.
After Schany drunkenly took an Adderall pill in the wake of that incident and made suicidal comments, he was hospitalized for six days, finding himself repeatedly without sensible recourse for release. Schany and his attorney questioned whether Glass had a hand in his hospitalization and his termination from a job as a delivery driver. Glass adamantly denies both accusations.
Glass was appointed as Dodge County's top prosecutor in 2011. He was elected in 2014 and reelected in 2018.
Voters in Nebraska have the option, under state law, to recall local elected officials such as the county attorney. In fact, Nebraska law could not be looser on this question: No specific grounds are required for mounting a recall.
Should Nebraska law really be so lax as to allow local elected officials to repeatedly violate the law — to the point the official faces a jail sentence — and stay in office or without a penalty barring his reelection? It's a serious question the Legislature must face given what's happened in Dodge County.