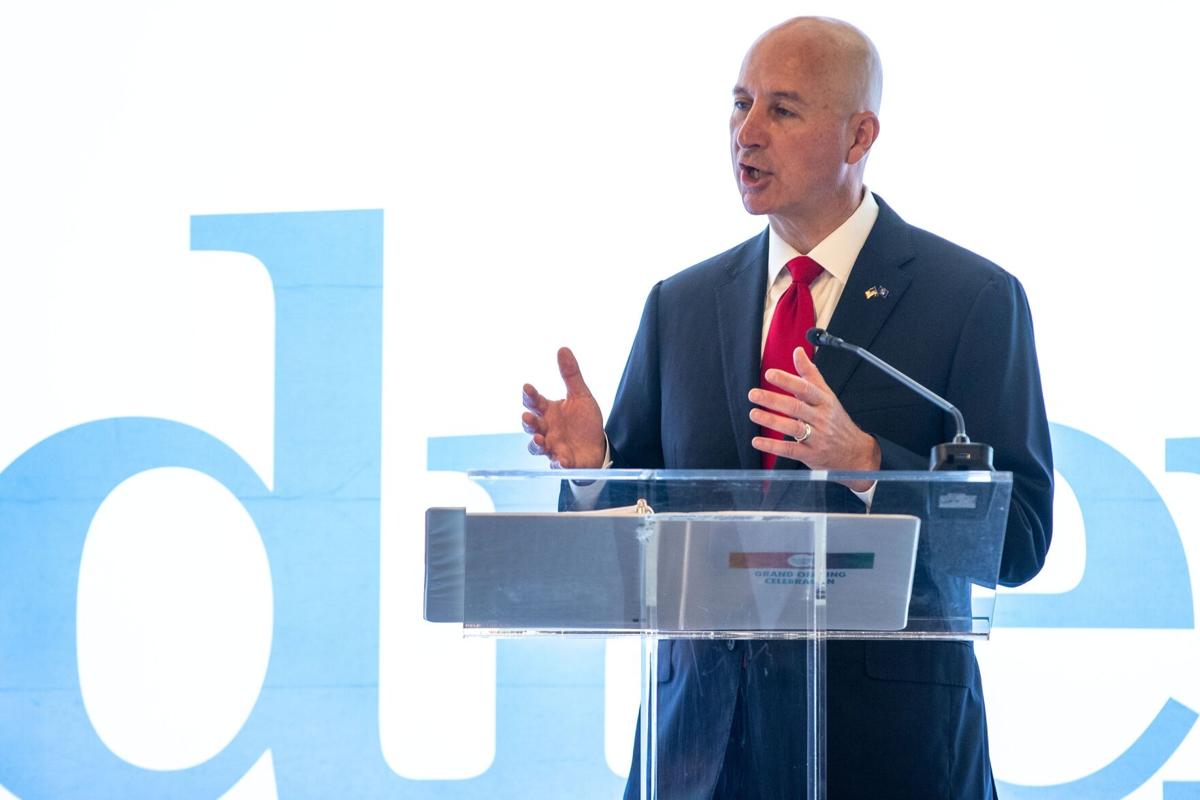 Gov. Pete Ricketts has declared victory over COVID-19, writing in his latest column that "Nebraska has come through the pandemic stronger than any other state." He also, for a second time, reduced the data the state makes publicly available. 
"That really just reflects the needs right now that we have here in the state," he said, basing his action on COVID hospitalizations, thankfully, dropping below 10% of staffed beds. "We are looking to get back to normal, folks, right?"
We agree wholeheartedly that not much would be better than truly having the pandemic behind us.
But it's not. Dr. James Lawler with the University of Nebraska Medical Center's Global Center for Health Security, told The World-Herald this week "we are far from the end of the pandemic emergency."
"There is never a right time to blindfold yourself in an emergency," he said of Ricketts' decision to make less information available. Ricketts sharply limited COVID data in June, only to backtrack just five weeks ago after the delta variant spiked hospitalizations.
Lawler helped devise Ricketts' original plan to fight the virus. Their latest public divergence, then, is a good moment to grade Ricketts' pandemic leadership — so far.
The governor has done many things well during the pandemic, particularly during the early weeks. As time wore on, he often discounted medical advice and indulged in the nation's regrettable politicization of a public health crisis, eroding confidence in medical guidance when it is needed most.
Nebraska's outcomes — so far — have been quite good compared with other states, which Ricketts fairly touted in his column. Our mortality rate is among the nation's lowest. The only clear drag on the state's economy is a lack of workers — a serious challenge that predates the pandemic.
The state's chief executive certainly gets to claim a measure of credit — though we believe some of the success occurred in spite of Ricketts, such as cities' imposition of mask mandates he opposed and initially threatened to block, delaying their impact on reducing spread of the coronavirus.
It must be noted that no one had a detailed playbook for handling the sudden surge of a novel virus. Ricketts did exactly the right thing in leaning on eminent experts at UNMC in developing a plan. While he was criticized in the spring of 2020 for not issuing a stay-at-home order, World-Herald reporting showed that the effect of his directed health measures was roughly the same as exemption-laden stay-home orders in other states.
For example, Nebraska was among the first states to adopt federal guidance limiting the size of gatherings, and, because of lucky timing of spring break, Nebraska's two largest school districts stopped in-person classes sooner than most in the nation.
In those early weeks, Ricketts held almost-daily news conferences, providing clarity in the midst of uncertainty. He modeled mask-wearing, social distancing and hand sanitation.
We believe he was cavalier about the dangers facing meatpacking workers, who suffered disproportionate death and illness. And he disregarded the dearly held principle of local control in insisting that county offices not impose mask mandates, threatening to withhold federal pandemic relief money doled out by the state. He threatened to sue if Douglas County imposed a mask mandate.
He did not carry out that threat after State Sen. Justin Wayne found provisions in law that appeared to give cities authority to issue mandates — which most towns of size then quickly did. Again this summer, though, Ricketts argued against school mask requirements, contradicting medical guidance, saying children aren't at risk and abetting anger that boiled over in some school board meetings.
While the governor has been a consistent supporter of vaccines, and publicly got his right away, his growing propensity to contradict doctors undercuts our recovery.
The latest example is his move last week to limit public data, even though the cost of managing that information is minimal. 
In his column about his administration's pandemic success, Ricketts wrote that the state "quickly built a system to track key health data after the coronavirus came to Nebraska."
It is utterly illogical, then, to reduce the information — blindfold ourselves, as Lawler put it — when the lack of blindfolds was part of our winning strategy.
Detailed information is always valuable, and doctors tell us that it's still valuable in this case. In light of that, it's incumbent on Ricketts to make the case for the data being unnecessary and harmful.
Faced with an unprecedented leadership nightmare, the governor started well. As a political creature, he indulged in needless rhetoric that added static to a noisy, confusing, life-threatening situation.
Still, Ricketts outperformed governors in neighboring Iowa, where criteria for restrictions were criticized as arbitrary, and in South Dakota, which appeared to believe it was immune even after the 2020 Sturgis superspreader rally. CDC data says death rates are higher in all of Nebraska's border states except Colorado.
So, grading on a curve because no governor could have escaped criticism, we give Ricketts a B for outcomes well above average, with rigidity and unneeded politicking getting in the way. Heading into cold weather and holiday gatherings, we remind him and all Nebraskans that we still must complete our finals.