Nebraska prospers and moves forward when it makes the best use of its people's talents and capabilities. This principle certainly applies in deciding on candidates at election time.
In Nebraska's 1st U.S. House District, this year's election provides an important opportunity to advance one of the State Legislature's most capable and dynamic members to service in Congress. That candidate is State Sen. Kate Bolz.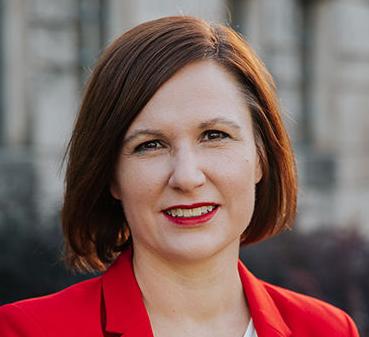 Bolz, who is completing eight years of service in the Legislature, is not just a qualified candidate to represent Nebraska strongly in Washington. She also is an exceptionally qualified candidate.
At the State Capitol, Bolz has provided key leadership. She has been a central figure in helping lawmakers understand the guideposts for properly managing Nebraska's multibillion-dollar state budget. That means hard decision-making and working across the partisan aisle to achieve consensus, she explains. It means, she says, that senators must be willing to tell special interests — even ones that support them at election time — that they often must accept only a partial loaf. Lawmakers, regardless of party, respect Bolz's command of budget facts and procedures and regularly benefit from her surehanded explanations of fiscal details and procedures. In these ways, she has been a key figure in helping keep the Legislature on track.
In an era marked by partisan warring and suspicion, Bolz, a Democrat, has rejected such low-road politics. At the Legislature, she focuses on policy, not personalities. She negotiates in a constructive spirit with colleagues regardless of party or philosophy. When she speaks during floor debate, she doesn't hurl insults. She doesn't play to the camera. She uses her time to help the Legislature tackle the big issues.
There have been times in her eight years at the State Capitol when petty partisan game-playing has broken out and threatened to toss the Legislature into chaos. At those times, Bolz has been one of the all-important adults in the room, standing up for responsible behavior and procedures.
In short, Bolz is a legislative workhorse, not a show horse. It's no surprise that when asked how she would approach the job of congresswoman and whom she looks on as role models in the House, Bolz emphasizes the need for practical problem-solving and points to specific members who work toward bipartisan solutions to the nation's challenges.
Residents in the 1st District have been fortunate for many years to have serious-minded, capable Nebraskans representing them in the House. Doug Bereuter earned respect in Washington during his time as the district's congressman, and the same goes for the current incumbent, Rep. Jeff Fortenberry. We respect Fortenberry's dedication and hard work, as we've stated here before. But come January, he will have served eight terms in Washington, and in the Trump years he has resorted to more of a partisan edge. When a Nebraskan as talented and level-headed as Kate Bolz is available to take up the reins and provide a new voice and new energy in service to the district, it's a welcome opportunity to be seized.
It's telling that the most prominent attack Fortenberry supporters have launched against Bolz doesn't have anything to do with her service in the Legislature. The Fortenberry camp has sought to tag her as being soft on China, but the charge hardly squares with the sensible approach she's taken in Lincoln.
Residents in the 1st District can have confidence in Bolz's judgment and practical mindset, whether it's seeking workable approaches to the health coverage issue or ensuring export predictability for Nebraska's agricultural producers. She rightly explains that in Washington as in Lincoln, "The real work gets done in the middle."
Residents in the 1st District have an important opportunity to send an impressive, hardworking Nebraskan, Kate Bolz, to represent them in Washington. She has our strong endorsement. The district would be well served by making good use of her impressive talents and sound judgment.
Catch the latest in Opinion
Get opinion pieces, letters and editorials sent directly to your inbox weekly!