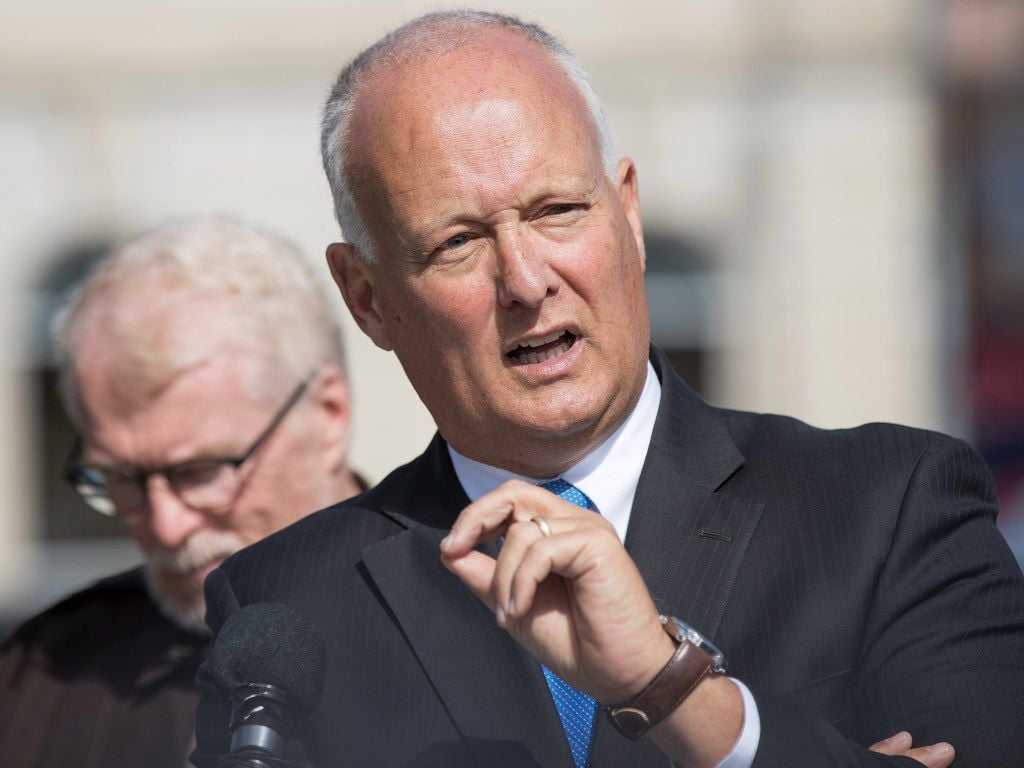 Show of hands: Who believes that Texas would have sued over how Georgia or Michigan conduct their elections if Donald Trump had won a second term as president?
Or that Nebraska supported the lawsuit because our governor, attorney general and secretary of state are more concerned that other states follow technicalities of their own laws than our top officials are with states' rights or federalism?
Yet, presented with that scenario at a news conference before the U.S. Supreme Court dismissed the case — would Nebraska have been involved were Joe Biden not the winner? — Gov. Pete Ricketts insisted our interest wasn't political and he just wants other states to follow their laws.
What Texas, Nebraska, 16 other Republican-led states and 126 Trump enablers in the U.S. House, including Nebraska Reps. Jeff Fortenberry and Adrian Smith, did was of course baldly political. But much more importantly, it was dangerous and undemocratic.
The thin legal argument of the Texas case alleged that Michigan, Pennsylvania, Wisconsin and Georgia expanded voting in ways that their legislatures had not approved, noting that the U.S. Constitution grants state legislatures authority over elections. It argued Texas voters were harmed because they must live under President Joe Biden, elected in this allegedly unconstitutional way. The remedy it proposed for issues that are rightly settled in state courts was to void certified election results from those states and have their (Republican-controlled) legislatures appoint electors.
It was a contrived, fallacious argument underpinned by wild-eyed conspiracy theories that say a vast, multistate conspiracy somehow handed Biden the presidency even as Republicans made gains in Congress — using the very same ballots.
The effect of the lawsuit would have been to disenfranchise 20 million Americans who voted in those states and undercut the very core of our system of government. And let's be absolutely clear: Nebraska Attorney General Doug Peterson, backed by Ricketts and Secretary of State Bob Evnen, signed onto that. Without merit or any necessity whatsoever, they signed all Nebraskans onto that.
Sen. Ben Sasse put it this way: "Since Election Night a lot of people have been confusing voters by spinning Kenyan Birther-type, 'Chavez rigged the election from the grave' conspiracy theories, but every American who cares about the rule of law should take comfort that the Supreme Court — including all three of President Trump's picks — closed the book on the nonsense."
The Texas lawsuit is inextricably linked to the deeply damaging lies and fantasies that have inspired death threats against election officials and others, such as Christopher Krebs, the Trump cybersecurity appointee whom the president fired after he dared speak the truth that "The November 3rd election was the most secure in American history."
Trump attorney Joe diGenova called for Krebs to be "taken out at dawn and shot." Extremists — including pardoned former National Security Adviser Michael Flynn and Trump-supporting lawyer Sidney Powell — are calling for Trump to impose martial law. The Michigan Statehouse was closed for Monday's Electoral College vote because of "credible threats of violence." The Texas Republican Party, after Friday's Supreme Court order, hinted at secession.
This rhetoric grows on a tree whose roots are the false allegations of massive voter fraud that underpinned the Texas lawsuit. Every piece of poisoned fruit hanging from these branches is fertilized when supposedly responsible elected officials glibly and cynically join the nonsense that Sasse condemns. It has driven 77% of Republicans, according to a Quinnipiac Poll last week, to believe widespread fraud fouled the election.
U.S. Attorney General William Barr has said none has been found. Despite hysterical proclamations, none has been credibly demonstrated in court. Nearly 90 judges at various levels, some appointed by Trump, have dismissed them, often in harsh terms.
An independent, bipartisan commission must study the allegations in detail in 2021 in hopes of restoring confidence, but history tells us to expect that only extremely rare, isolated instances will be found.
Joe Biden won the election. While the vote was close in a few states, the overall result was not. He won 306 electoral votes, the same total as Trump in 2016, and won the popular vote by 7 million, 81,282,376, or 51.3%, to Trump's 74,222,576, or 46.9% of total votes cast.
As Republicans who supported the Texas lawsuit go forward in their political careers, voters must remember what they did in December 2020 in hopes of denying 20 million Americans their most fundamental right, and what they did to erode confidence in the very elections in which their ambitions drive them to compete.