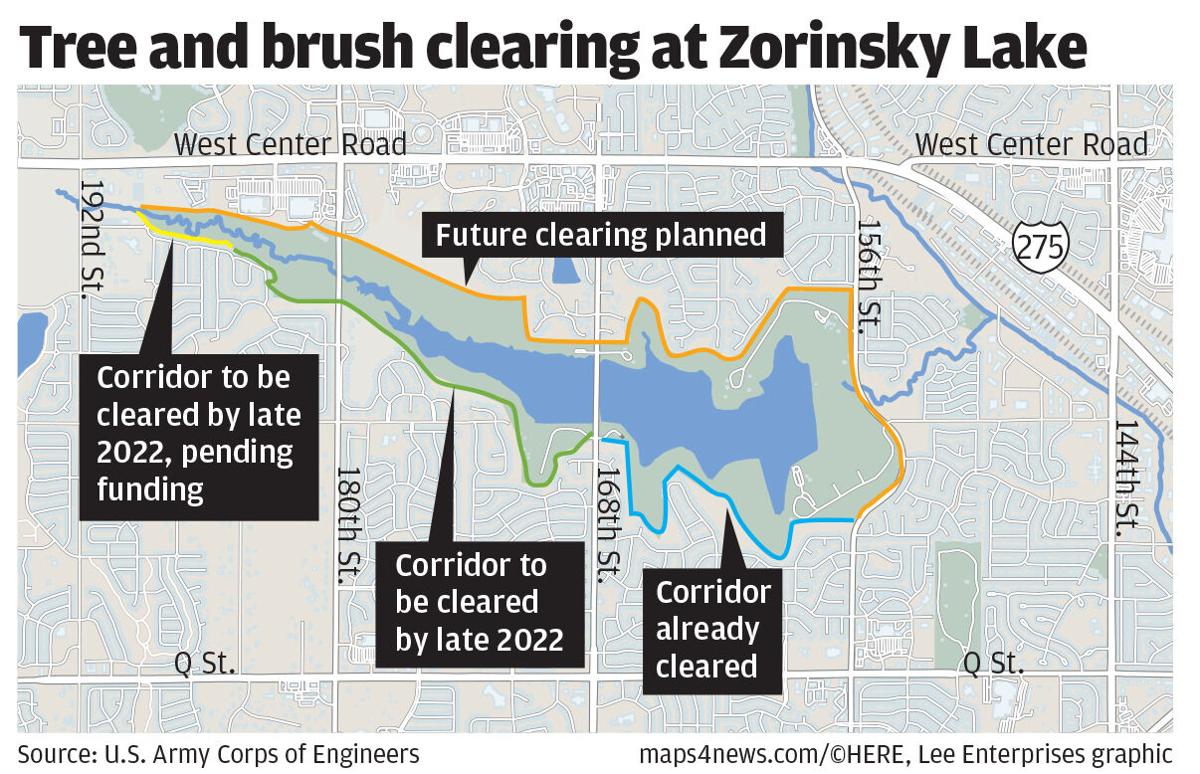 Rethink tree removal
Changing the proposed boundary to 15 feet may cost us more now, but maintenance would be less costly if prairie grasses which need to be mowed less would enhance natural corridors to provide for the resident animals that are being eliminated by our human developments. Wouldn't it be wise to spend $1 million to $2 million for clearer signage and more education while contacting few violators squatting on public lands?
Trees can store carbon dioxide to help clean the air and reduce the effects of climate change on our environment. In one year a mature tree absorbs more than 48 pounds of carbon dioxide from the atmosphere and releases oxygen in exchange for us to breathe.
Considering the benefits of 40 acres of trees scheduled for demise around Lake Zorinsky and other Omaha water retention park lands, isn't there a better way to leave these and take out the tagged dead trees along paths for people's safety?
Let's take a deep breath of air to rethink the options offered to give the trees their due credit for the very air we breathe.
Energy vision
President Biden's excuse for high fuel prices at the pump is due to OPEC nations refusing to increase production. Isn't the reason his decision to close down the Keystone XL pipeline and halt increased oil extraction and exploration? We need to continuously improve upon making traditional energy resources as efficiently as possible while conducting R&D of clean energy at the same time.
Yes to clean energy
Can solar panels and wind power replace oil and gas? Apparently, a few people still doubt it in spite of the trends unfolding before our eyes ("Biased Media," Cheryl Bartek, Oct. 20 Public Pulse, "Nobody believes that solar panels and wind power can replace oil and gas except Joe Biden and the progressive left").
Here are some things that are already happening.
The cost of photovoltaic modules has dropped by 99% in the last four decades, and the trend is expected to continue.
While costs of clean energy have dropped, reliability has improved. We can expect more of the same as utilities plan for redundancy in their grids and storage technology moves forward. One promising storage option would be to use excess wind energy to split the water molecule and store hydrogen for later use. The hydrogen would burn in plants built for gas.
It's not just out-of-town experts who are replacing oil and gas with wind and solar. OPPD not only believes it is possible, but they are workin on doing it. OPPD's portfolio already includes 38% clean energy. By 2050 they plan to have every part of their operation producing net zero carbon.
Meanwhile, the horror stories about climate change continue to pile up. Clean energy not only can replace fossil fuels, but it must.
Energy progress
This is in response to Cheryl Bartek's Oct. 20 Pulse letter. Ms. Bartek, a Fox viewer, bemoans the "bias" of mainstream media reports regarding clean, renewable energy versus oil and gas-sourced energy, stating, "Nobody believes that solar panels and wind power can replace oil and gas except Joe Biden and the progressive left."
There are over 100 cities worldwide that now power 70% of their energy needs with renewable energy (solar, wind, hydro, geothermal, etc.). There are four cities in the United States today that provide 100% of their energy from clean, renewable sources: Eugene, Oregon; Seattle, Washington; Aspen, Colorado; and Burlington, Vermont. Atlanta, Georgia, and San Diego plan to follow suit.
Maybe this concept will help: First, there was transportation by foot, then by horseback, then by wheeled carts, then the invention of the combustion engine so Model-T's and finally Lamborghinis that go 225 mph with air conditioning, satellite radio and GPS systems. Similarly, first, the shovel, then coal mines, then oil rigs, then solar panels, then wind turbines, then clean, renewable energy.
It seems Fox viewers are woefully behind the times and are forevermore willing to accept their information from the poorest sources.
False prophets
Donald Sutton opines in the Oct. 23 Public Pulse that America is badly "divided by who is with God and who is against Him," and that fabrications of gender identification by those who are not with Him will bring about a next generation of confused children.
Sure, the Bible is with Him on that, but let's not forget that our country is also a diverse population made up of people of many religious and non-religious beliefs. Our children are equally confused by a country where a significant number of Christians and non-Christians alike back a misogynist, lying, disgraced, twice impeached ex-president who incited an insurrection (under Confederate and Christian flags flying side by side); lied more than 30,000 times during his presidency; claimed he could just grab women; who pushes the Big Lie that a free and fair election was stolen; and that he is essentially the next coming of Christ, among other misdeeds and false proclamations.
If I were a kid, Christian or not, I think I would be pretty confused by the mixed messages coming out of all of that. Christ also taught us — "Beware of false prophets, which come to you in sheep's clothing, but inwardly they are ravening wolves. ... Wherefore by their fruits ye shall know them" (Mathew 7:15, 20).