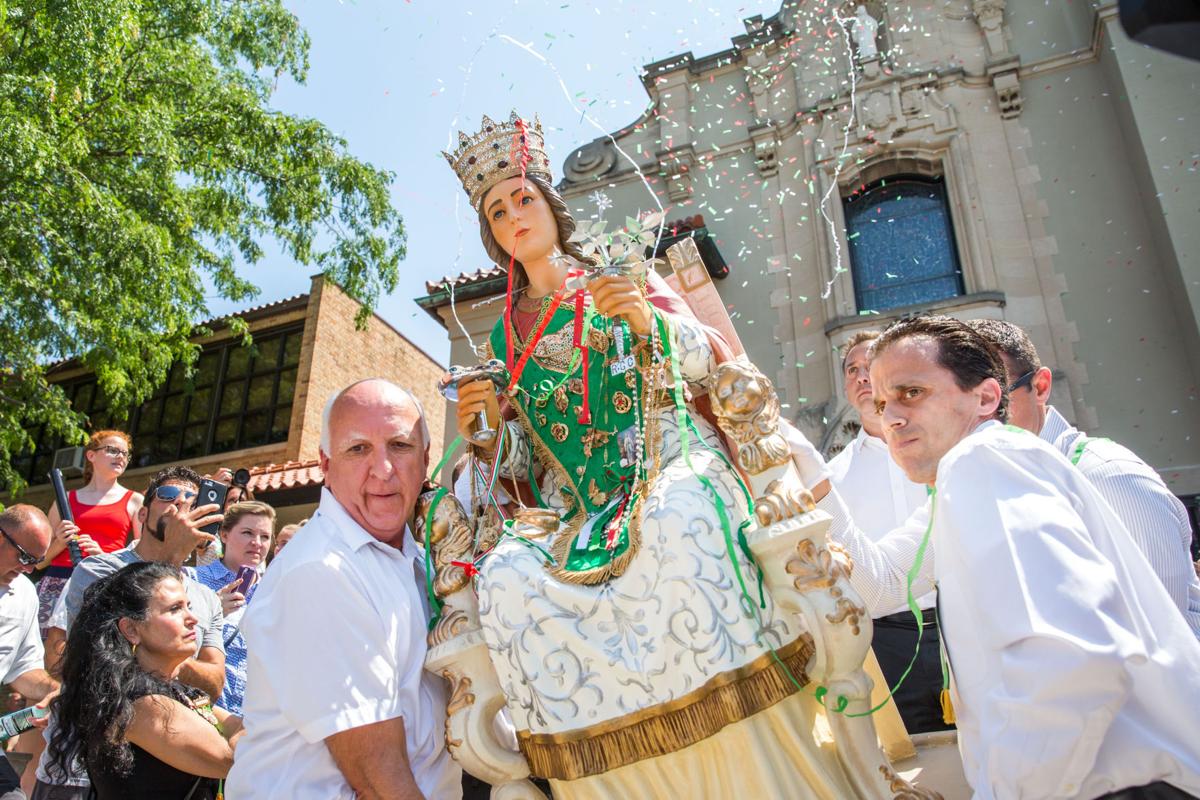 A time for understanding
Grazie mille, molto to my hometown newspaper, the Omaha World-Herald, for publishing my Sept. 5 essay, "The long-ago memories remain vivid from South Omaha's Italian community."
It is a wonderful way to honor the contributions of Italian heritage, both past and present, in making Omaha a world-class city, and one of the best places in America to live and raise famiglia.
Together, I hope and pray we, as a city, can initiate a dialogue of understanding, much the same as my late mother and I engaged in, through discussions in Americanu and Siciliano, which led to "a common ground of understanding."
So, on sharing Columbus and Indigenous Peoples' Day 2020, this Monday, I start the opening of a dialogue. May it gather strength, guide itself with the wisdom of the Holy Spirit and Wakan Tanka, enlighten me with the fond memories of my mother, and the Rosebud Sioux Tribe heritage and pride of my late father-in-law from a prior marriage.
Thank you so very, very much Omaha and to the many others that have contributed ongoing cultural exchanges in our beloved city and nation such as the arts, heritage, medicine, music, philosophy, religion and science.
Get facts on gambling
Pat Loontjer's opinion piece published on Oct. 4 is full of outdated and misleading arguments opposing Initiatives 429, 430 and 431.
Suggesting that dozens of "one-race horse tracks" will pop up defies basic principles of economics. Foe a casino operation to be profitable, you need some level of population density to pay for the building, the lights and the staff that maintain and work in the casino. The vast majority of rural Nebraska does not have that needed population density.
Loontjer uses information that is 15 to 25 years old, because any recent study would have to take in real numbers from the Omaha metropolitan area with respect to casino gaming.
Thankfully, the State of Iowa reports exactly how much is wagered and where. Using Des Moines as a proxy for per capita gaming and applying the same ratio to the Omaha metropolitan area, it is easy to infer that Nebraskans or visitors to Nebraska wager somewhere between $325 million and $350 million annually at the Council Bluffs casinos. If this gaming revenue were captured by Nebraska under Initiatives 429, 430 and 431, the state would take in between $70 million and $75 million in incremental tax revenue.
The data cited above does not include and revenue from casino gaming outside the Omaha metro. Taking all gaming into consideration, the total tax revenue generated from passing Initiatives 429, 430 and 431 will most likely exceed $100 million. Furthermore, this does not include sales tax and hotel revenue associated with any gaming operations.
Biden silence is troubling
The Democratic presidential ticket has refused to answer the important question of whether or not they will pack the Supreme Court until after the election. This issue alone would influence my vote. Voters should be very concerned about this "Just vote — I will tell you later where I stand" attitude.
It is our responsibility as voters to inform ourselves and make our decision based on what a particular candidate stands for. How can we expect to do that if we're told "I'll tell you later"?
Trump is best choice for minorities
I'm reaching out to minority voters, especially the mothers, about the presidential election. Your vote is very important, and I believe you want what is best for your children. There is a big difference with the two presidential candidates.
Candidate Donald Trump wants school vouchers to allow parents to choose the schools they want to send their children to. Joe Biden who, is controlled by the powerful teacher's union, is completely against it. During school desegregation battles in the 1970s, he said, "Unless we do something about this, my children are going to grow up in a jungle, the jungle being a racial jungle with tensions having built so high that it is going to explode at some point." He was opposed to busing to desegregate schools.
Joe Biden helped pass a crime bill that locked up more minorities and Kamala Harris prosecuted and jailed minorities using Biden's law. Donald Trump passed a criminal reform bill to correct the Biden-supported bill that disproportionately locked up more minorities. Donald Trump also pardoned several minorities with long sentences for minor offenses.
The Trump administration had the lowest unemployment rate among minorities. He also opened opportunity zones in minority areas to help black-owned businesses.
Joe Biden famously said, "you ain't black" if they back President Donald Trump's reelection. Donald Trump asked what do you have to lose. I ask that you think about your children's future when you vote.
The importance of respect
In response to the Oct. 9 Pulse letter, "Salute these officers," I think we all agree that Good Cops/Black Lives Matter. Maybe if we just added one tiny little word: "Too"?
"Good Cops Lives Matter Too."
"Black Lives Matter Too."
"Immigrants Lives Matter Too."
And then bump it up a notch:
"Republicans/Independents/Even Democratic Governors Lives Matter Too."
Amazing! It's too bad this president hasn't grasped this concept. It's called respect for everyone.
Catch the latest in Opinion
Get opinion pieces, letters and editorials sent directly to your inbox weekly!