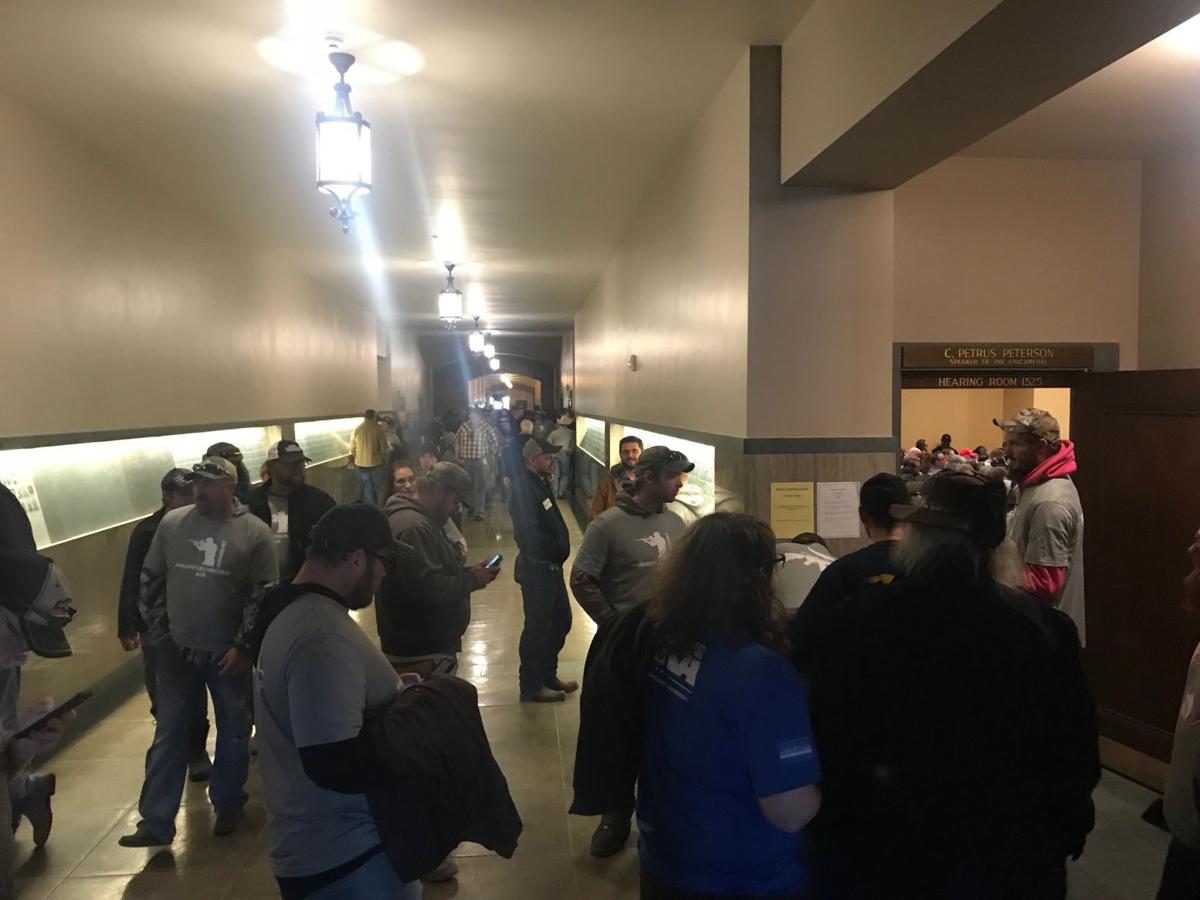 Concern in Lincoln
Gov. Ricketts openly is allowing guns in our State Capitol. What could go wrong with that? Can you imagine if the mob that invaded our U.S. Capitol all were allowed to bear arms ? We now would be mourning countless deaths.
The rights of people bearing arms should not trample the rights of people's safety in the workplace (Capitol Building) or any other area of our lives.
If Gov. Rickets is so cavalier about the right to bear arms, how about people bringing guns in the governor's residence, the State Supreme Court, the Legislature and on and on. This is crazy. Sooner than later, disaster will result.
I have visited our Capitol and I didn't see any deterring force; no medal detectors to walk through, nothing. There has been reported a danger of all state capital houses after the invasion of our U.S. Capitol, and our governor is talking on TV that it's OK to bring your guns.
What could go wrong with that?
Big tech too powerful
After reading several days worth of letters to editor about the Jan. 6 riot, it's obvious most of the writers opinions are driven by their personal politics and life experiences. I'm no different. After reading of Twitter and Facebook's locking of the president's accounts and of Apple's discontinuation of the Parler app on the Apple store, I feel a little unease at the level of power our Silicon Valley companies have.
I know these companies are private companies and they should be able to control their websites, but they are close to monopolies. Whether you agree with Trump or not, any person who can silence the POTUS has an almost unlimited power! Just a little worried by this.
Ron Rickert, Wood River, Neb.
Radicals' danger
Banning books, banning free speech, calling for their supporters to publicly attack their political opponents in public (Maxine Waters), calling for a cleansing of our nation of Trump supporters, is all right out of the Nazi and fascist play books. The real concern is half our nation is too ignorant to see it, and now the left, who says an ID to vote is oppressive, wants you to carry an ID stating you've been vaccinated? Should we just sew an emblem on unvaccinated people's clothes? Does that sound familiar?
Do your duty now
I was heartened to read of the 10 Republican congressmen and congresswomen who had the courage and voted to impeach President Trump on Wednesday. I would hope that our senators from Nebraska also have the courage to vote, when the time comes, to convict him of the crimes for which he has been impeached.
Send needed message
I remember when the House was getting ready to impeach Nixon, when I was a child, for trying to cover up cheating during an election. Even though he won the election, Republicans had the backbone to do the right thing.
If we send a consistent message to future presidents, of any given party, then we can reduce the temptation for cheating. And it can help deliver us all from evil.
Leaders disappoint
I wish I knew the thoughts and feelings of our congressmen and congresswomen as they rushed to safety in our most sacred of government buildings, the Capitol. Fear, I suppose, uncertain of the progression of this riot. Did any of our state's representatives think of their responsibility in this attack? Congressman Don Bacon stated the president shares some responsibility. Yes, with all politicians who refuse to deny Trump's 20,000-plus lies. These rioters are the people whom you allow to amplify the stolen election narrative.
Congressman Adrian Smith experienced no epiphany. Shortly after the riot, he and 130-plus congressmen voted to object to the certified electoral vote. Nebraska Attorney General Doug Peterson joined my state in the frivolous Texas election lawsuit with blessings from Gov. Pete Ricketts. Sen. Deb Fisher and Congressman Jeff Fortenberry just say nothing, in fear of Trump and the Trump faithful.
How do you think it benefits the Republican Party to push the conspiracy theories of birtherism, pizzagate and election fraud? I ask that you protect us from all threats foreign and domestic. Nebraska's political leaders can start by following Republican Sen. Mitt Romney's advice. Start by telling us the truth.
Accountability vital
When our elected representatives, irrespective of political affiliation, fail to require accountability for all participants in the attempt to overthrow our democracy including the mob boss himself, they are just as culpable as the very people who stormed the Capitol and are now threatening other capitols in our country. They are the ones furthering the split in the country's attitude by not supporting the impeachment and punishment of the boss himself. The mob boss is not guilty of a minor infraction, here. This is an attempt on our country; that is a big difference from trespassing or curfew violations.
Seek the truth
It seems from recent Public Pulse letters that many writers think that everyone that backed President Trump is deranged, unethical, uninformed or misinformed and those that follow President-elect Biden are well-informed, aware and true-blue patriots. Unfortunately, it's a sad truth that there are dishonest and unethical politicians on both sides of the aisle. A noted pundit once said about our politicians, if you are not a crook when you get to Washington, you will probably be one when you leave. We know that power corrupts. We are all susceptible to human frailties. We need to always strive to do our best and stay informed about our great country's political fortunes.
As with many Americans, I try to watch, read and listen to news from many sources. It is becoming harder to tell real news from the writer's opinion. Too many news sources are biased against one side or the other. Many news providers are unwilling or unable to give an objective news report without putting their spin on the story. We all must continue to seek the truth and work to improve America no matter who has been elected. Our republic demands it.
Bad decision, OPS
I am extremely disappointed and worried at OPS' decision to return to completely in-person learning. Not only has the state of the COVID-19 pandemic worsened, the district is inadequately providing safety measures and precautions to those that are already within the building. Our country is grieving over 4,000 COVID-related deaths today alone. It is beyond irresponsible to be opening the doors of our schools to the entire student body when proper social distancing and safety measures are not able to be followed under the 3/2 model.
Dr. Logan seems to be under the impression that gambling with student and staff lives is OK in order to win the local popularity contest. Yes, other districts are currently participating in 100% in-person learning. Is this the safe decision to be making? Are we in a state of public health that endorses a decision to have all students back? I cannot fathom her ability to acknowledge in an email that public health and COVID cases are not where we want them to be, and in the same breath state that we are returning to school.
OPS teachers and employees are being told they are not allowed to eat snacks during the school day. They are allowed to eat at lunch only. They are not cattle, Dr. Logan. They should be entitled to eat whenever their bodies and diets and lifestyles dictate. If the administration believes that eating a snack is so dangerous to the safety of those in the building, it is incredibly hypocritical to think that we are in a position to have all students back at once.
I am beyond upset. The blood lost in students, families and staff will be on the hands of those that are approving this decision.
Frivolous lawsuits
Like many Nebraskans, I support free speech and have concerns about censorship of conservative voices by tech companies. I also value my privacy and want to protect my personal data online. Having those concerns, however, does not mean I will abandon my belief in the value of the free market to foster innovation and support the growth of businesses both large and small.
The lawsuits that Nebraska Attorney General Doug Peterson has joined against Facebook and Google fail to reflect Nebraska values, as they would use heavy-handed government power to disrupt the choice of consumers, business owners and families. The most successful businesses in America are in big trouble if politically motivated lawsuits, developed and pursued at great taxpayer expense, are the standing operating procedure for Nebraska's attorney general.
Americans should have the choice of using the best product at the best price. Companies such as Facebook and Google have succeeded because the free market has placed value on their innovation and excellent product. Taxpayer-funded attacks by government will only stifle innovation and deter upstarts from entering a marketplace riddled with uncertainty and the threat of frivolous lawsuits.