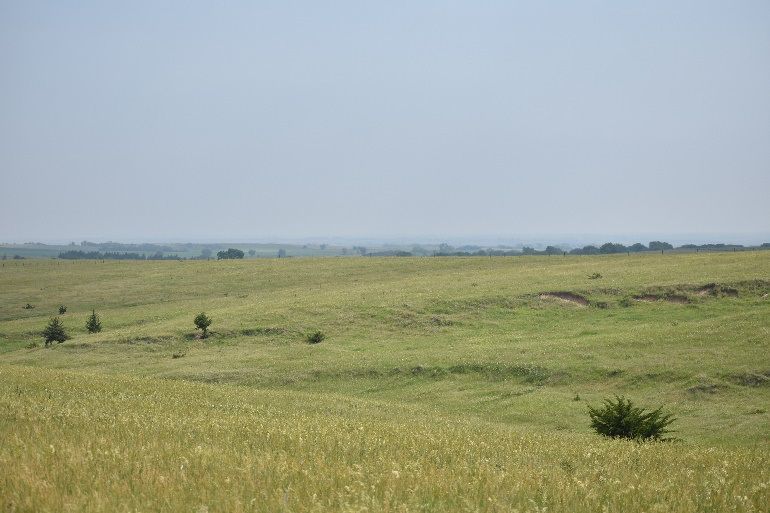 Easements are a plus
There is no need to wring hands and sweat worry over perpetual conservation easements. For more than a century, absolutely permanent changes to Nebraska's landscape have been made without any such worry. Yes, all of downtown Omaha or the Capitol complex in Lincoln could be leveled and restored to native prairie, but you and I know that won't ever happen.
In fact, sometimes perpetual easements are required in urban development to offset wetlands issues. New highway projects also use permanent easements for the same purpose.
If the Biden 30x30 plan had a goal of installing federal control over 30% of the land in this country, there is undeniable reason for concern. But to undermine private non-governmental conservation efforts and to deprive Nebraska residents of important tax benefits runs exactly counter to addressing that concern.
None of us knows what will happen and what life will be like distant centuries into the future. But that is no reason to worry about doing what is good now. I have every confidence that whatever is needed in those distant centuries, people then will find the needed ways to achieve them.
Steven Sanford, Sioux Falls, S.D.
Such easements are an exercise in private property rights and are a key cooperative tool to protect Nebraska wildlife habitat. 
Many options
Interesting article in Tuesday's paper, but not completely accurate. There is coverage for eye exams by Medicare. It is available once a year, every year. If cataract surgery is necessary as determined by your doctor, then my understanding is that Medicare will cover it. What is not covered are eye glasses or contacts. There are places where a person could get glasses for as low as $59. Glasses can range from $59 on up to over $500, depending on add-ons such as bifocals, trifocals, transition lenses, snap back hinges, and the cost of the frames chosen. Since there is such competition in this field, prices can vary based on one's preference.
Dental can also be affordable. When my 4 kids were little, I took them to a dental school for their annual checkups. Do not know what they cost now, but was very affordable for me. And, there are some doctors who do pro bono work or offer a payment plan if necessary. I do not know much about hearing issues, but I am sure that there are either schools, doctors or nonprofit organizations who can help.
I don't know why taking care of yourself has become the government's job. As far as long-term care, the government will help with that once they take everything you own. It may not be a luxury, but that requires buying the long-term insurance, which is not cheap. As for me, I am trying to stay healthy and hope for a quick end when my time comes.
Unjust treatment
After reading Steve Chapman's commentary (July 8) on ending cash bail, I am reflecting on the number of people who took part in the Jan. 6 protest on the Capitol. Many of these people are still in jail without bail and will stay there until their trial, which will not be until 2022. None of the Jan. 6 protesters were armed, and many false stories concerning violence against the police were found to be untrue (policeman bludgeoned with a fire extinguisher, for example).
The only death during the situation was Ashli Babbitt, former veteran who was shot close up in the neck by a Capitol policeman, who has remained unnamed. None of these protesters burnt down government buildings, or destroyed people's businesses, or committed murder. These are the facts, if you care enough to investigate, and there are a few brave souls who are trying to do just that.
The point is, according to Mr. Chapman, that we should be treating anyone involved equally and fairly, and according to our Constitution.
Neither political party should be allowing this unfair situation to exist.
Children, trauma
I recently had the opportunity to ask Deputy Chief Kanger and Captain Gray how the elimination of childhood poverty in Omaha would benefit the Omaha Police Department's effort to build a safe community for all Omahans.
New leaders needed
It seems the dark past of this country is being brought back by the GOP and our congressional delegation, which continues to put party over country. SCOTUS took the first step in that direction, when the chief justice refused to recuse himself due to consistent bias against the Voting Rights Act of 1965.
And Congressman Don Bacon has continued his silence now and during the Trump administration attacks and has failed to defend the U.S. Constitution consistently. He only feels the military is all you need in defending the Constitution. With his help, he has made our country a trillion-dollar debtor nation with our overspending military.
In 2022, Nebraskans need to send a ripple of hope by seeking and electing new members from Nebraska that, regardless of party, believe what President Harry S. Truman is attributed to have stated; "It is amazing what you can accomplish when you do not care who gets credit." Our present delegation cares more about what party gets credit than working together to make our country better for all Americans.
Immigration policy
We should follow the British on illegal immigration policy. The British government introduced legislation recently that would crack down on illegal immigration, especially those who claim to be refugees.
Home Secretary Priti Patel, the daughter of legal immigrants to the U.K. from India, stated: "If you illegally enter the U.K. via a safe country in which you could have claimed asylum, you are not seeking refuge from imminent peril — as is the intended purpose of the system — but are choosing the U.K. as a preferred destination over others."
Do our leaders not understand how the system is supposed to work?
Stephen Bloodworth, Omaha