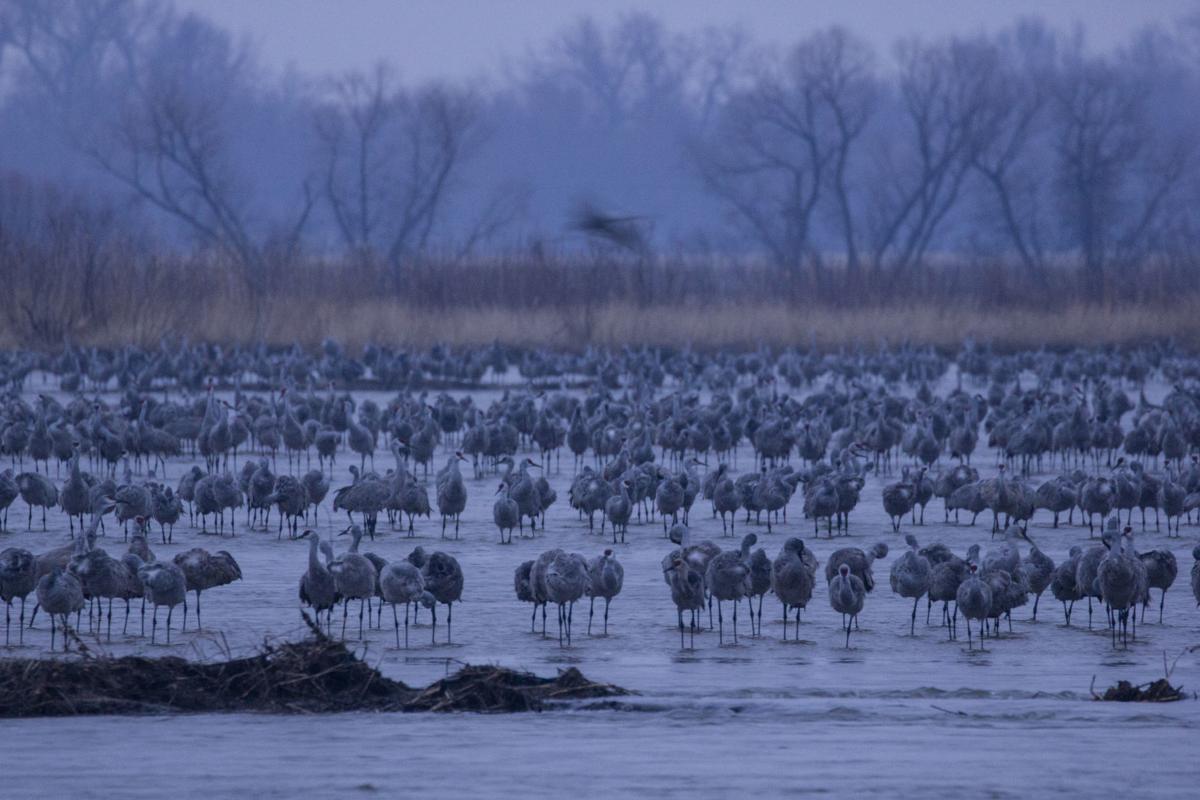 Crane Trust ready
Recent news reports have expressed area officials' concerns that the COVID-19 pandemic will threaten the 2021 crane viewing season and keep tourists away from central Nebraska. We at the Crane Trust can assure you that, pandemic or not, the cranes are coming — just as they have each spring for millions of years. We are taking steps to ensure that crane lovers everywhere will be able to view this glorious natural spectacle.
The Crane Trust is offering Virtual Crane Tours that will replicate as much as possible a trip to one of our blinds. A state-of-the-art video camera will capture the cranes' departure from the Platte each morning and their return each evening. Expert guides will answer questions and offer insights.
Crane Trust members get around-the-clock access to the crane viewing camera throughout March.
We believe this alternative will bring the migration to an even wider audience, and we will encourage those viewers to join us in person for future crane migrations. By supporting these Virtual Crane Tours, you can help us protect the habitat that makes the crane migration possible, while also attracting tourists to central Nebraska in the coming years. More information is available at cranetrust.org.
Chuck Cooper, Wood River, Neb.
chief executive officer, Crane Trust 
Independent thinking
Many thanks for your Dec. 29 editorial so clearly emphasizing the totally vital need for our elected legislators and public officials to think for themselves and to openly honor their oaths of office to uphold and defend the United States Constitution regardless of party affiliation or pressure. Bravo also to Sen. Ben Sasse and Rep. Don Bacon for demonstrating the courage, integrity, respect for our Constitution and love of our country to do so in these difficult and challenging times. Profound and sincere thanks to both of you. It is deeply disappointing and stunningly sad that your example is so desperately needed yet also so rare.
David Holcomb, Council Bluffs
Bacon's failure
Don Bacon's pension is well over $100,000 a year, so he probably would not be eligible to receive a stimulus check of $2,000. Is this why he voted against increasing the stimulus from $600 to $2,000? Or has he suddenly become fiscally conservative since voting for the 2017 Trump tax cut which added $2 trillion to the national debt and gave 80% of the tax breaks to the top 1%? Just wondering.
Sasse an elitist 
Ben Sasse is lecturing us less intellectual deplorables again. If we were just as smart as him, we would realize that President Trump was a lousy president. Ben apparently doesn't like low unemployment, advances in peace in the Middle East, progress in bringing manufacturing back to America, making NATO members start to contribute more to their own defense. Progress in realigning our relationship with China, record speed in developing a coronavirus vaccine. Record tax cuts for middle-income citizens. And a host of other accomplishments. 
Ben prefers Democrat politicians who use their "public service" to enrich themselves and their families. Ben likes the Washington "swamp" of government. Everybody in it to enrich themselves and wield power over us deplorables. 
Ben, go back to academia where your touchy-feely sensitivities are appreciated. You belong with your fellow Democrats who think they are the only ones that know anything and hate anybody that doesn't go along with their elitist beliefs in themselves. I know you are deeply offended by President Trump's unpolitical character, but grow up, Ben; see the world as it really is. 
GOP cheating
Ryan Hamilton, executive director of the Nebraska Republican Party, wants to harm the reputation of the Republican Party by cheating for Donald Trump. He should either retract his statement or resign. I don't want to see a cheater in Omaha politics. 
Bacon, oppose sedition 
The 2020 election is over. The votes have been counted. The court challenges have been heard and rejected. The winner has been decided and will be sworn into office in a manner of weeks. 
And yet, this week, at least one Republican senator and 100-plus Republicans from the House have indicated they plan to object to President-elect Joe Biden's electors. This objection is not supported by evidence or facts and is destined to fail. That doesn't mean it's any less shameful. 
I'm asking Rep. Bacon to vocally and unquestionably reject this sham objection for the attack on our democracy that it is. Rep. Bacon should join Sen. Sasse in respecting the outcome of our election and denouncing those that spread misinformation and delusion. 
It is vital to the future of our nation that the citizens can trust in the integrity of our elections. This attack will fail, but unless we wholeheartedly reject those who attempt this seditious act, others will be encouraged to try again. And they may find more success. This cannot be allowed. 
I urge Rep. Bacon to defend our nation and respect the results of the election. 
2020 vote
I absolutely agree with Kim Buck's letter in this Tuesday's Public Pulse. My wife and I are lifelong Republicans; however, in this recent election our votes for Biden were actually votes against Trump as well.
Charles Bagby, Blair, Neb.
Root cause
In our representative democracy, most of us cannot abandon our tractors, kitchen sinks or desks to head to Lincoln or Washington, DC to espouse our own sincere views, entertain pertinent information and attend to the arguments of others, trying to sway those around us and, finally, either cast votes on proposed legislation or take steps to execute laws already enacted.
Instead, the great bulk of us choose others to "represent us" and to work on our behalf.
In turn, those chosen ones must keep their ears close to the ground, so that they may act and vote in the way they judge will be approved of, even embraced by, most of the citizens they represent.
If elected officials regularly fail to do so, the citizens are entitled/obligated to dismiss them from office at the next opportunity to do so.
On the basis of the evidence of voting preferences shown in multiple past elections, most Nebraskans appear to be generally content with the way their incumbent elected officials are behaving and voting.
Some strident complaints are voiced. But the populace have only themselves to blame. Their own lethargy, lack of knowledge or their traipsing after various pied-pipers either cause or permit whatever the politicians do. It's not the stars but ourselves at the root of our dissatisfaction.
George D. Sturgeon, Lincoln
New Year's wishes
Of our planet's orbits of our star unnumbered,
In quiet thought we mark the last.
The route included joys and sorrows,
But that journey now is past.
As we move on through time and space,
Let's try to practice Hope and Grace.