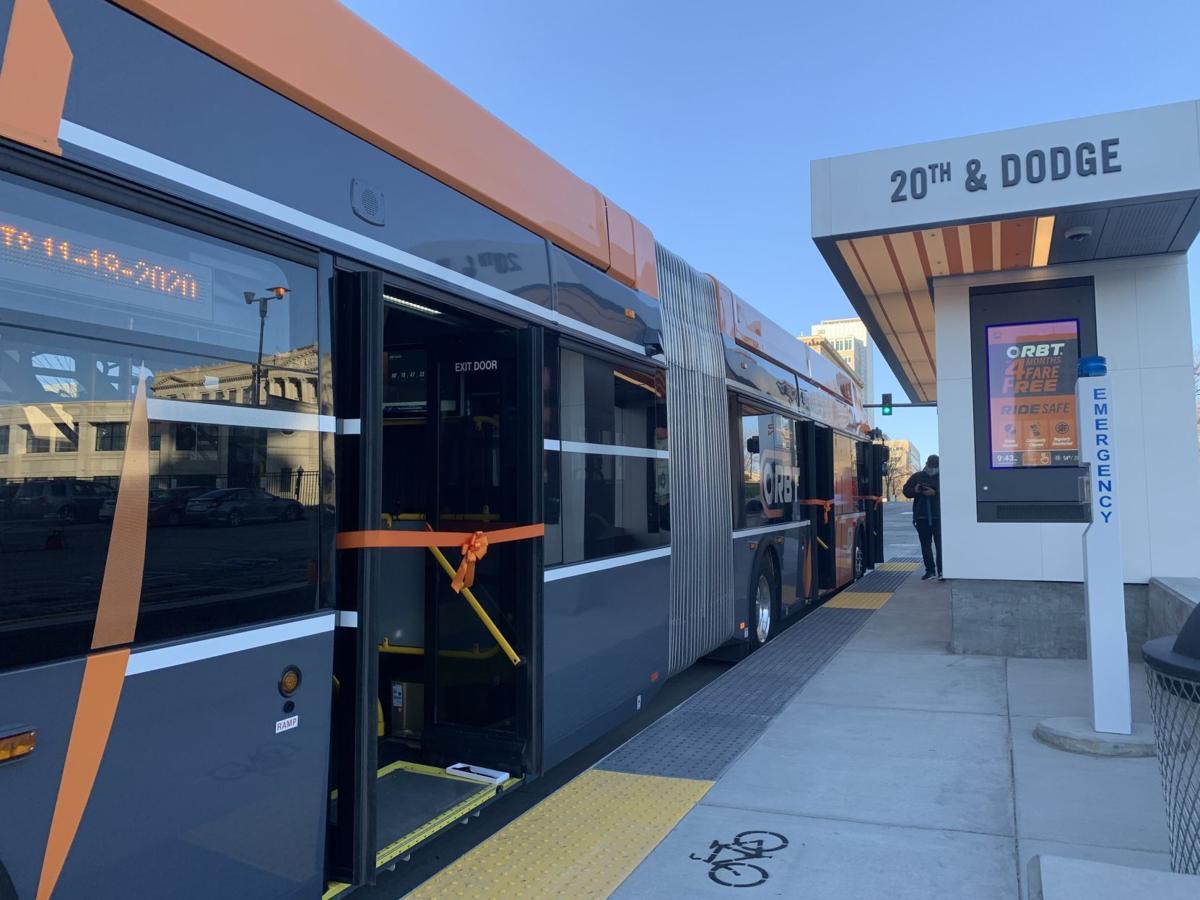 Transit vision
I applaud The World-Herald for its editorials favoring the improvement of public transportation. Omaha has reached the point where it can no longer widen arterial streets to relieve traffic congestion. The only answer is to improve public transit. The ORBT Express Bus system is a great first step, and Omaha Metro is proposing a similar service north to south on 24th Street.
However, the focus on good public transportation needs to be widened. Douglas, Lancaster and Sarpy Counties have shown substantial population growth, according to census figures. It is now time for the formation of an East Central Regional Planning Authority to coordinate efforts for the eastern part of the state. The proposed commuter rail service between Lincoln and Omaha should be meshed with public transit at both ends to create a truly helpful transit network.
Richard L. Schmeling, Lincoln
Acts of kindness
I don't know the Hagedorn family, but how beautiful it was to see this family in their bright cheery yellow shirts on the front page of the OWH on Saturday, Sept. 25! In the midst of their personal and heartbreaking situation with Terri battling terminal cancer, a community came together to bring a measure of joy into their world. No matter how deep the division and chaos seems to be raging in our world today, I was reminded that there is still good among us.
The smiles radiating on the Hagedorns' faces prove acts of kindness are still alive and well today — they make a difference and are so very necessary! And Emily — you are a mirror reflection of your beautiful Mom! May God bless your family!
Freedom, responsibility
I am writing to address Bradley Wardell's assertion (Sept. 24 Pulse) that due to Biden's actions regarding CDC-approved vaccines, we now have two Americas. His America, which doesn't want to live in fear and has learned to live with COVID-19; and the other America, which wants "unconstitutional vaccine mandates." He asks, "What kind of a country do you want to live in?"
I want to live in an America where our citizenship and the overall well-being of others are paramount. I want to live in an America whose citizens consider this greater good to mean protecting those that are vulnerable. I want to live in an America that does not need mandates to get people to do the right thing. I want to live in an America that recognizes patriotism often comes with some small "sacrifices" that, in light of the ease of getting the vaccine, is a word that barely applies.
And frankly it breaks my heart to see parents teaching their kids that every action is their right with no regard for others. That is not my America. This is not about freedom. This is about a germ. Just like other germs which have been eradicated through vaccines.
I vote. And I will vote on the side of science and facts and the greater good of all citizens.
Look in the mirror
Gotta just scratch your head at this point. For four years Trump and his supporters were called "Nazis." But who wants or has banned words and books and certain speech? Who attacks their political opponents with violence and shuts down conservative speech on college campuses? Who now demands you carry "papers"?
Better take a good look in the mirror, Democrats. At no time in history has the people who ban books, speech and certain information been the good guys.
Thoughtful letter
Sherry Dorman wrote a thoughtful and brave letter to the editor (Pulse, Sept. 25) concerning her experience with an unexpected pregnancy in Saturday's edition of the Omaha World-Herald. Sherry, you are my hero.
Liz Hussmann, Council Bluffs
GOP hypocrisy
Our country's national debt became a Republican rallying cry during the Obama administration, and initiated the start of the Republican Tea Party movement. Sens. Rand Paul and Ted Cruz predicted the demise of our country if the national debt wasn't addressed. Then along came the Trump administration and an additional $8 trillion was added to the debt without a whimper from the Tea Party, because the national debt wasn't an issue after all.
Now that a Democrat is in the White House, the Republicans are all crying doom and gloom over the national debt once again. While we should be concerned with the national debt, the hypocrisy of the Republican Party is overwhelming.
Border crisis
Most Americans are sick and tired of all the various illegal immigration attempts. We are sorry their nations are not able to adequately provide for them, but if they enter our country unlawfully, they should be severely reminded they are not welcome.
We have procedures in place. They must follow them or face the consequences.
Andrew Williams (Sept. 23 Pulse), it's not because they are Black. Nadine Keith (Sept. 23 Pulse), would you rather the border patrol chase them down with trucks instead of on horseback?
The vast majority of Americans do not want us to open the borders to the world!
Billy van Haaften, Bellevue
Border Patrol
Last week, photos surfaced of Texas Border Patrol agents mounted on horseback doing their job of attempting to stop the invasion of thousands of illegals from attempting to enter the United States. Biden immediately stated, as reported by ABC News, that these agents "will pay."
Will pay for what, for doing the job we pay them to do?
The photographer who took the photos in question said that nobody was whipped. "Deciding they did something wrong without any form of due process — that should not be who we are," said Border Patrol Council Vice President Jon Anfinsen.
Sen. Lindsey Graham tweeted, "When President Biden says that Border Patrol agents will pay for doing their job, it is an affront to all those in uniform at the border and is the ultimate blame-shifting,"
There was no shortage of left-wing politicians lining up before the MSM cameras comparing the optics of this situation with our past history during slavery. With the notable exception that in this case they were invading and not trying to escape.
Will the invaders have to pay anything for breaking our laws? Of course not.