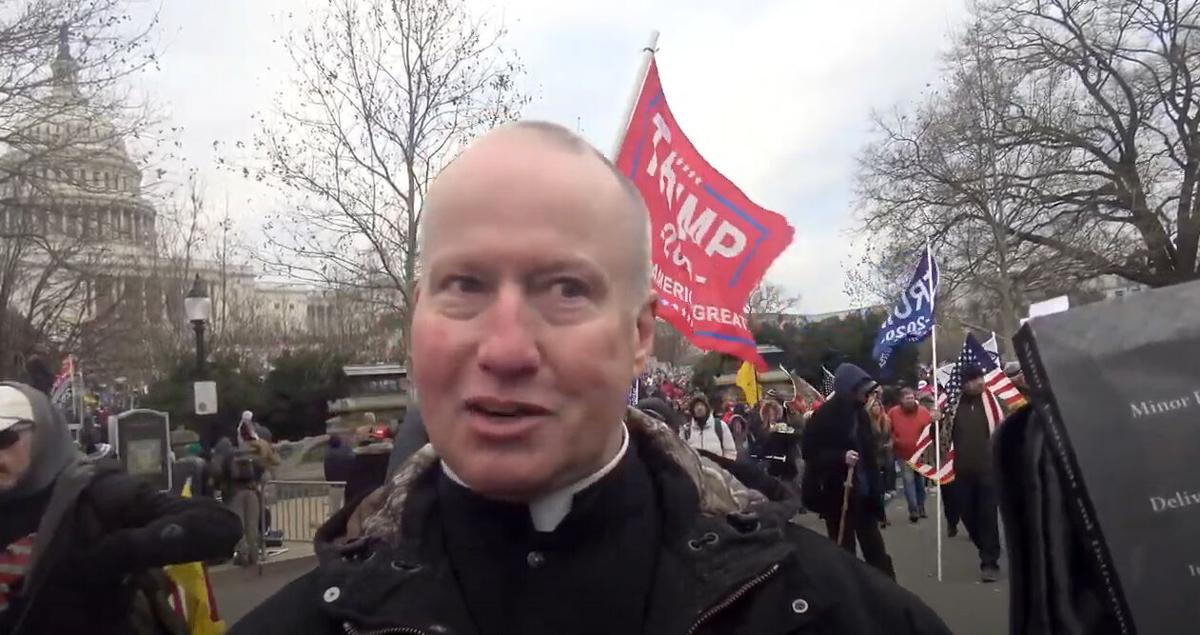 An admirable priest
In a response to Vince McAndrew (Feb. 2 Pulse), practicing Catholics know what it means to be true to the faith. Those cafeteria Catholics who pick and choose what doctrine to follow are not devout Catholics. I support the Rev. David Fulton's right to be there, and I applaud him praying for all the people there. Archbishop Lucas should be more careful in choosing his words, as he runs a greater risk from the rest of the devout Catholics when it comes to his latest campaign.
The Vatican already has enough corruption, and the statements coming from Bergoglio have not been well received by many bishops and the flock. His personal statements have been taken as him updating the church teachings, which is incorrect.
The Rev. David Fulton needs to be praised, as he is praying for discernment for our elected officials and citizens.
A troubling priest
I was born and raised in Central City, and my family still resides there. The news of Father Fulton's trip to the Capitol left me feeling disappointment.
I'm disappointed this man is viewed as a leader. Our society is evolving, and there's harm in having an ultra-conservative pastor who is operating "40 years in the past," who ostracizes women and children from the church and disagrees with the Pope's stances.
I'm disappointed Father Fulton traveled during the COVID-19 pandemic, returned home, unmasked, and came in close contact with 20 church members during communion four days later. This was in the same church where I attended my beloved grandfather's funeral, who died from COVID-19 a few months ago.
I'm disappointed the Archdiocese failed to remove Father Fulton in 2019. I'm disappointed that the brave souls who were willing to come forward in 2019 with a petition for his removal have felt silenced and abandoned because their cries for help fell on deaf ears.
I'm disappointed in Father Fulton's statement on Sunday. His only mention that he used bad judgement was in a statement he didn't write. I'm disappointed his only apology was to the archbishop and his staff for creating more work for them.
I'm disappointed that when you google Central City, Nebraska, the top news story will be about Father Fulton for months to come.
Most of all, I'm disappointed that he isn't sorry for the harm he has caused, and he will still be in this community, dividing, alienating and lying if we don't come together and say, "Our community deserves better."
Matthew Maresh, Topeka, Kansas
Unfair criticism
I'm so beyond disappointed in the "reporting" you have shared in light of the recent attendance of Father Fulton at the Capitol! The half-truths, opinions and loose quotes you're sharing are only further dividing the church, the state and, dare I say, the nation! Be a little more responsible with your news! Father had every right to attend a the rally! The term "exorcism" was blatantly taken out of context!
The weaponizing of parishioners in the Central City area is putting people in a small community against each other! Why are you creating a mountain out of a mole hill? Shame on you! Accurate reporting takes work! Very little honest effort was applied here!
Cathy Blauhorn, Archer, Neb.
He swings, misses
Re. the Jan. 31 More Commentary essay by Cal Thomas, he swipes with a two-edged sword after he asks the question: "How can one be devout about one's faith and not comport with scripture ...?" A valid question, but one that should be answered introspectively before selectively pointing out sinners.
Perhaps Mr. Thomas will follow up with a back swing of the judgment sword against adulterers, liars, hypocrites and serpents.
Pesticide concerns
Good to see the lead editorial in the Feb 2 World-Herald about the mountain of toxic waste my wife and I have seen outside the AltEn plant in Mead. This is a uniquely visible example of one of the negative tradeoffs of ethanol production.
A much less visible, yet insidious, type of ongoing, widespread pollution of our soil and groundwater is the use of glyphosate (brand names such as Roundup) in farming for weed control and making corn and bean crops available for harvest earlier, to list a few uses. WebMD.com provides further details about the widespread use of glyphosate in agriculture and the presence of this chemical even in organic oatmeal (think, infant cereal).
I'm certain that the farmer I encountered while on a bike ride who stopped spraying a cover crop last spring in a field near my home was using glyphosate; when I rode by a week later, everything in the field was brown and dead. This was followed by a robust corn crop.
Congress is contemplating a bill which would provide carbon credits for farmers who engage in "regenerative practices" for soil health. Please join me in asking your congressional delegation to support amending this bill to deny carbon credits to those who use glyphosate. Your great-grandchildren's great-grandchildren will thank you for doing something to protect our groundwater and their progeny.