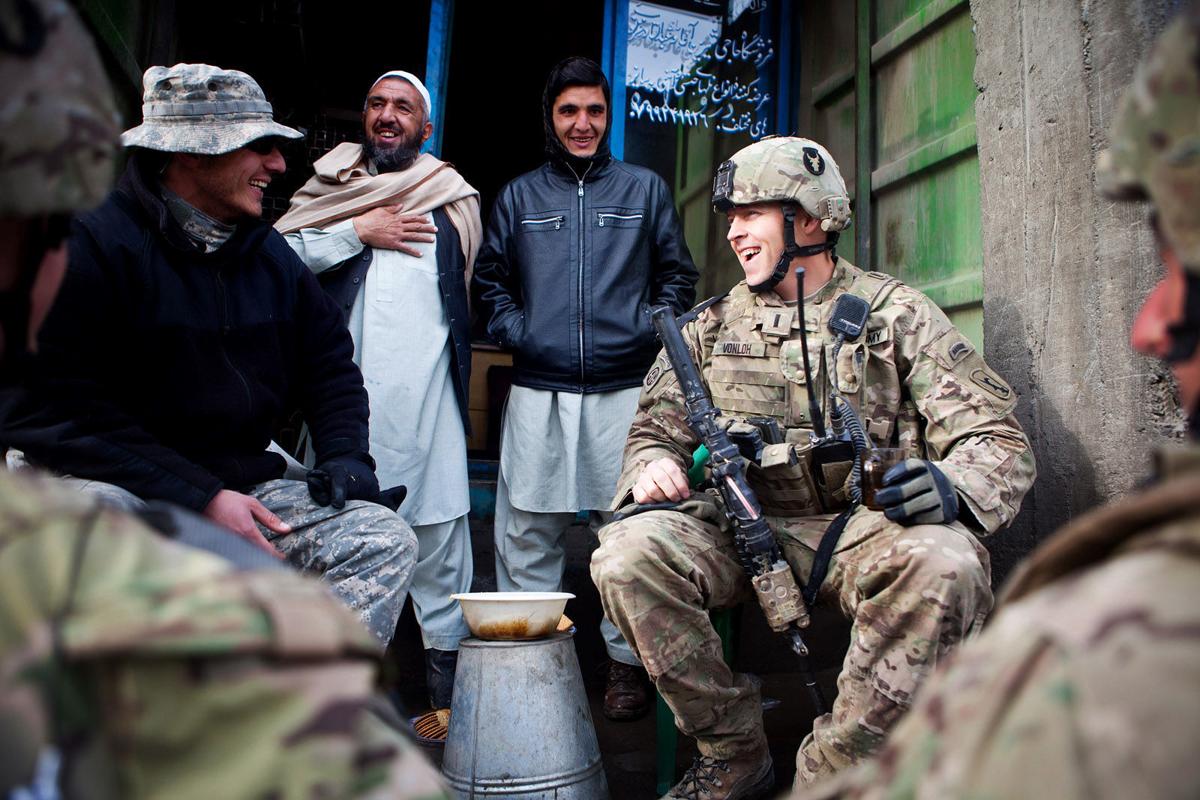 Don't abandon them
The July 3 opinion essay written by Jay Jackson was spot on. America needs to step up and help those who helped and supported our military efforts. These individuals allied themselves with us out of a hope that we would be there for them.
Mr. Jackson mentioned our abandonment of the rebel fighters in Syria. If we think back a few decades, we might learn that we have a rather dismal record of supporting those who have allied with us. We left uncounted (and since forgotten) Vietnamese allies including civilians, Montagnard fighters and South Vietnamese troops.
It does not bode well for any nation to ask the assistance of native born, foreign citizens, only to abandon them at the end of conflicts we abandon. The United States should be better than that.
Barry Marsh, Central City, Neb.
Thanks for respect
June 1971: A 24-hour-flight from South Vietnam to California, then California to Eppley and I was nearly home for 30 glorious days before heading back for a second and third tour. Guess I was so used to the army providing for me that I never thought to bring money! Retrieving my duffel bag, I set out for the farm south of Council Bluffs. Because of the jeers and cursing we had received in California, I was determined not to ask anyone for a lift or help. I believe it was called Abbott Drive that I was walking along. Many cars had passed when I heard brakes, and a yellow cab stopped alongside me.
"Need a lift, soldier?" the driver asked.
I said no, thank you, I haven't any money, and besides I'm headed out in the country south of the Bluffs.
"Hop in, son. No charge, it would be my privilege. You see, I served too!"
That hero helped me surprise my family and greatly encouraged me in the process, and his only payment was a heartfelt "Thank you!"
Rich Peters, Ozark, Mo. former U.S. Army staff sergeant
Paper tickets better
I'm 38 and I hate electronic tickets. Not because I'm dumb with technology, but because I collect them. I currently have two shoe boxes full of stubs. I hate that most are electronic now. One of my favorite memories is of a former coworker and myself talking about shows. The former coworker the next time we hung out brought a box of their stubs that included things like David Bowie for $2, Beatles for $5, Elvis Costello for 75 cents. It was awesome to hear the stories and feel them in my hands. They are a memory.
Catherine Wesslund, Omaha
Race-baiting
White people are being scapegoated, defamed and blamed for things they simply did not do and have no responsibility in creating and have no ability to change.
Leftists look for a victim and say, "See? White people did this," as if this is a defining and exclusive feature of all White people. The complexities of culture, technology, skills and religion are flat out ignored just so the left can scream "racism." This left-wing tactic is pervasive and widespread. This is destroying history and needed discussion on race relations.
The World-Herald editorial of June 23 was very narrow-minded on this matter but adopted the same tactic. Professor Cynthia L. Robinson, in her June 27 essay, piled on rhetoric over facts using the same tactic. There are other articles as well which together provide an avalanche of misleading to false information.
Andrew L. Sullivan, Omaha
Revive can-do spirit
What needs to be done?" In the 1890s Populists demanded abolition of child labor, an 8-hour workday, and a public works program. In the 1920s Progressives wanted stabilization of the money supply, broader democratization, and public utilities. The New Deal fulfilled these dreams of generations of Americans, created Social Security, and put millions to work on infrastructure.
After half a century of progress, when Republicans regained the White House with Eisenhower in 1952 they asked what else needs to be done, and created the Interstate Highway and student loans. Nixon established the EPA.
But then along came Reagan, who slashed taxes on the rich, put holes in the social safety net, launched the culture wars, and forever changed the debate to "what else can we cut?"
A couple generations of that approach escalated inequality back to levels not seen since the 1920s, and created a debilitating backlog of deferred maintenance, documented by the American Society of Civil Engineers. We must also heal conflict and social chaos by investing in human capital.
We desperately need to return to the "can do" attitude of the past, but we face big challenges under the handicap of a cult of personality that rejects reality for conspiracy theories, elevates power above country and whose only goal is obstruction.
Thanks
On May 12, I was severely injured in a head-on collision caused by a careless driver. I want to express my thanks to the Ashland Fire and Rescue Department for the exceptional way in which they extracted me from the wreck, treated me on the scene, and quickly transported me to the Bergan Mercy ER/trauma center in Omaha. All the surgeons, doctors, PA's nurses, and P.T. folks of the Bergan Mercy Trauma ICU team put me back together again. Through their care, and the care of all the doctors, nurse, and P.T. folks of the Madonna Hospital in west Omaha, I'm on my way to recovery.
I didn't receive a minute of anything less than exceptional care from the moment the AF&R team arrived at the scene of the accident, to the moment I was discharged from Madonna.
Thank you all for the wonderful care and top-notch treatment I received. God bless you all.
Politics over people
The left continues to push lies that Republican voters are the majority of those reluctant to get vaccine, going as far as launching a marketing campaign targeting conservatives who they claim are risking the country achieving herd immunity. Unfortunately focusing on politics over people puts the lives of minorities at risk in cities like Omaha where the lowest percentage of vaccinations, only 30%, reside in northeast and southeast Omaha.
Troy A. Burress, Papillion
Ricketts is right
Each time I read one of those letters castigating Gov. Ricketts for sending law enforcement troops to our southern border to protect our United States of America, I am embarrassed and angered at the selfishness of all residents of "interior" states feeling our border states are the only ones responsible to pay the cost financially and physically to handle the invasion of illegal people into this country when the federal government isn't doing its job of stopping this invasion.
Thank you, Gov. Ricketts, for Nebraska's support of Texas on this issue.
Brenda Ray, Fremont, Neb.
Voter ID, hate crimes
I ask myself, why does the GOP continue to cry "Voter fraud"? "Slama, GOP leaders start petition drive for voter ID," a July 8 World-Herald article says. It continues: "Despite the lack of evidence supporting electoral maleficence, Republican officials have introduced various election-related laws that they say are intended to maintain free and fair elections." Donald Trump continues to claim "voter fraud" in the last presidential election despite numerous investigations, recounts, court rulings, etc. Trump lost; the voters said so.
In the July 9 paper, I found the answer to the GOP's efforts to restrict voting for all Americans. The article "Omaha FBI: Reported hate crimes on rise" stated that "Nebraska and Iowa has seen a 21% increase in the reporting of hate crimes." It is my conclusion after reading these articles that these GOP-sponsored attacks to restrict access to the ballot box are an offense against voters, with the added element of bias.
It only makes sense that the GOP-sponsored voting restrictions, including voter ID requirements when there is no evidence of electoral maleficence, are really a government-sponsored hate crime. The lesson: if you don't agree with the vote, then the losers should change the voting rules to get the result they want.
We need to be vigilant against hate crimes, especially when sponsored by our elected officials.
Dangerous drivers
Red light runners need to stop. People especially run them at left turn arrows because unless there is a police officer there, they can drive through without interference. Cameras at intersections would discourage accidents and also add revenue for the city. This may not be popular, but it would perpetuate safety and revenue.