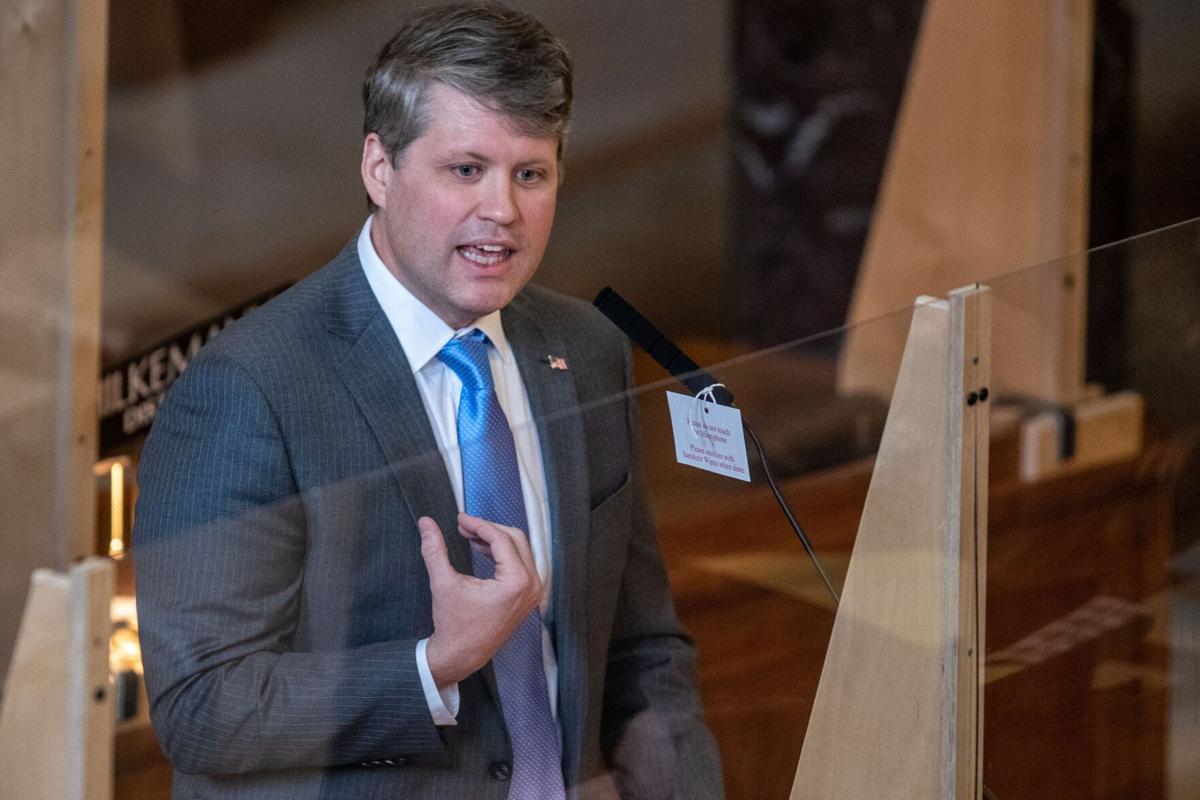 Don't split Douglas
As a resident of northwest Omaha, I take issue with recent efforts at redistricting Nebraska congressional seats. Why should Bennington and Elkhorn, or even Valley, want to be excluded from the urban portion of Douglas County? I believe public sentiment favors keeping both Douglas and Sarpy Counties whole, but separate.
There would be enough population if Dodge and Washington Counties were added into District 2 with all of Douglas County (three total). Moreover, Sarpy and Lancaster Counties of District 1 would include Cass, Otoe, Seward, Butler and Saunders Counties (seven total). If, as expected, the growth rates in Sarpy and Lancaster Counties will exceed those of Douglas County, then Seward and Butler could be merged into District 3 to even out the populations of all three districts, as I believe Cass and Otoe Counties want to be in the same district as Lincoln.
Federal overreach
The near coincidence of Constitution Day (Sept. 17) with the 9/11 anniversary begs the question as to the condition of our republic in addition to the current threat from terrorism. Our Union (the federal government) is less perfect than it was 20 years ago. Too many politicians claim to be striving toward a more perfect union when, in fact, they are either mouthing empty campaign rhetoric or worse, having no intention of reforming the government, they enact greater amounts of central planning and abuses of government power trying to achieve what they believe is a more perfect society, usually some form of collectivist Utopia.
Currently some resistance to excessive government power is found among the number of citizens demanding transparency and accountability from school boards and other state and local elected officials. While these citizens may be derided in the institutional media, we should not allow the political establishment to silence their grievances. We cannot abide the credentialed class violating their rights as parents or allow the warped portrayal of their actions, including inaccurate and overused diatribes against populism, to cause the demise of our self-governing society. Also, a few governors are resisting the threat of questionable federal emergency powers that are legitimately included in the powers of the individual states.
The result of these various forms of resistance to federal overreach are not yet known. While each of us must decide how we stand on these issues, please consider the following: While the Constitution is not a suicide pact, not following the Constitution most certainly is.
Our nation's failure
The pictures of how the U.S. officials dealing with Black Haitians on horseback, whipping them, and the immediate deportation is just another example of how America deals with Black and brown people in need.
Disgusting for a nation that is supposed to be Christian.
Shameful message
We do not care if they are tired or poor or homeless or tempest-tossed.
Only gauchos on horseback to chase them down.
Nadine Keith and Virginia Walsh, Omaha
Infrastructure renewal
Omaha-based CLAAS North America and other Nebraskan equipment manufacturers support 33,800 family-sustaining jobs across the state and contribute $3.6 billion a year to the state's economy. However, poor roads, bridges and other critical infrastructure prevent our industry from reaching its full potential. There are 1,302 bridges and over 1,125 miles of highway that are in poor condition here. And commute times have increased by nearly 7% over the last decade. That makes it harder for manufacturers across our state to move product into and out of our factories, hindering our productivity and ability to grow.
Because of the federal infrastructure legislation, Nebraska could expect to receive $2 billion for highway programs and $225 million for bridge replacement and repairs over five years.
Broadband internet is also critical for Nebraska farmers and construction workers to maintain a high level of productivity. Passing the infrastructure legislation would mean Nebraska would receive $100 million to expand broadband coverage, including providing access for nearly 34,000 Nebraskans who currently do not have it.
Sen. Deb Fischer has successfully included several priorities she championed that benefit the Husker State, including grant assistance for rural communities. This grant program will help the rural, agricultural communities, where many equipment manufacturers thrive, become more competitive in the federal grant application process. I applaud Sen. Fischer's leadership and now urge Republicans and Democrats in the U.S. House to work together to get this investment in our communities and economy across the finish line.
president, CLAAS Global Sales Americas;
board member, Association of
Onward, Huskers
Some Nebraskans were disappointed that the Huskers lost the football game at Oklahoma. It's good to focus on the fact that Nebraska was predicted to lose by 23. Oklahoma was No. 3 and Nebraska played at Oklahoma. To lose by 7 (and almost win) says Nebraska is on the right road. Keep it going, BIG RED!
Voting rights
Thank you to the more than 40 citizens who attended a candlelight vigil in support of the compromise voting rights bill — the Freedom to Vote Act — on Sept. 17 in front of U.S. Sen. Ben Sasse's office to show community support for voting rights. A letter describing the tenets of the Freedom to Vote Act, which will reduce voter suppression in the United States, was signed by the vigil participants and was delivered to Sen. Sasse on Sept. 20.
This bill is a compromise developed and promoted by moderate conservative Democratic Sen. Joe Manchin of West Virginia. To pass the U.S. Senate, the act will require 10 Republican senators to support it. We urge Sen. Sasse to vote yes for the bill to ensure that all eligible citizens can vote without barriers and regardless of their ZIP code.
We also thank those who spoke at the vigil, including Juanita Johnson, Omaha City Council; Preston Love Jr. of Black Votes Matter; Brad Christian-Sallis of Civic Nebraska; Krystal Fox, co-president of the League of Women Voters of Greater Omaha; MaryLee Moulton, co-president of the League of Women Voters of Nebraska; community advocate Alisha Shelton; and Brandi Bothe of the Omaha Women's March.