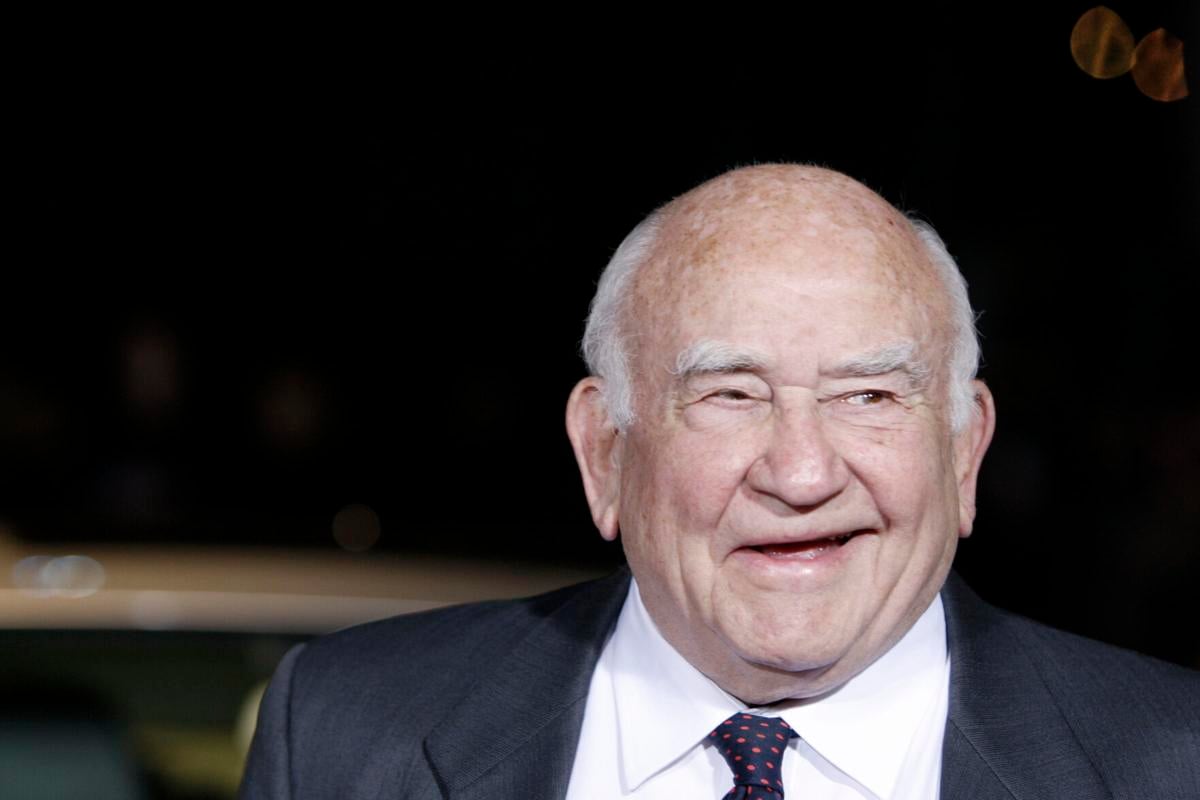 Asner in the Bluffs
I read that Edward Asner, beloved star of television and movies, died on Sunday, Aug. 29, at age 91. He lived a long and fruitful life. I was a fan.
One biography listed his filmography of 69 movies. I had to smile fondly to myself because this list omitted a series of several films he acted in when he was a very young man just getting his start in Hollywood.
I taught fifth grade at Washington Elementary School in the Council Bluffs Community Schools in the 1970s through the early '80s. My two teammates and I showed these films as part of our instruction on American history to our 75 students. These films illustrated the birth of our country, bringing to vivid life the dramatic events and brave leaders who resisted tyranny and risked all for freedom — our freedom. The kids really liked them.
Edward Asner was a famous TV star at the time, and we three teachers enjoyed seeing his "beginnings" in these forgotten but good instructional tools. And we enjoyed the privilege of teaching children to appreciate the courageous beginnings of the United States of America.
We were greatly helped by what we three jokingly called "The Edward Asner Film Festival." One year we almost served popcorn, but we chickened out.
Delores Hurlburt Cantu, Omaha
In the middle
Thomas G. Leuschen, Omaha
A fuller story
Regarding criticism from Congressman Bacon and Sen. Sasse, and by Ed Leahy ("Morally bankrupt," Aug. 31 Pulse) of actions in Afghanistan: No one mentioned that this "symbolic" withdrawal date was the result of the previous president having negotiated a separate U.S. withdrawal with the Taliban to be completed by May 1 of this year. Trump left our Afghan and NATO allies out of these negotiations, we assume based on his "real-world life experience," not dissimilar to his business dealings with the myriad of contractors, business and political partners he also abandoned.
That is the same "real-world experience" I assume that led President Trump to desert our Kurdish allies to be slaughtered by the Russian, Turkish and Assad's murderous troops. Trump was keen on taking credit for the defeat of ISIS, but had no compulsion on betraying the very fighters who did the yeomen's share of the work.
Trump had 11 months to begin getting people out and, other than a dramatic drawdown of our troop strength, did nothing. Sasse's and Bacon's criticism is so disingenuous as to be laughable, especially Bacon's, whose position in the military meant he had to know the mountain of lies the American people were being fed for two decades about the endgame possibilities.
It needs to be said that both Trump and Biden shared a belief that the stated goal of building a modern nation with Western ideals was unattainable no matter how much blood and treasure we poured into Afghanistan.
Richard Lane Bailey, Plattsmouth
Don't sign it
The Nebraska State Fair brings lots to see, including petitions to sign. I'm asking you not to sign the voter ID petition. Our state constitution ensures all elections shall be free without hindrance to voters, but this petition proposes a costly hindrance, a photographic identification card to vote. Only registered voters can sign this petition, yet you do not have to show any identification. This is because Nebraska has one of the most secure voting systems in the country with no voter fraud.
Voting by mail is cost-effective and important for rural counties, and people who are nonambulatory, elderly, without transportation, or in the military. This proposal will affect access to voting for these people.
The state legislative fiscal office has estimated state-provided photographic identification cards for all registered voters would cost $3 million initially plus $1 million dollars annually to maintain it. That's our money paying to vote!
Here's the kicker. The proposal circumvents how a constitutional amendment usually is brought before the people. Legislators should make this proposal dictating how it works, its cost, and determine whether it's constitutional to avoid future costly lawsuits. This petition makes an exception to the constitution's no hindrance to voting requirement, plus gives a blank check to the state for its implementation.
Protection priorities
Once upon a time, there were nine governors who wanted to demonstrate their political powers. They decided to ban masks in school even though they were informed that not wearing masks might put some children at risk of illness or death. The governors thought this action would please their inspirational leader, known for his carefully crafted comb-over.
Then the nine governors realized that football helmets were even more restricting than masks. Therefore, these leaders banned requiring football players to wear helmets to give the players freedom of choice. The governors threatened to fire any coach who required players to wear helmets. The people of the nine states rose up in anger because they did not want to put their football players at risk of concussions or death.
The message was clear: It may be acceptable to put children at risk of being harmed, but do not put our football players at risk.
The nine governors resigned in shame for promoting policies that might harm football players.
David and Barbara Daughton, Omaha
Remember the past
The Aug. 27 bombing in Kabul was no doubt a tragedy. One day later, senators like Josh Hawley, Marsha Blackburn and Lindsey Graham and members of the House are calling for the impeachment of President Biden or the resignation of him and parts of his cabinet. Let me put out some dates and events for you.
October 1983: Beirut, Lebanon.
What happened at these times were tragedies also. But I cannot remember anyone calling for the presidents in charge at the time to resign or be impeached. Now what do Presidents Ford, Reagan and George Bush have in common? They were Republicans. So if it wasn't impeachable for them, why consider it for the President Biden. Is it because he is a Democrat?
Use of force
My retired police brother says police are only authorized to use minimum force in self-defense. That principle is included in guidance issued by the National Institute of Justice, part of the U.S. Department of Justice. More and more, it seems like lethal force is used prematurely.
On Jan. 6, while rioters were attempting to overrun the U.S. Capital, a woman was shot and killed by a federal policeman. While the situation was chaotic, in reviewing the video of the shooting I saw no lethal threat to the policeman. There was no club or knife within reach of the policeman, and no gun visible. She was merely attempting to make her way through the door window.
We expect the police to remain calm in a crisis, as I know my brother would have been in this situation. No charges are being filed against the policemen, but the woman paid the ultimate price. I question this officer's character for continued service.
Please help veterans
I know Warren Buffett does a lot of good with his charitable donations, and l am sure it is much more than l am aware of. But how about putting Americans First!
How about building homes for the very troops that gave their arms and legs that made it possible for him and Bill Gates to make billions? l know l don't see the big picture, but l can see the needs of our wounded troops. l also know that Mr. Buffett, Mr. Gates and other billionaires make more money than they can give away. While l am at it, why not build homes for the Gold Star families and the homeless, many of whom are veterans suffering from PTSD? Help — we need Mr. Buffett and his fellow billionaires to put Americans First!