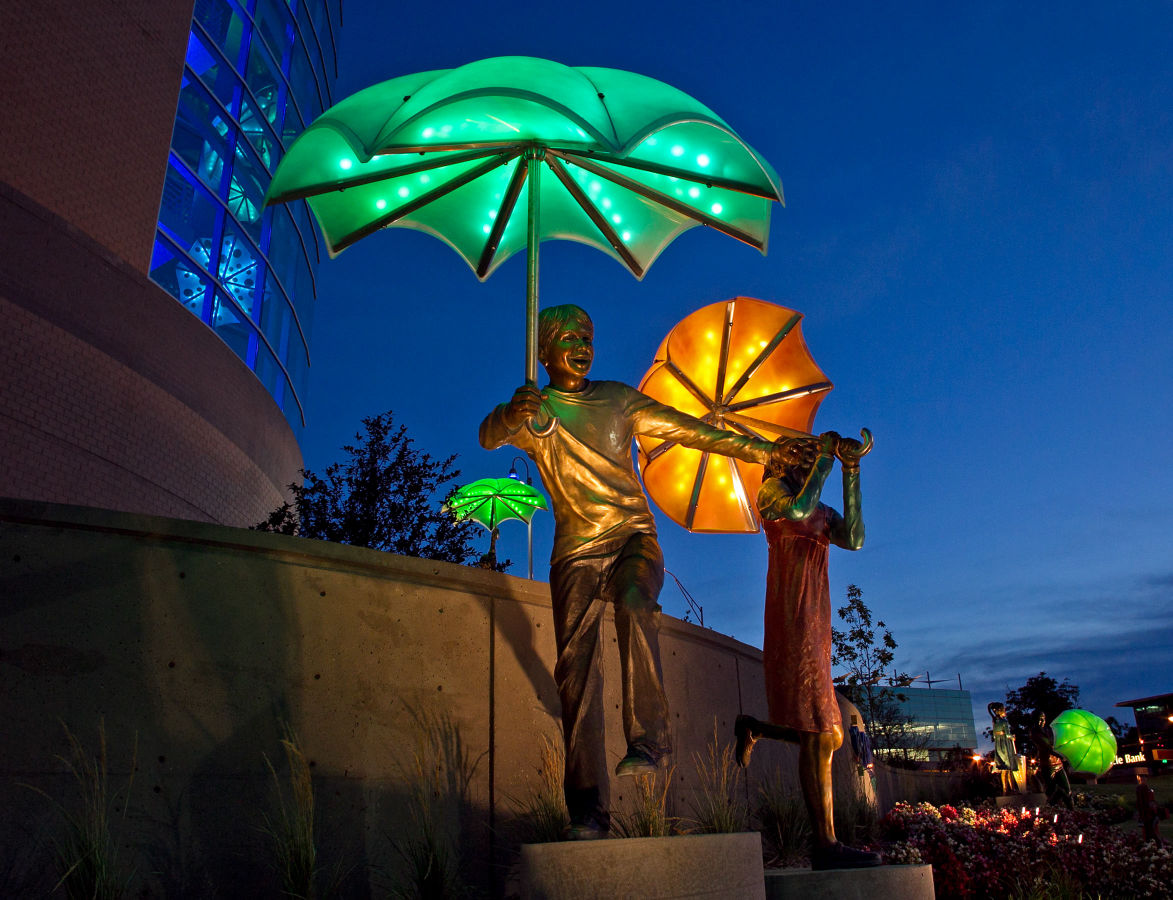 Welcoming entrances
There are (in my opinion) two attractive entrances to Omaha. One is the beautiful drive in from Eppley Airfield. The other is the drive on Dodge Street from the Elkhorn River into the western and central city. While much of the area from 90th Street east through 72nd Street still passes through construction zones, it shows promise. And, passing by the newly completed portion of Methodist-Children's Hospital, one observes a facade that may puzzle architects but will delight children with the changing light displays and the touching portraits of umbrella-hoisting children. My own children have been treated well and in style at this facility, and I suspect that in years to come, it may become an iconic emblem of Omaha.
Changed perspective
My 43-year-old daughter recently informed me "Daddy, you know you had a gender problem when you raised us kids." By problem, she meant a bias. I have been examining my conservative-religious lens by which I interpreted the world, and I have come to the realization that I was wrong about many things.
As an evangelical pastor and father, I was the guardian of the heteronormative gates of the Judean-Christian tradition. My mission was to keep the divinely devised binary system intact and the strict love code exclusively for a man and a woman. I was constantly gendering my children according to the Biblical interpretive view that boy and girls were different, hard-wired by God for distinct roles. Boys had testosterone and were strong, aggressive and non-relational and subsequently their "divine" roles were as the authoritative leader or priest in the home and in society, breadwinner, and protector. Girls had estrogen and were tender, compassionate and into relationships, and their "divine" roles were that of nurturing care giver and managing the home.
I constantly drummed these ideas and enforced the gender rules: Girls were to dress as girls and boys as boys. Boys played football and girls cooked and sewed. The joke was in the house — "women were to be barefoot, pregnant and in the kitchen." My fundamentalist's theology encouraged me to work on this constantly to ensure the stability of the patriarchal family and nation.
It turns out, according to the latest research, that these differences were not natural, meaning they were not born with them, but it is something that is nurtured by years of gendering or stereotyping.
Yes, I did have a "gender problem" with my children, but I will not make the same mistake with my grandchildren.
Edward Kelly Jr., Red Oak, Iowa
former Pentecostal pastor
Medicare concern
Do people who enroll in Medicare Advantage plans realize they're helping undermine traditional Medicare? Probably not. But Sen. Deb Fischer, R-Neb., knows. She's signed a letter to the Centers for Medicare and Medicaid Services, supporting taxpayer-funded subsidies for Medicare Advantage plans. Fischer did so at the bidding of an insurance industry lobbying group.
The federal government provides traditional (original) Medicare. Medicare Advantage is run by private insurance companies, paid by the government to manage benefits. The letter Fischer signed advocated against cutbacks in federal payments to insurance companies. For 2021, Congress approved $41.8 billion in tax-funded "rebates" to insurance companies to provide exclusive benefits — including dental, vision and hearing — to 24.9 million Advantage enrollees.
Still, Congress denies these benefits to traditional Medicare enrollees! (Currently, only hearing remains in the watered down Build Back Better proposal.)
A largely Republican faction in Congress wants Medicare privatized and run by insurance companies. One way is to tip the scales with tax-funded handouts, arguing insurance companies manage better. Not true. Medicare Advantage payments routinely cost the government more than traditional Medicare. Some insurance companies make eye-popping profits.
There's no valid reason to deny exclusive benefits to traditional Medicare enrollees which private Advantage plan participants enjoy. It's a ploy to entice people away from traditional Medicare and into Medicare Advantage.
When enough seniors join Medicare Advantage, expect traditional Medicare to end. Federal subsidies will cease and insurance companies will be free to cut Advantage benefits and increase premiums. It's what insurance companies do best.
Herbster
I have watched with increasing disappointment the recent political advertisements for Charles Herbster. There he is, railing about the apparently useless Biden administration policy toward illegal immigrants who are "ruining" the lives of "real" Nebraskans. And there he is again, chest pumped, declaring that "Governors Must Act!"
The chance of Charles Herbster going after a single undocumented worker in the state of Nebraska is a shameful lie. The feedlots, meat packing plants and other agricultural businesses that keep our state coffers filled would be dead without a steady influx of "illegals." If he would like to look a little closer to home, it would only take a minute to see that the crews working 12 hours a day this summer and fall replacing roofs in Falls City (his hometown) were not speaking English as their first language.
If he really wanted to "Act" as he claims, he would introduce a realistic seasonal and work related visa program that would allow our farming community to access the workers that they need, whilst ensuring that migrant labor is treated in a manner that would encourage them to return for the next season.
Mr. Herbster has been exceptionally successful as a businessman, and we should all celebrate his success. But maybe the next time he leaves his gilded cage in his private jet, he could land in a place where teachers are using their own meager salaries to purchase school supplies for the impoverished children in their classes; where underfunded and under-trained police departments and sheriffs are playing "whack-a-mole" with the proliferation of meth houses in their districts; or where the once beautiful and vibrant small towns of Nebraska are crumbling into the dirt.
Alexandra McMullen, Stella, Neb.
Grateful for this help
On Sept. 28, I tried to get tickets for the "Cats" performance at the Orpheum Theater through an online ticket service. My computer said our tickets were available, but I was unable to get them. There was a phone number to call if you had any problems. I called this number many times, there was a nice professional recording, but no real person ever came on the call.
I continued to call until Oct. 2, the day we were to attend the performance. When there were only a few hours before the performance, we decided to go to our Bank of the West branch for help with what seemed to be a scam. Our information was taken and we hoped for the best. At first it was decided they couldn't do anything to help. I figured it was my fault that I didn't know how to manage my computer. We left it at that.
Out of the blue, Maria Viselli, from Bank of the West, called, trying to follow up on this incident. I sent her copies of things on my computer from this ticket company. I just felt like we didn't get to tell our side. We weren't trying to cancel these tickets; we just were unable to get them and needed assistance from this company.
Well, happy ending! Bank of the West came through for us, and got our money back.
Ruth Corwin and Mark Brady, Omaha
Complication
Don Rider ("Four-day school week," Public Pulse, Dec. 2) believes a four-day school week is a solution to lowering property taxes. He mentions possible reduction in cost in several areas except teacher and administrators salaries. Does Mr. Rider believe a reduction in both teacher and administrators is warranted? After all, they will be working less.