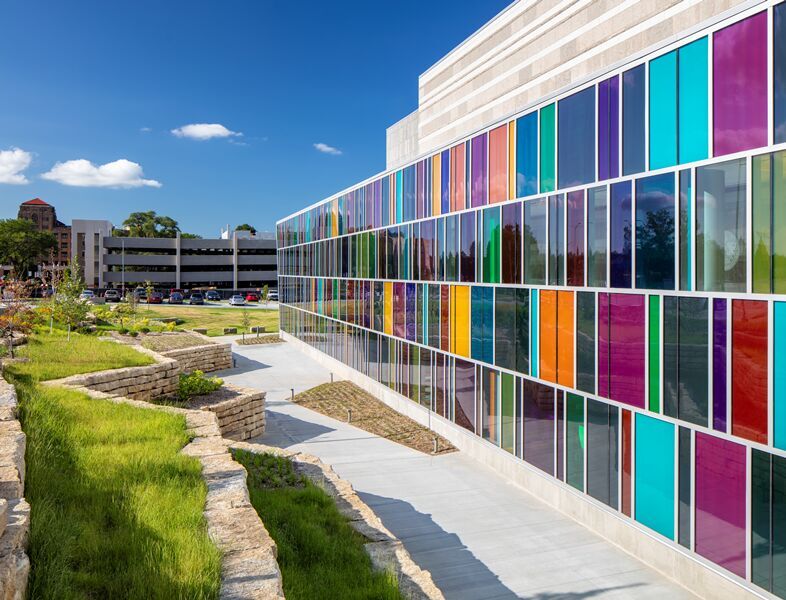 Great job, VA
The turmoil surrounding the COVID-19 pandemic and the necessary vaccine seems endless. It's reassuring to find that under focused direction, there is an existing program with adequate supplies overseen by capable managers.
We are very fortunate to have such an example of this at the Veterans Affairs facility here in Omaha, For all those who have served our country and are thus qualified to share in the services offered by the VA, the current difficulties can be addressed and avoided.
A simple phone call will allow for a nearby first appointment as well as the second one. Appointments are held at the newly constructed building on campus which houses a number of clinics. While large groups of patients are being processed, they are handled in a very professional and timely manner. I found all of the staff to be friendly, knowledgeable and efficient.
Lawrence S. Albert, Omaha
Integrity in Legislature
It's heartening to witness an increasingly rare example of elected officials who prioritize the democratic process over their political party's thirst for dominance. Thank you to State Sen. Mike Flood and the 12 other Republican senators who voted to reject the proposal to end secret votes to elect committee chairpersons. Nebraska's unique Unicameral has worked largely due to the fact it is nonpartisan. The United States is in dire need of more politicians who are brave enough to think for themselves and vote to represent their constituents, not their power-hungry party.
Child welfare debacle
It is with great sadness that I read the unfolding story about the huge mess the Nebraska leadership and DHHS have created by having awarded the child welfare contract to St. Francis. Before St. Francis was awarded the contract there was PromiseShip, a local nonprofit collaborative that was doing an outstanding job caring for children in the Omaha area.
Then St. Francis came in, a company located out of the state, and knowingly placed a falsely low bid for the contract. Everyone involved in the child welfare business knew this bid would never work, yet the poor leadership of Nebraska fell for this shell game. PromiseShip even filed a lawsuit pointing out the inability of St. Francis to cover the contract and that it was a shell game. They had falsely placed the bid knowingly. Now, to no one's surprise, St. Francis is fleecing the state for millions of dollars more to cover care. Sadly, the only ones that will suffer are the children and taxpayers of Nebraska.
The Nebraska officials who are responsible for the mess should be fired. The contract should be immediately removed from St. Francis and the state should work with PromiseShip to get coverage for these hurting children. Shame on the leaders of Nebraska for falling for this sham.
Youth center concerns
The editorial in the Jan 19. edition, about the Geneva center for youths, brought into focus HHS, the state lawmakers and Julie Rogers, the state ombudsman. Julie's recent report explains the troubling crisis and the development of the crisis.
HHS is continuing with unilateral changes. The newly constructed two-year project for the Youth Drug and Alcohol Program located at the Hastings Regional Center is being remodeled to accommodate the needs of the Geneva female youth. The female youth are temporarily located at the YRTC in Kearney and will move there.
The lawmakers have barred the girls from moving to HRC and are requiring a strategic plan by March 30. Since the situation with the 13- to 18-year-old girls has been addressed by HHS and the remodel with specifications for them in the never-occupied building are currently underway perhaps even completed, how does this fit with the Legislature's "barring" of the move until the strategic plan is filed March 30?
Is the strategic plan a step to something? Will there be time for review by the lawmakers? Are they to study and approve it, or is a rubber stamp the usual mode?
The crisis at Geneva has gone on for years and has been reported in The World-Herald at many different junctures. Where is the oversight?
My questions: Does the strategic plan do anything to the unilateral decisions now going on by HHS, how soon after March 30 will the girls move to the brand newly removed facility? Who will coordinate the much-needed oversight?
So many have invested their time, energy and expertise in this mission.
Pipeline is needed
I was disappointed that Biden revoked the Keystone XL pipeline permit. This will not stop one drop of oil from being able to go to refinery and be burned.
I have witnessed train after train of tank cars go through Oakland and increase in number yearly.
The Keystone pipeline costs 50% less to move the crude oil and is much safer. A derailment of this explosive crude oil would have the potential to kill most of the Oakland residents or residents of the many towns in Nebraska that these trains pass through.
The only benefit is to Berkshire Hathaway that owns BNSF and the tank car company that is making billions of dollars with their moving pipeline.
Brendan Murray, Oakland, Neb.
Unfair cost
I can tell you one thing for sure about all the unlicensed and uninsured cars roaming Omaha, my car insurance rates are 20% higher here compared to living in an area with stricter enforcement.
Trial should proceed
It is widely posited that a president cannot be impeached after he or she has left office. That is irrelevant, as Trump was in office when impeached. The impeachment is simply the charge, the indictment. A trial resulting may stretch on for days, weeks, even years, but the alleged crime stands. Trump is rightly indicted, and must stand trial.
The argument that a trial would further divide our country is also irrelevant. We purport to stand for justice for all. If the powerful can elude the scrutiny of a fair answering of charges, then our country is forever divided between the privileged and everyone else. Let our system work.
Inauguration
I read with amazement the logic of Jay S. Purdy (Jan. 21 Pulse) about what would be remembered about President Biden's inauguration. You first must delve into the reason why there was so much military presence. False lies were spread by Trump and his followers about an election that he claimed was fraudulent. Republican justices and even Attorney General Barr could not find any irregularities in our democratic process of casting our ballots.
If you tell a lie enough times, people will begin to believe, and that is what happened to the Trump supporters that stormed the Capitol. It was only prudent to have a means to discourage these thugs from trying to disrupt what is required by the Constitution for a peaceful transfer of power.
Mr. Purdy was correct that Biden's number of attendees was less than Trump's, but we don't have to worry about President Biden spreading a lie claiming his crowd was larger than Trump's.
Cancellation ahead?
Folks! Here's the deal! Joe says we must unite as a country.
It's not a joke! Do you think he has the courage to cancel the cancel culture? C'mon, man!
Rod Freburg, Fort Calhoun, Neb.
Trusted professionals
Every year Americans are surveyed about which professions they trust the most. After this year it should come as no surprise that nurses rank No. 1 as most trusted profession for the 19th consecutive year. These front-line providers have been called to perform above and beyond their duty to meet the ever-changing needs of their community.
This week Certified Registered Nurse Anesthetists (CRNAs) celebrate over 150 years of anesthesia. Over 57,000 CRNAs are currently practicing across the country, safely performing more than 49 million anesthetics every year.
CRNAs practice in every setting anesthesia is delivered: traditional hospital surgical suites; obstetrical delivery rooms; critical access hospitals; ambulatory surgical centers; offices of dentists, podiatrists, ophthalmologists, plastic surgeons, pain management specialists, and more.
CRNAs are the primary providers of anesthesia care in rural America, providing underserved areas essential services. CRNAs bring the compassion inherent in our critical care nursing experience, combined with the highest educational and professional standards and technical skills. During the COVID-19 pandemic, CRNAs lent their varied experience and expertise in intensive care units and emergency departments nationwide. CRNAs are uniquely skilled to provide services wherever needed.
We are proud to be part of your community. CRNAs are there for Nebraskans when they are at their most vulnerable — having a baby, undergoing a surgical procedure, or seeking relief from intractable pain. We take bringing patients safely and comfortably through these situations as more than a responsibility. It is our calling — and we thank you for allowing us to care for you.
board member, Nebraska Association of Nurse Anesthetists