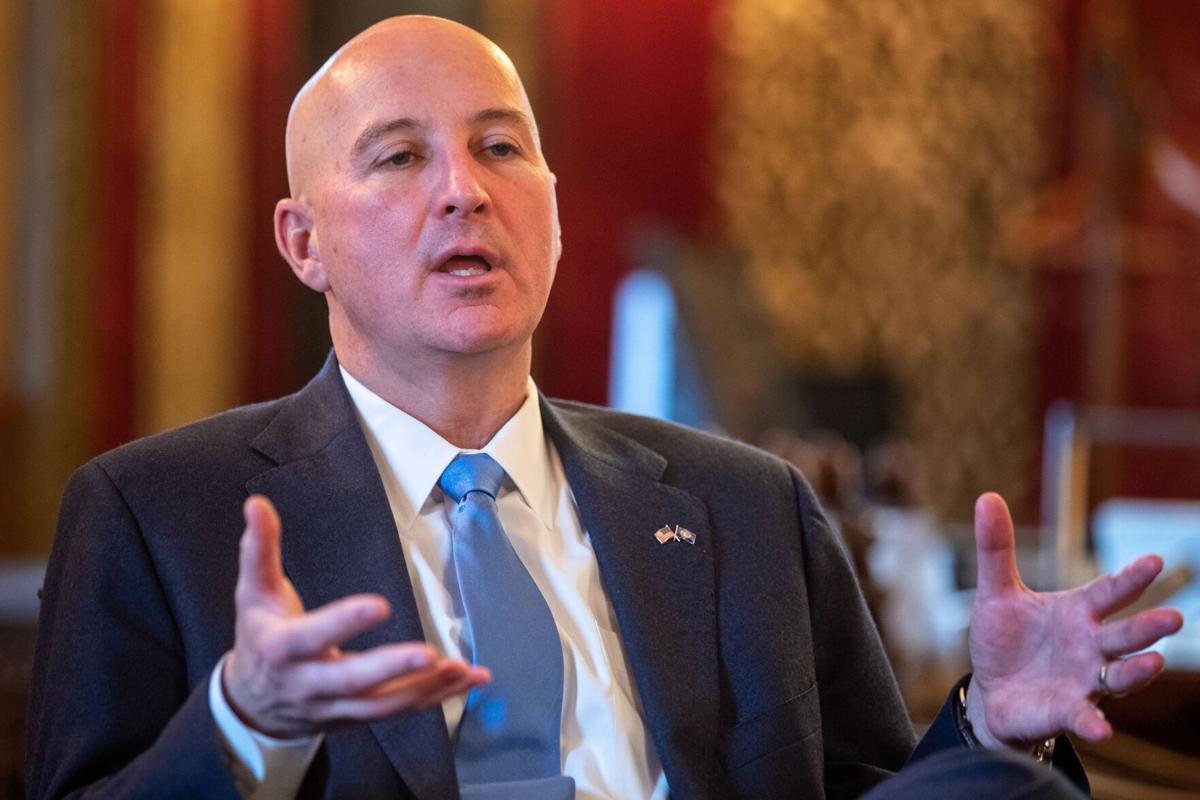 The right values
Gov. Ricketts' rejection of President Biden's invitation to house immigrant children is reprehensible. Ricketts' dismissive attitude of blaming Biden for this immigration crisis lacks understanding and sensitivity to a humanitarian crisis that is all of our responsibility. Turning our back on children whose parents and relatives support much of Nebraska's economy is both indecent and unthinkable while glibly stating that we only will look out for the needs of Nebraska's children.
Excusing Nebraska of responding to children suffering from displacement, poverty and safety does not represent the best of who we are called to be nor reflect a welcoming value and attitude.
Vulnerable children
The State of Nebraska promotes "family values," yet the Department of Health and Human Services contract with St. Francis Ministries blatantly and shamefully disregards the health and welfare of our state's most vulnerable children and families. Nebraska prides itself as a great place to raise children, yet the state knowingly entered into a contract that was grossly underfunded. And, if that was not egregious enough, the contract was then flooded with more funds that have now surpassed the budget expectations of the original PromiseShip contract. This tomfoolery takes place on the backs of our state's most vulnerable children.
To all the children and families affected by this morally inexcusable contract adopted by the Department Of Health and Human Services, I want you to know the community is appalled. This is not how a state that professes family values treats its most vulnerable. To the politicians who are standing up for Nebraska's children, please continue to fight. To every agency advocating for and helping children and families through this terrible, isolating pandemic — thank you.
The very foundation of a healthy state and community are children and families. and it is time to correct the wrongs that have been put in motion.
Gov. Ricketts and Dannette Smith, shame on you.
Traffic flow
Regarding bike lanes in Omaha, I see where they made a bike lane on 30th Street from north of Cuming to just south of Ames. Have I seen anybody using them? No. They also made 30th Street one lane in each direction in that area. Which is not good, since they did not re-time the traffic lights to adjust for the amount of cars now traveling in one lane instead of two. It takes forever sometimes to make a left turn at Lake Street. We need to keep traffic moving in this city, not make it more congested.
Why do you think some people go through yellow lights? It's because there is either a light or stop sign on almost every corner. Come on, city engineers, you can do better than that.
Lies from the left
In response to those corporations who have come out against the Georgia voting law — fine. I can assure them I will no longer support or buy products sold by these companies. These companies folded under threats from the far left. Well, it is time to reverse this threat. It is time for conservatives to stand up against these companies. I will no longer buy Coca Cola products, nor will I fly Delta, United or American. I will not buy any MLB merchandise nor attend any games in person. I've stopped using Capital One and Discover as credit cards of choice and have opened new credit cards. Menards and Ace Hardware are going to get more of my business from now on.
President Biden's continual reference to the Georgia voting law as reverting back to the days of "Jim Crow" is shameful and divisive. He does this without referencing specifics of the bill. The one time he did try to point out specifics, the Washington Post (a left-leaning publication owned by Jeff Bezos) gave him four Pinocchios. I don't think that needs any explanation. It was my impression that Biden ran on being someone that would unite the country. Such unfounded trash talk does just the opposite.
Stacey Abrams and her supporters wanted large corporations to come out against the Georgia law or face the consequences. Of course, now that MLB moved the All-Star Game, she is backtracking. Well, you know what, Ms. Abrams? It is too late. Rise up, conservatives, and boycott these companies. Demand integrity at the polls. Yes, they will scream racism (as the left always does when someone takes the opposite side from theirs). Charges of racism are part of their narrative to make Republicans look evil while they hide behind perceived innocence. Well, enough is enough.
Kudos to Cavanaugh
Sen. Machaela Cavanaugh is to be commended for the work she did in getting the Legislature to set up a committee looking into the mismanagement of the St. Francis Ministries contract. It is shameful that the Legislature's Executive Board did not give her a place on the committee. She has done extensive research on the contract issue, and her knowledge would have been tremendously helpful. Sen. Cavanaugh is a voice for the taxpayers of Nebraska, in the hope that by determining what went wrong with the St. Francis Ministries contract, this type of underbidding and mismanagement will not happen again.
To not choose her to be on the committee seems blatantly political and an attempt by the current administration to hide its incompetence.
Kathleen Schwery, Plattsmouth, Neb.
The elites dictate
Amidst all the apparent excitement about the new, renovated Gene Leahy Mall (opening summer 2022!), I think it is important to take a step back to examine what has happened, what is happening, and what will, sadly, most assuredly happen.
The project is part of what is being called the "Riverfront Revitalization." I used to go to Gene Leahy Mall nearly every day — I do not recall ever thinking that the area needed to be "revitalized." On the contrary, the old Gene Leahy Mall was a park that was always being used, whether that be by people who might have just gone to the library and were now hanging out on the park's west side, by children and families using the infamous slides to the east, by businesspersons taking an afternoon jaunt, or the friendly yet formidable geese, who might be suddenly surrounding you if you happened to doze off while lying down by the lake in the park's center.
We Omahans had little to no say over whether the park was demolished so that it could be reborn as a so-called "multi-use" area. Just as with the tearing down of Rosenblatt, or the destruction of Jobbers Canyon, the elites of this city would rather tell us what is good, than recognize that sometimes the good is already right in front of them, already extant. And indeed, what does "good" mean to these political and economic elites, anyway? It means the opportunity to make money, and to take direct control over our culture. So now we don't have people selling parking spots in their front yard, or small, independent souvenir stores, like we had in the Rosenblatt days, but corporate beer gardens and official, NCAA-sanctioned activities. Now we don't have an historic, unique warehouse district, which could have been utilized in any number of ways, but ConAgra (ooops!). And now, instead of a park populated with birds and squirrels and regular people, just doing regular people things, we will have a "highly activated" park where MECA can host bland, inoffensive concerts surrounded by bland, inoffensive food trunks.
I look forward to the day in 20 or 30 years when this new park is renovated again, another victim of the need to constantly "revitalize." Maybe then the geese will come back.
Time to build
Thanks to Trudy Rubin for her column urging us to emulate the Chinese when it comes to infrastructure investment. While necessary, such spending for the future won't happen, as our governance structure is broken. On the one hand, the Democratic Party seeks to use deficit finance to undertake a massive infrastructure program and to pay for it by raising taxes on those most able to pay. On the other, the Republican Party has lately (once again!) discovered fiscal conservatism but is otherwise consumed by tax cuts for the rich and corporations, rolling back regulations willy-nilly, endless cultural grievances and America First isolationism.
A democratic system is capable of great dynamism and can avoid the excesses and abuses of an authoritarian regime such as China's. Unfortunately, our current political impasse reflects both White fear of change and a decades-long anti-government campaign waged by libertarian right-wing monied interests. So just sit back and relax — decadence can be comfortable for a few of us. And the Devil take the hindmost.
IDs make sense
In the past four weeks I have been asked for an ID to pick up a prescription at CVS and when signing in for an appointment at Lauritzen Outpatient Center. My wife was asked to show ID when visiting Midwest Dermatology and to purchase cough syrup at Baker's. It is not discrimination or disenfranchisement to show an ID once every two years when voting. What's the big deal? I would guess those that have an issue with voter ID have no problem producing an iD to purchase alcohol.
Court packing
The Judiciary Act of 1789 set the number of Supreme Court justices at six, a chief justice and five associate justices. In 1807, Congress increased the number of justices to seven, in 1837, the number was bumped up to nine, and in 1863, it rose to 10. In 1866, Congress passed the Judicial Circuits Act, which shrank the number of justices back down to seven. Three years later, in 1869, Congress raised the number of justices back to nine, where it has stood ever since.
The Democrats now want to increase the number of justices to 13, as four appointed liberals would provide them with a majority, and President Biden has appointed a committee to study the issue and come up with recommendations in six months. The Supreme Court has had 9 justices for the last 152 years and seems to have been working well, so what reason could the committee come up with to increase the number to 13? I can only think of one, that there are not enough liberal justices currently on the bench. Does anyone believe that if there were currently more liberal justices than conservatives, that Biden would be pursuing this change?
President Biden is planning to implement a far-left agenda before the 2022 election and knows that he must have control of the Supreme Court as well as both houses of Congress to put the plan in place and not have it overturned by the courts.
Afghanistan exit
I find it funny that Don Bacon, Deb Fischer, Lindsay Graham etc., are all condemning President Biden and his administration for the drawdown of the remaining 2,500 troops from Afghanistan to be completed by Sept. 11, 2021. If they would engage the memory banks in their brains they would realize that the Biden plan is actually extending the withdrawal end date that Trump and his administration reached with the Taliban last year that stated the drawdown was to end May 1, 2021.
How sad that they hate Biden so much that they can even see that all he is doing is extending the date that their boy (the great deal maker) reached with the Taliban.
Rick Fetter, Council Bluffs
'Bigs' threaten freedom
Americans should look at Hong Kong citizens and be ashamed, very ashamed. Hong Kongers are literally submitting to torture and worse for speaking up against their government for breaking the agreement it made with the United Kingdom in handing their nation over to China a few decades ahead of when the agreement said they could.
This week many of those men and women were sentenced to a Chinese prison. And if you didn't know, a Chinese prison makes solitary confinement in a U.S. prison look like a vacation resort. All while Americans are willingly and joyfully handing their freedom of speech handed over to a consortium of big government, big media and big business.
This is why I, for one, am lobbying my representatives to break up the "big," and am avoiding doing business with any of the "bigs" I can. I refuse to use Amazon, Coke, Delta, Google, etc., unless there literally is no other alternative. As for government, I cannot avoid using them, but I can stop voting for them unless they too show efforts to stop the "big" movement.