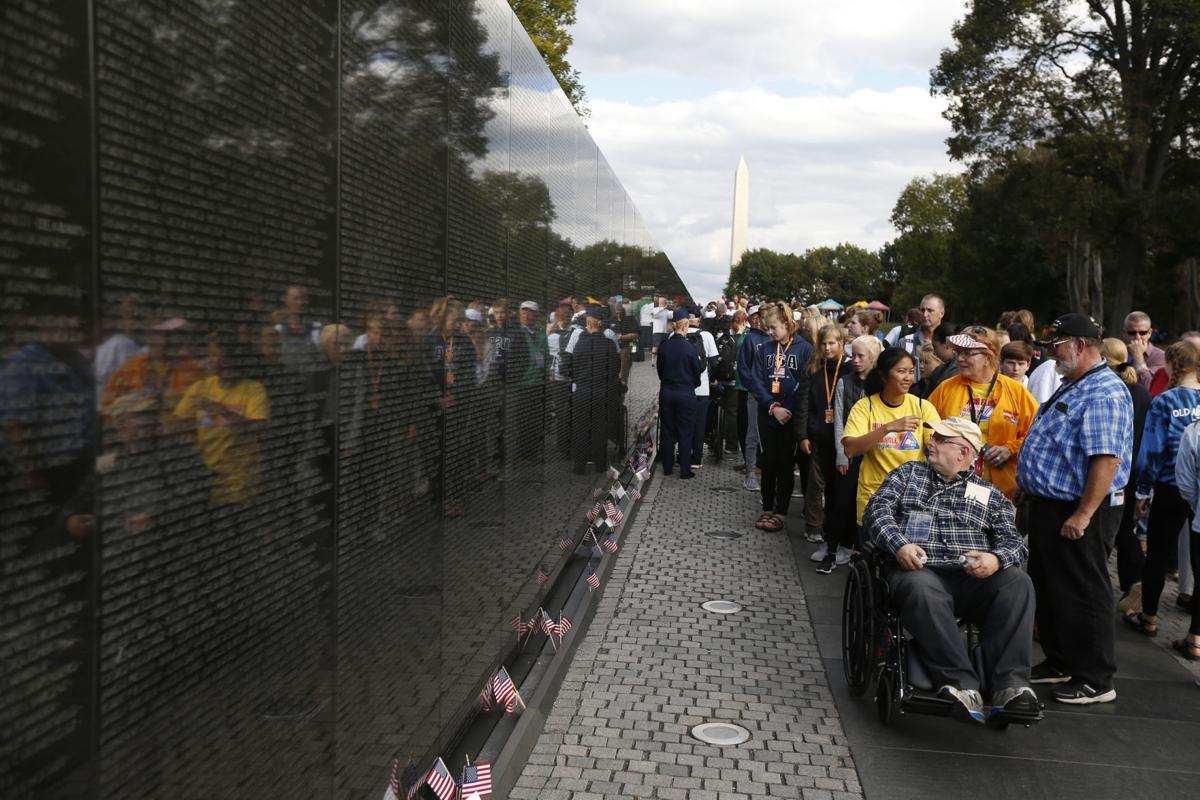 Salute to Vietnam vets
A salute to my fellow Vietnam vets who are supporting the Vietnam Veterans Memorial in Washington D.C. Although some folks might think this is the very first Vietnam memorial, there's another one in Scottsbluff. A group of my friends from the barrio of SE Bluffs who are also Chicano and graduated with me in 1963 from Scottsbluff High School felt it was time to honor the numerous friends and other Latinos who fought and died in Vietnam. So we raised the money to establish the memorial two years ago. It now stands in our barrio in SE Bluffs next to the Guadalupe Church Center and on a lot where we grew up playing sandlot baseball.
So far we've grown a list of over 100 Latino men and women from Scotts Bluff County who served in 'Nam. Some of my buddies were featured in a parade last year honoring them and their efforts. As we used to say on the corner of 9th and 9th in front of Hitowers grocery store, orale pues vatos! Kudos to all my fellow vets.
Excommunicate Biden
Recently I was made aware that the Catholic Church is considering stopping President Joe Biden receiving the sacrament of communion. All I can say is, it's about time. But it falls way short of what should be done. In his executive order of Jan. 28, 2021, Biden clearly took a position that expands the use of taxpayer money to fund abortions both in the United States as well as globally. His dismantling of the Mexico City policy and rescinding the tighter restrictions President Trump added to the Hyde Amendment are proof of his total disregard for the sanctity of human life and the rights of the unborn.
Under the Mexico City policy, President Reagan expanded the limitations of the Foreign Assistance Act and withheld USAID (U.S. Agency for International Development) from nongovernment organizations that use non-USAID funds to perform abortions, provide advice or make abortion services more easily available. President Trump expanded these restrictions further by applying the policy to global health assistance provided by all executive departments and agencies. Biden's memorandum immediately waives such conditions for any current grants and to immediately cease imposing these conditions in any future assistance awards. Furthermore, During his campaign for the presidency, Biden said he could no longer support the Hyde Amendment. This went into effect in 1980 and it prohibits direct federal funding of elective abortions under Medicaid.
If Biden's actions go unchallenged, the very core of Church teaching becomes void and meaningless. Laws without consequences are not laws at all. In this day of declining morality reaching a crisis stage, and the fact that it is being exacerbated by this administration, the Church needs to do the right thing and excommunicate President Biden.
What about Trump?
The May 11 article in the OWH concerning cutting off communion rights to Joe Biden warrants some comment.
This is an ill-advised attempt to enter the political arena when the bishops of the USA failed miserably in most of their previous sorties, including their mostly lack of holy input in the Trump election. Without the Catholic vote, especially Catholic women, "voting their conscience," Trump would have been defeated in his initial run. Single-issue politics, especially the abortion issue, gave Trump the election despite his incredibly well-known treatment of women as a whole and despite his previous backing for abortion. So we elected a man who was a star of a national TV fiasco, who had a history of bankruptcy, no experience in government, no knowledge of rudimentary science, and no common decency. This despite the pope's admonition to not be a "one-issue voter."
This man has been twice impeached, "led" the nation's response to an international epidemic by failing miserably in multiple ways including making a mockery of mask wearing, holding mass rallies during a time when stopping the spread of the virus was critical, fed into the "Big Lie" so that our Capitol was attacked and on and on. His administration has been filed with grifters and incompetents. He cannot pick good people and cannot get along with those he picks. He has denigrated the military and the diplomatic corps members, even being photographed as he pushed through other leaders to get in the front just like the bully he has shown himself to be.
If anybody deserves communion cutoff, it is the people who voted for this person.