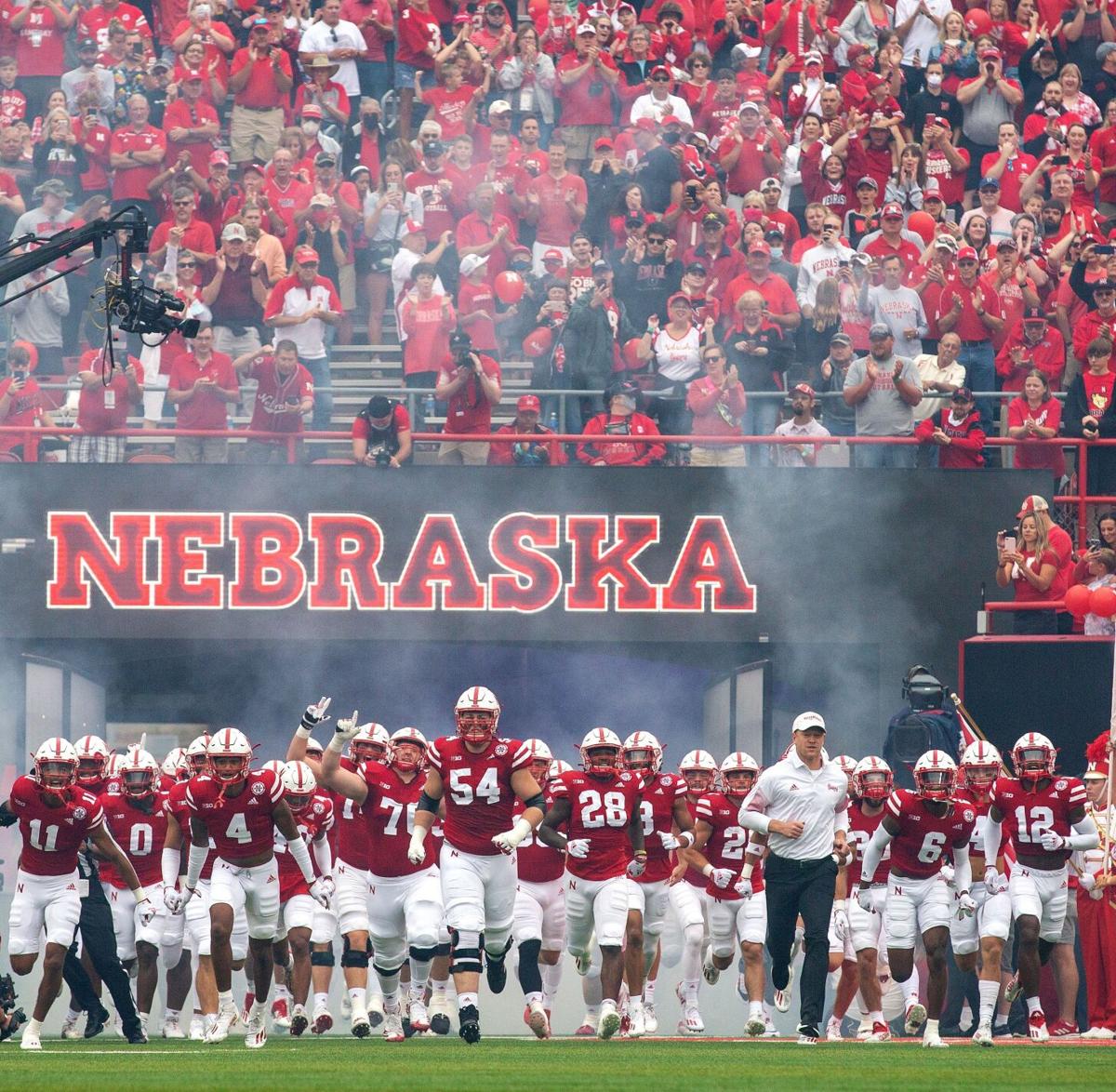 Husker loyalty
We sat in the cold on tractor seats with no cab listening to Lyle Bremser when growing up.
We celebrated the wins and losses with Bob as he turned things around.
We exalted in the '90s when we sat at the top of the collegiate football world.
We agonized over the past 20 years and the ups and downs it has brought!
We will pack Memorial Stadium again and again next year regardless.
Thousands of us will follow the 'Skers to Ireland next August.
What Huskers need
Memo to Scott Frost: "Hire a special teams coach."
Frost failure
As a lifelong Nebraska fan, I read this Scott Frost quote: "We're a lot better team than we have been." Among his many issues, Frost appropriately died by the same sword he flaunted in his infamous decision to forgo any semblance of special teams planning. It cost this team dearly. It alone should have cost him his job.
Even more remarkably, Coach Frost will be still paid $4 million annually for his product in a state which unfailingly asserts its conservative fiscal values.
Randal McChesney, Bellevue, Wash.
A true friend
I was shocked to read, in the OWH, about the early morning accident at 120th and Blondo. The person killed was Jamie Novak, who had faithfully delivered our newspaper every morning for the last year. Jamie and I had developed quite a relationship since she knew we liked to read the paper early and if she was running late she would text to let us know. She said that she and Jacob, her fiance, put on 200 miles a day delivering the papers.
I am mourning the loss of a true and loyal friend.
Leafy situation
Thank you for arranging for the six weeks of yard waste pick up, which ended the week of Nov. 27. I have a small request, could you please talk to Mother Nature about the schedule? It seems the trees did not get the memo.
Critical thinking
In response to Janice Mohs and Charlotte Shields in the Nov. 23 OWH Pulse about Kyle Rittenhouse, perhaps the facts are hard to swallow. Race does not belong in this discussion. Pulling the race card here means you have no argument. A mostly white jury would be a jury of Kyle Rittenhouse's peers (six of whom were chosen in a random draw, by the way). A black man in the same situation would not have had an "almost" all-white jury since that would not accurately be his peers (since you want to play the "what if" game).
The Second Amendment is not an absurdity and never has been. Rittenhouse acted in self-defense, and the evidence proved that out. If you are looking for blame, perhaps the blame falls on the media for a lack of journalistic integrity at almost every turn. It is difficult to find a news outlet that isn't slanted. Unfortunately, journalism seems to be broken. It boils down to each person using critical thinking to make their own decisions about the world, and the freedom to think differently from another person and to do as they see fit without infringing on other's freedoms.
Divisive
Gov. Ricketts' statement that the UNL chancellor should avoid divisive policies should have ended with, "That's my job!"
Jeff Johnston, Elmwood, Neb.
A need for decency
It was hard to watch congressional Republicans vote this month for a man who advocated violence with a video against a woman and our sitting president. My parents never taught me to follow such a man with a criminal mind or the insurrection against our government.
I was pleased to see UNL is taking action on racial equity and inclusion for their students in educating. I am just sorry it doesn't start in kindergarten. It would be helpful in learning to stop bullying and hate early in age. College is not where it should start. So much of a person's life needs to be corrected by that time in how you treat people.
I am 77 years old and my heart hurts to watch the racism, hate, bad morals, no values, and violence in our so-called leaders today. I was taught right from wrong growing up, and my faith tells me not to follow these leaders. Their leaders are letting the devil lead them. It is time to follow the light in our country. This is not the real America.
Biden blind spot
I have read that our president is "angered and concerned" regarding the verdict of the Rittenhouse trial. It's too bad he isn't angered and concerned with the fact that abortion is still an accepted procedure in our country. Are both of these a political stand or a reflection of his character? Or both?
Steve Sorensen, Kennard, Neb.
No-bid contracts
I thank The World-Herald for pointing out that our state is giving major no-bid contracts to a company with a shoddy record on COVID and ties to the Republican Party. What also should be highlighted is that hospitals in the state are being overwhelmed by COVID in no small part due to the governor's opposition to public health measures like mask and vaccine mandates.
A threatened planet
David Begley's Nov. 23 Pulse letter complained that OPPD's report on achieving net carbon zero by 2050 didn't give a dollar estimate to reach that goal. He called the eight member board "green zealots who have no concern what it will cost OPPD ratepayers in order to save the planet." Two questions come to mind. What is the cost of not saving the planet from a crappy future? What is the cost of plan B if the scientists are correct?
Mr. Begley said that it's OPPD's duty "to provide reliable and low cost power, not to save the planet regardless of the cost." Most climate scientists say that we cannot sustain burning fossil fuels, therefore it is not reliable. And as for low cost: What is the cost of coastlines around the world under water? What is the cost for the massive increase in childhood asthma? How about increased doctor and hospital costs around the world, shorter life expectancy, lost production, pollution cleanup, increased number and intensity of natural disasters and please put a price on loss of happiness living in a filthy, dystopian Mad Max world?
Since Mr. Begley claims to do his own research and demands OPPD provide future costs for changing to green energy, then he should provide us with total current and future costs of burning fossil fuels and not just the cherrypicked numbers provided by the lying, amoral, greedy polluters.
Scott Thomsen, Waterloo Neb.
Vital help
My sincere thanks to the young women and gentleman who came to my aid after a fall at Hobby Lobby on Saturday, Nov. 20.
I am so very grateful for the concern and caring you gave to me that morning. Truly blessed that you were there with me.
Long time coming
The longer our governor is in office, he continues to amaze me with how little he knows. Gov. Ricketts seems to be afraid of anything that isn't of his thinking or doesn't make enough profit. For instance, he has dragged his feet over the public's passing of Medicaid expansion, he dragged his feet on prison reform and medical marijuana. He wanted his version of property tax relief at the expense of getting little accomplished.
Each issue had complicated parts that needed to be worked out with collaboration, not confrontation. The past few days our governor thinks that the university's new racial equity plan would inject critical race theory "into every corner of campus." He is afraid that people will "see each other through the lens of race rather than as individuals with unique strengths." Really, governor? Don't we all belong to some race that needs equity at a university and elsewhere? What are you afraid of? The university's equity plan was long in coming. And I for one, welcome its arrival!
Troubling threat
I am very saddened at the realization of the bid of the Alden Global Capital to take over our Omaha World-Herald, a Nebraska home newspaper. It is a newspaper that has delivered good solid news of what is happening within our borders of Nebraska and Nebraska government.
It also saddens me to think our own homegrown Nebraska newspaper would be cannibalized for profit by an outside entity that cares nothing for Nebraskans or Nebraska.
Please, Nebraskans, stand up for our journalists who have been so loyal in their reporting the important details of our government and local news throughout the many years of your lifetime and mine.
Do not let Alden Global Capital destroy our Nebraska newspaper for profit.
Cowardice
Regarding "Petition drive aims to eliminate Nebraska Board of Education, give governor K-12 oversight": On the surface, this appears to be a monumentally bad and reactionary idea. If Democrats had proposed it, they would be openly mocked. If it all goes sideways, it could be years, possibly decades, before the damage could be undone to Nebraska's public education system. All because some are afraid their children might be exposed to the truth concerning the history of African-Americans.
This type of cowardice is unbecoming.