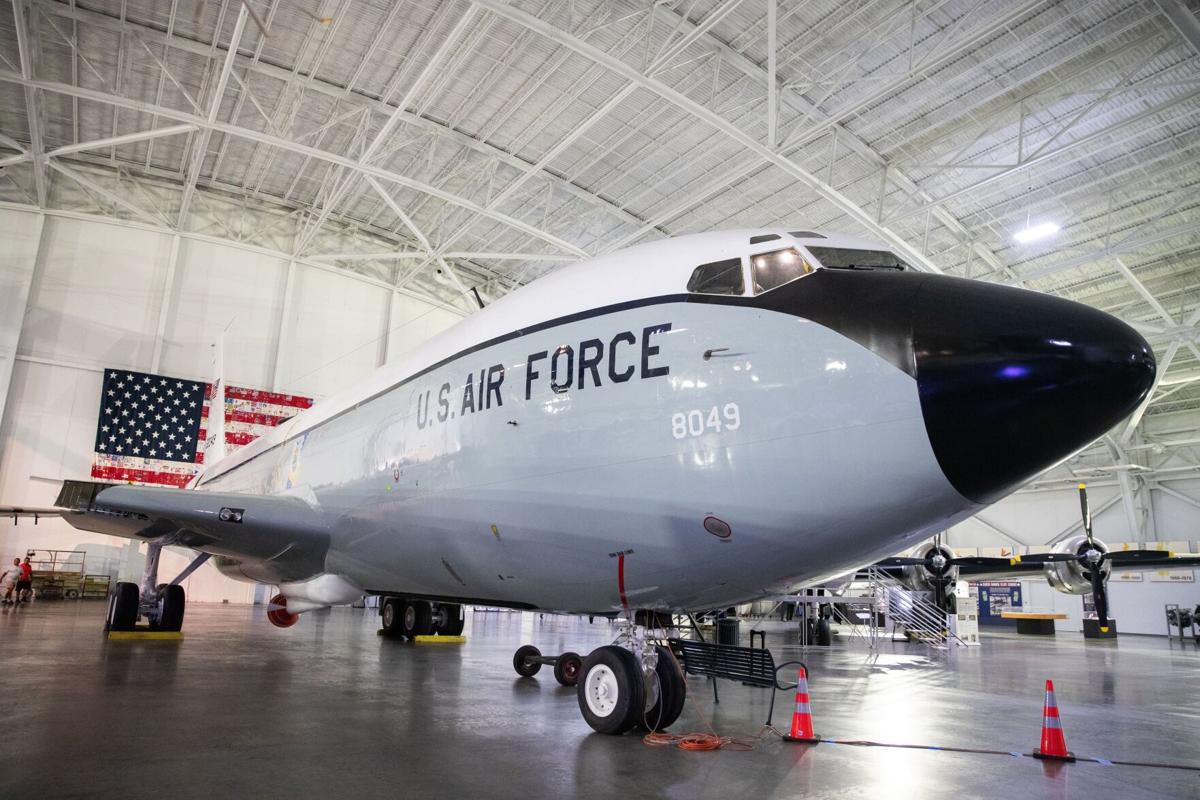 Looking Glass
A hearty well done and salute for Steve Liewer's article "Shiny new 'Looking Glass' " on display at SAC Museum after six-year restoration. The public will now have the opportunity to explore a totally restored national command center from the Cold War era. After more than 30 years of continuous airborne alert, this aircraft gives testimony to the dedication and professionalism of all SAC members.
The herculean efforts of hundreds of dedicated volunteers and committed donors now allows museum goers to physically inspect and understand SAC's commitment in deterring nuclear war. Visitors are welcome to sit at the various aircraft compartments — to include the general's seat.
Visitors may find it interesting that studies concluded that our adversaries, after the Cold War, stated they felt confident about their targeting critical U.S. nuclear command and control centers. However, they could never target their main nemesis — the SAC "Looking Glass."
Thank you, Norma and Dennis Kathman and the many enthusiastic volunteers who brought the "Looking Glass" back to life for all to appreciate and understand its significance and critical mission in winning the Cold War.
Lt. colonel, USAF, retired
Former director, SAC Airborne Command Post
Deadly polarization
The public's response to the COVID pandemic to this point is a jaw-dropping failure. The mRNA vaccine expeditiously developed by our country's health scientists is nothing short of miraculous in safety and efficacy, yet people still won't get vaccinated. Because of that, we now have a variant that is surging at a freighting rate and is more inimical to children at the very time when they are about to head back to school.
Since the vaccine as yet is not approved for young children, you would think parents would insist on schools mandating face coverings to protect them. Instead, many parents astonishingly consider masking to be some kind of threat to their child's liberty, or their own. It is unclear to me just who is being infringed upon.
Maybe the ridiculous polarization of this issue has a silver lining. With some school boards requiring masks and some not, we will have an unintentional mass experiment in pediatric virology at hand — masked (thank you, OPS and Westside Boards of Education) vs. unmasked. Outcomes like absences, hospitalizations, necessity to return to virtual learning, will be evaluated no doubt, and of course the ultimate criteria — liberty or death.
This virus is mutating inordinately and there are way too many unknowns. We should all be doing everything we can to mitigate its spread, or we will be stuck with another year of COVID misery.
Terrible experiment
As the grandfather of two young kids in OPS, I was elated by Tuesday's news that the OPS Board had adopted a mask mandate for students, teachers and staff. Short of vaccination, this is the best measure to take in the face of COVID-19. A jarring note at the end of the article was that neighboring districts — Papillion-LaVista and Millard leave masking optional.
What are they thinking? As gross as it sounds, they are running an experiment with their children.
Get the shot
In Evan Trofholz's letter from Aug 4, he expressed feeling punished as an unvaccinated person. It may not be deliberate. But since the hospitals that are full of COVID-19 patients, they are usually 98 to 99% unvaccinated people. So they are sort of modern-day Typhoid Marys. With free, safe, effective vaccines that have been given to about 164 million Americans, there are really few excuses for not being vaccinated. And it's just silly not to get yours. (Kids under 12 aren't yet cleared for it, and there are some health reasons that one's doctor would advise you about.)
If you or anyone are hesitant because of the stories going around the internet, look up your own real answers on: getvaccineanswers.org Frankly, I and all my friends and family, but one, have been vaccinated. All but one are welcome in my home. We follow current CDC recommendations, realizing they may change. I miss that one friend. So you're not alone.
Biden's abuses
On June 24 the Biden administration extended the eviction moratorium by one month to July 31, following a CDC guideline. Biden held a news conference and stated unequivocally this would be the very last extension of the moratorium. Now the CDC has come out again recommending it be extended another three months to the end of October. Of course, the Biden administration completely ignored what it had promised in June and extended the deadline.
It is hard to imagine how landlords are going to survive another three months with no rent payments coming in to support their business and family.
The CDC has been on the forefront of the news since the pandemic began and has obviously become more powerful. They now seem to be setting policy for the president.
Strange that Democrats screamed Trump was a liar but just ignore blatant, public outright lying done by this administration.
Two-way street
With all the hate and discontent these days carrying over into the letters to the editor page, I'd like to share a thought:
Dignity, Courtesy and Respect is a two-way street.
How can you ask for it without first giving it?
Infrastructure funding
But the debate over the $1 trillion Senate bill illustrates a flawed mindset that appears to be unique to the U.S.: infrastructure spending as a one-time, twice-a-century expenditure, not as something requiring ongoing funding.
If this bill passes, our infrastructure will still stay stuck at 20th century levels. And then, decades from now, the next time Congress realizes more upkeep is needed, it will pass another bill, and maybe it'll bring us up to the 21st century. Transportation Secretary Pete Buttigieg calls this the "infrastructure deficit."
For a vibrant society and economy to thrive, we should view infrastructure as needing continuous upgrading and maintenance, not something to fix when it's crumbling to pieces.
Masks help
After over a year of living with COVID, we are still reading or hearing disconcerting reasons for not wearing a mask. Sample 1: "God will keep me safe." Are you saying that those who get COVID have done something to provoke God? Are you saying that since you won't get COVID, then you won't pass it on to others, who could then pass it on to others?
Sample 2: "I am healthy, so it is unlikely I would get it or that it would be serious if I did." My same response as to No. 1. So, if you had a mild case and passed it on, which is likely, you are assuming that those other people will also have no symptoms or serious illness?
Sample 3: "A mask mandate is infringing on my freedom of choice." Our society has speed limits and laws against pouring motor oil down the sewer and burning trash and hitting someone because you are mad at them and vaccine rules for schools for polio and diphtheria and measles. These are all to prevent people causing pain and suffering for others. Surgeons wear masks all day to prevent their germs from infecting their patients. Would you have surgery by a surgeon who refused to wear a mask?
Wearing a mask and getting the vaccine prevent you from passing the disease to others. Please help.
Climate bingo
Ready to play climate bingo? Unprecedented flash flooding in the Old Market. Record-breaking windstorms taking out power for a week. Weeks of brown smoky skies from western fires. Worsening drought that is forecast to continue through the fall. 2020 was one of the hottest summers on record for Omaha. 2019 was a billion-dollar flood for Nebraska. And Nebraska State Climatologist Dr. Martha Shulski says it's going to get worse if we do nothing.
Ready to call "Bingo" yet? It's clearly time for an orderly exit from a fossil fuel economy. If we put a price on carbon and return the money to taxpayers, we can let the free market do the heavy lifting without harming consumers or hurting jobs. It's time for Rep. Bacon to support H.R. 2307 — the Energy Innovation and Carbon Dividend Act currently under consideration in Congress.
More opinion content is on Page A15.