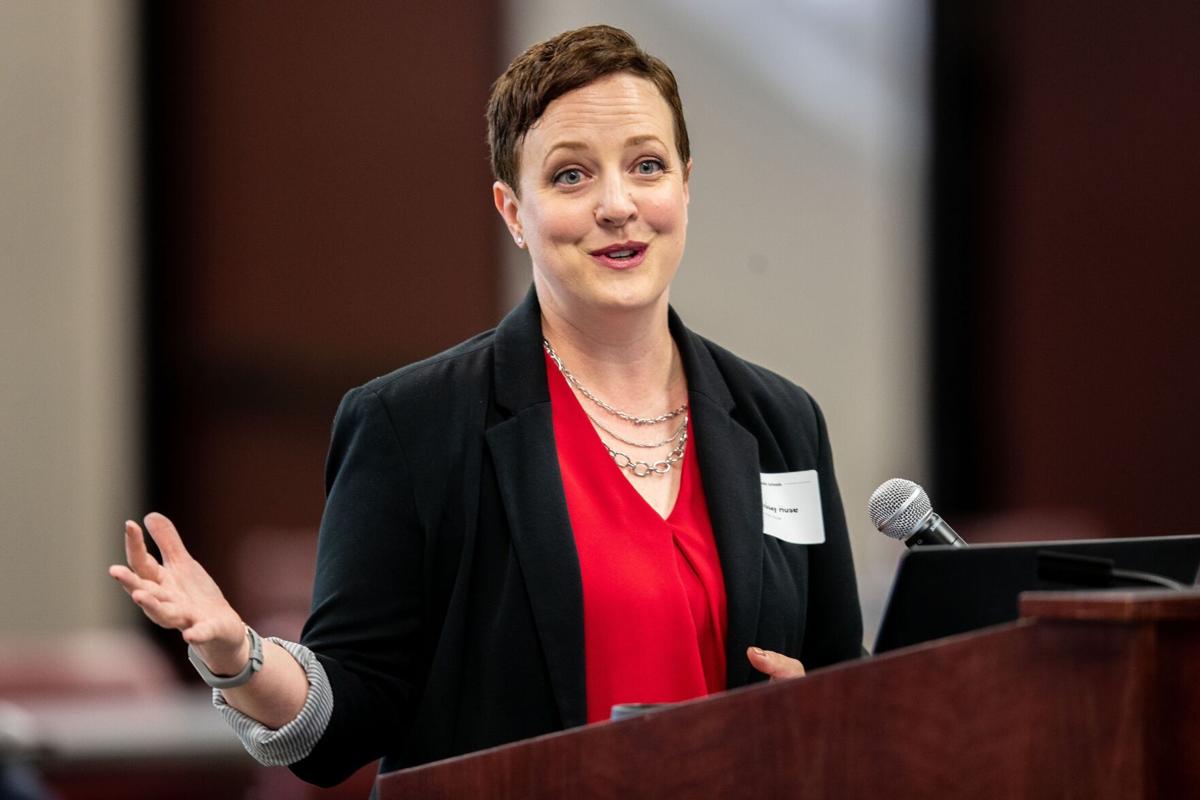 Protect the public
We are writing in support of institutions, public offices, corporations and small business who choose to issue a mask mandate for anyone entering their premises — vaccinated or otherwise. We specifically support such public institutions as the Nebraska Med Center and religious institutions such as St. Patrick's of Elkhorn that have recently issued broad mask mandates for their institutions and are receiving significant negative feedback.
It is unfortunate to us that the overall health and safety of our community has become a political/religious issue, a severely divisive one at that. This is neither a political issue nor a religious issue; it is a public health issue. The echo chamber of the media and social media should not be how we decide what is in the best interest of our community.
One can make comparisons in society where broad sweeping laws are made in the interest of the public good that we all accept — from seatbelts to secondhand smoke. Masks should be in the same category. No one enjoys wearing masks but we wear them because medical experts, not something we read on Facebook, have made it clear that they reduce the spread of viruses and bacteria.
We encourage our public leaders and leaders of institutions and corporations to take brave positions based on science and expert advice. Concerned citizens can do our part by supporting their efforts rather than undermining them.
Magan and Tim Smith, Omaha
Truth, vaccines
In response to Cindy Miller's touting of VAERS "data", please note the disclaimer on their website: "VAERS accepts reports of adverse events and reactions that occur following vaccination. Health care providers, vaccine manufacturers, and the public can submit reports to VAERS. While very important in monitoring vaccine safety, VAERS reports alone cannot be used to determine if a vaccine caused or contributed to an adverse event or illness. The reports may contain information that is incomplete, inaccurate, coincidental or unverifiable. Most reports to VAERS are voluntary, which means they are subject to biases. This creates specific limitations on how the data can be used scientifically. Data from VAERS reports should always be interpreted with these limitations in mind."
Beware of those who spread fear using numbers that may be "incomplete, inaccurate, coincidental or unverifiable" and that "are subject to biases'! Get vaccinated!
Question
First-rate city
I'd like to express my pride and appreciation to the city of Omaha and its residents. I was raised in Omaha, but have not lived there for almost 30 years. But through regular visits, I have seen Omaha evolve and become a first-rate Midwestern city.
I had the recent pleasure and honor to host my daughter's wedding in Omaha. Actually the couple, who reside in New York City, chose Omaha due to their love of Omaha.
Many may not think of Omaha as a destination wedding site. But for us, it was an awesome experience. The Magnolia Hotel did a stellar job with our guests even after experiencing flooding of their entire first floor. Our venue, florist, caterer and cake company produced lovely and top-notch service and wedding goods.
Every store, restaurant, bar and local attraction offered a positive experience for our many out-of-town guests. Our friends from the East and West Coasts expressed delight and appreciation for Omaha and its ever friendly people.
We even had a burly man on a large motorcycle ride by and wish the wedding party a sincere congratulations as they boarded their van to the wedding ceremony.
Thank you, Omaha, for being a great place to grow up, visit and to bring new friends.
Anne Ramsey Karwath, Bluffton, S.C.
Keeping it beautiful
On a recent vacation to a major city in a nearby state, it was painfully obvious they do not have an active "Keep This City Beautiful." Perhaps I am a bit spoiled that there are organizations and private individuals that have initiated volunteer efforts to address certain street corners or pathways to address litter problems. Perhaps I take it for granted that our local interstate system seems to be relatively clean of debris. My visit to this other city was eye opening to the extent that Omaha really is doing a great job to highlight its beauty.
Of course, there are exceptions such as an occasional mattress that some idiot dumps on the street and honestly, the absentee landlords that have still not taught their tenants on the proper disposal of their stuff. And for the neighbor who thinks they can stuff an old door into our wonderful trash carts — thinking that magically, their careless act can make it go away — that household needs to be educated as well.
But overall as I travel around Omaha efforts to keep the streets clean, either by education or clean-up campaigns, Omaha does look pretty good!
Need for balance
Shortly after President Biden took office, I wrote to him asking how he could justify his support for abortion rights as a fellow Catholic, and one who regularly attends mass. Although I didn't expect a reply, I eventually got one that affirmed his pro-abortion stance and stated, "I strongly support the right of all Americans to make their own health decisions."
I can only wonder if he sees the hypocrisy in that statement as, at the same time, he mandates the COVID vaccine for federal workers and strongly encourages other employers to follow suit.
While individual choice is an important consideration in health care decisions, it is not an absolute. No one should have the right to end the life of another innocent human being, nor should one decline a vaccine when doing so puts others' lives at risk unless the vaccine poses a greater, direct threat to the one's health.
The expression of one's personal freedom should always be balanced with a loving concern for the rights and freedom of others.
Robert Thornhill, Papillion
Reality and CRT
A couple comments concerning CRT. Our young people need to be taught, first of all, the definition of the word "theory." The most common definition is speculation, abstract thought. A second definition is belief about something arrived at through speculation or conjecture. You will notice that nowhere are the words "facts" or "truth" associated with a theory. Some of theories that mankind believed to be true were that the world was flat or that the atom was the smallest particle in the universe.
If we are going to teach history, let us teach facts. There is no group in power regardless of race, creed or color who did not take the power from a weaker group. Even the native tribes that the settlers took the land from had taken the land from weaker tribes prior to settlers arriving. History shows us that one great empire after another has risen up for the past 4,000 or 5,000 years. We could start with Egyptians, Assyrians, Babylonians, Medes and Persians, Greeks, Romans, Moslems, Huns, Mongolians, Chinese dynasties, the western European traders, to our beloved America.
Young people need to learn human nature has not changed in thousands of years. The strong take the land, the wealth and the women. America is the only place that has even tried to promote a different system.
Study this history
There were a few LTEs in response to my July 24 Midlands Voices essay on race and capitalization. They implied that any discussion on the topic of race is divisive and racist, and racism would magically disappear if people would just stop bringing it up. One writer suggested to simply "treat everyone with respect." That sounds quite easy, doesn't it?
If you adopt this as the solution to racism, you absolve yourself of the moral obligation to understand the causes of the racial disparities in our country. Platitudes like this allow you to ignore the times in our past when everyone was, to put it lightly, not treated with respect.
The reality is, the legacy of racist policies like redlining, denying college admission to Black students, denying Black soldiers' access to the GI Bill, the War on Drugs, among others; still lives on today. The impact from these policies spans generations, and affirmative action was far from a panacea.
To those who are genuinely opposed to racism and interested in closing racial disparities, you must educate yourself. Seek out material from the many influential Black writers, academics, civil rights lawyers, etc.; not the few pundits who confirm your own views.
Knowledge informs policy. Equitable policy is a necessary step toward combatting the generational effects of racism. Platitudes are not.
---