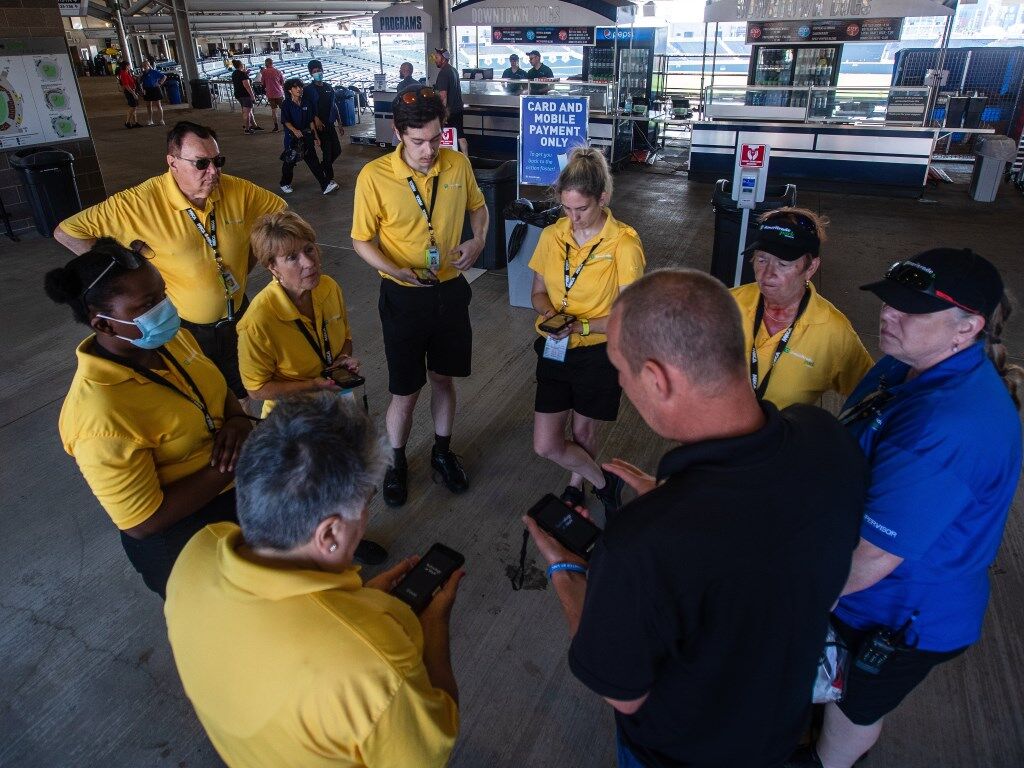 Fix this ticket policy
The Associated Press reports that nearly all FBS schools have gone to mobile tickets but almost all have opted to print tickets for fans who have requested them. University of Nebraska Athletic Director Trev Alberts has affirmed that NU would issue printed tickets to all season ticket holders who requested them because that is what a large percentage of fans wanted.
My family purchases season ticket packages to Nebraska football, volleyball and men's basketball in addition to season club seats to the College World Series from MECA. We opted for printed tickets for all of our Nebraska athletic tickets this school year because they are much more convenient for our family to distribute and use. In addition, the University of Nebraska makes it very easy to hook our season ticket accounts up to Stub Hub to sell the tickets we don't use.
MECA, on the other hand, has taken the arbitrary position that we can't print or even sell our excess CWS tickets. All MECA has to do is activate the "print" and "sell" options in our account and it wouldn't cost them a dime. Scanning a printed ticket upon entering TD Ameritrade Park for the CWS would be no different than scanning a mobile ticket on your cell phone.
I have written MECA regarding this issue on several occasions and have never received a logical reason for their policy. I would encourage all CWS season ticket holders to write to Roger Dixon, President & CEO, MECA, 455 North 10th Street, Omaha, NE 68102 to express your views on this matter. Otherwise you will never be heard.
Don't weaken democracy
Andrew Sullivan's Pulse letter of Oct. 12 is based on a false premise, and it is the same false premise upon which State Sen. Rob Clements (my member of the Unicameral) bases his call for an audit of the 2020 presidential election in all 50 states. The premise is that election results are not reviewed. They are. All 50 states have various statutory requirements for canvassing or reviewing election results in a timely manner.
Additional so-called audits by third parties (including outfits with names like Cyber Ninjas) are simply a way of continuing to promote a lie — the lie that President Joe Biden did not win the election, and that somehow the incumbent, former President Trump, did.
The bigger picture problem is that if we question one election, we question them all. That cannot become our standard operating procedure. We cannot resort to never-ending suspicion of verified election results, where losing candidates continue to use their local or national platforms to undermine our democracy. We cannot accept supporters of the losing candidates attacking the structures of government.
If a candidate loses an election, the proper response is to evaluate what went wrong with their messaging and try to do better next time. In the meantime, we must all uphold democratic institutions. If one cannot participate in elective politics without weakening the structures of democracy, perhaps elective politics is not something one should pursue.
James A. Harrold, Plattsmouth, Neb.
Not forgotten
After reading Sunday's article on those hit hard by the hurricane a month ago, my stomach turns. Why is our government not helping those still without water and electricity and food? I saw where caskets are in people's yards, and mud and debris are everywhere! Many are having to live with relatives or in hotels. Why can't our government send them assistance?
We help immigrants by providing decent living conditions, medical care, food, electricity and water. And all that is great; we need to take care of those in need. I wonder if those in Louisiana have been forgotten?
We need our government to send people down there immediately and do something!
Please let them know they are not forgotten.
No default ahead
Don't be misguided by the propaganda coming from the press and Democrats about the debt ceiling. America will not default on its debt. America has not paid anything against the national debt for decades, and only pays interest on that debt.
One option Democrats have to extend the debt limit beyond the current stopgap is by using budget reconciliation — without a single Republican vote. They won't do it. Why? Two reasons: 1) Keep the division and distrust between the two parties and their constituents; 2) Budget reconciliation is limited in how many times it is used each year. They're saving it to ram through massive spending bills — increasing the national debt further.
Finally, politicians on both sides are hypocrites, denouncing debt ceiling extension when they are the minority. Example: Then-Sen. Joe Biden voted against extending the debt limit on three separate occasions when George W. Bush was president.
Dennis Swanson, Glenwood, Iowa
Stand up to the bullies
It's time to wake up and stand up. Our democracy is on shaky ground. When mobs are marching through the streets at night with torches chanting "Jews will not replace us," and our elected leaders are saying "They are good people," our democracy is on really shaky ground.
It's time we wake up and stand up to the bully. When the bully points his finger in the face of an election official or a school board member and shouts "I know where you live," that person must respond, "Yeah, well I know who you are, and I'll be waiting."
Our country is very divided, but not as divided as the media would have us believe. The support that Omaha gave to our young Marine who was killed during the Afghan evacuation let me know that we are not as divided as they say.
Dems have work to do
I want to take a moment to thank Lou Totilas (Oct. 12 Public Pulse, "Yes, do your job") for so clearly laying out what so many of us feel. Thanks, Lou.
Right wing misleads
I take issue with the Oct. 9 Pulse letter by Mr. Aliano which simply parrots the diatribes by the likes of Fox News talking heads and their clones pushing fear and angst of a gloom and doom national landscape and then blaming everything on the "Democrats." Unfortunately, too many citizens have fallen into the lazy habit of getting all their news from right-wing opinion makers and social media. They confuse opinion with fact and never check the accuracy of what the right-wing opinion makers are spewing out or the claims made on social media.
The U.S. economy is actually recovering very well relative to the rest of the world. The current bump in inflation by all accounts is due to a worldwide supply bottleneck, hardly the fault of domestic policy. Unemployment is currently hovering around a very low 5%. GDP is moving along nicely.
I am not sure what freedoms Mr. Aliano feels he has lost, but I would guess he again parrots right-wing opposition to masks and vaccinations. The government has always had the authority to issue temporary regulations in time of national health emergencies. Temporary inconvenience during such emergencies is hardly a reason to cry loss of freedom.
Nonpartisan? No way
How amusing it was to read numerous articles in The World-Herald during the recent time of hyperventilation over redistricting. I refer to the profusion of items which are liberally sprinkled with terms such as "officially nonpartisan legislature," "Democratic" and "Republican."
Anyone who believes that redistricting (or gerrymandering — your choice) is not a partisan political process is a lamb just awaiting the shearer. And anyone who believes that our Legislature is nonpartisan probably believes in unicorns and tooth fairies.
The World-Herald apparently has no problem identifying the party affiliations of legislators named in various articles about the goings-on in the fever swamp we Nebraskans call the Unicameral.
Let's abandon our "nonpartisan" fantasies despite what the Chamber of Commerce would have everyone believe. Who believes it anyway?
A failed president
Democrats are doing all they can to destroy the America we know and love. Barack Obama weakened our ranking as a strong military power around the world, and Joe Biden has picked up right where Obama left off. The debacle of the Afghan departure, leaving 13 of our brave soldiers death and the following drone strike that killed many innocent people, including children, is just the beginning.
Open borders allowing thousands in without vetting and without COVID tests are making it increasing harder to keep evil out and to fight off the virus. The economic downfall and gas prices going up raises the cost of all of our essential needs. And this has all happen in just eight short months.
Biden needs to be impeached now! He is not fit to hold the office of president of the United States. God bless America.