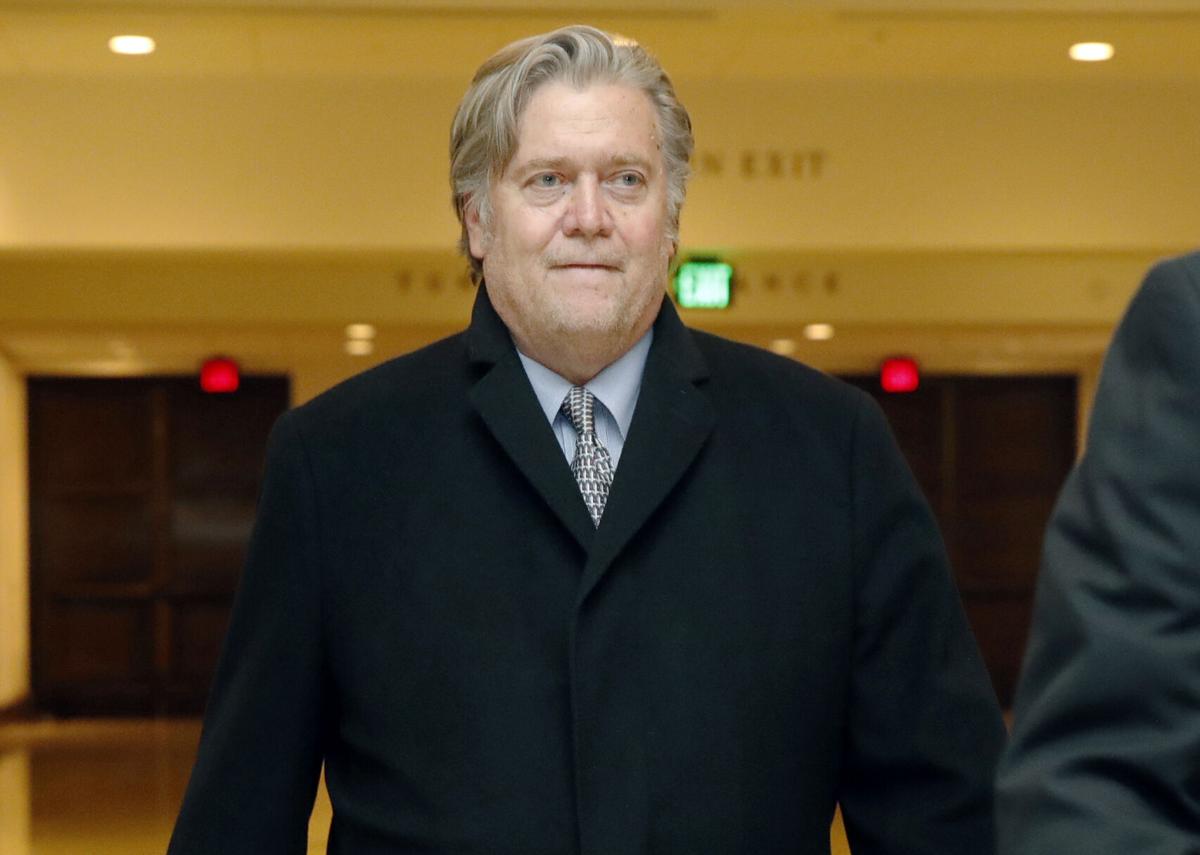 Delegation disappoints
The way I see it, failing to vote for contempt of Congress charges against Steve Bannon is a a vote against democracy and support for a man who gave Congress the middle finger salute. Apparently this is the way the Nebraska congressional delegation feels. Disappointing to the point of shameful.
A subpoena to testify before Congress is a legal part of the democratic process and cannot be tossed aside by some arrogant criminal. I am gratified to see enough in Congress to confirm the subpoena. It should have been unanimous. Now it must be enforced.
Omaha gridlock
Leave it to the City of Omaha to create gridlock on the east-west streets.
As of Friday morning, Oct. 22, L Street construction from 52nd to 60th; 72nd Street northbound down to one lane just south of 72nd and L; Q Street closed at the Papio Creek; Harrison closed 36th to 48th Street.
The orange signs they post say, "Keep Omaha moving." In this section of the city, the signs should read, "Keep Omaha from moving."
Help for children
October is Mental Health Awareness Month. Many people think mental health is the absence of mental illness and only impacts adults. Children's mental health is a positive state of well-being that can be supported by protective factors. Poor mental health affects individual well-being, social development, future prospects and lifelong outcomes.
A child's early experiences shape the developing architecture of the brain, providing either a strong or weak foundation of all future learning, behavior and health. When this architecture is supported, children can experience good mental health. These children have access to good nutrition and health care, and have healthy, supportive relationships with caring adults. Other children's brains develop differently. Perhaps they are exposed to abuse or violence, have unreliable or unsupportive relationships, and don't have access to key programs and resources.
Our community's future prosperity is at stake when all of our children don't share in the opportunity to develop to their fullest potential. We have many opportunities to provide this support for more children, by working to stabilize the environment of relationships and experiences that form the context for a child's development. This means making sure children and their families have access to comprehensive, integrated, quality services, to prevent or mitigate mental health struggles.
Making investments in these programs ensures that the next generation will thrive through a lifetime of productivity and responsible citizenship creating a shared and prosperous future.
Patricia Russmann, Council Bluffs
Thriving Families Alliance
Need for fairness
I am not aware of any progress to reduce the problem of income disparity in our country. In fact, our federal government is actually complicit in making the problem worse. Two examples: All Social Security recipients will soon get a 5.9% increase in their benefits. Those who will benefit the most from this raise are the people/families that already receive the largest benefit, not the people that need it the most. As the cost of living rises, the lower income folks are proportionately hurt the most.
Another even more egregious example is military pay. There is, of course, a very large difference in the pay of young enlisted members versus that of senior officers. Yet military pay raises are also based on a percentage of current pay. Who needs and deserves a pay raise more: the well-paid, empty-nest senior officers, or young enlisted members with families?
So what can be done? Consider this partial solution. For Social Security and military pay raises, give all recipients the same raise, the same dollar raise, not a percentage raise. This would put only a dent in the income disparity problem, but it's a start that would definitely have a positive impact on many.
Biden hypocrisy
It has now been widely reported by different sources — including the local Lewes Cape Gazette in Milton, Delaware — that President Biden is having a $457,000 fence built around his $2.7 million beach house. It is being paid for by the Department of Homeland Security. You might remember that in his first days in office he signed an executive order stopping the construction of the Border Wall. At the same time that millions of dollars' worth of wall material are now laying on the ground, rusting away in waste to the taxpayers.
Since Biden took office, according to the U.S. Customs and Border Patrol there has been 1,734,686 illegals cross over the border, with thousands and thousands more on the way. Regardless of your party, this truly should concern you. Many of these folks most likely do not speak the English language, and many have little to no job skills. Not to mention the thousands of children who have crossed with no parents accompanying them. They are for the most part not being tested for COVID. Some are bringing in drugs including fentanyl. It has also been reported that MS-13 gang members and terrorists have crossed over the border.
They always say "Elections have consequences" — more powerful words have never been spoken. As Biden continues to destroy our country, I will just leave you with one last thought: Do the Democrats hate this country so bad and their own children that they are willing to destroy it just to get the vote?