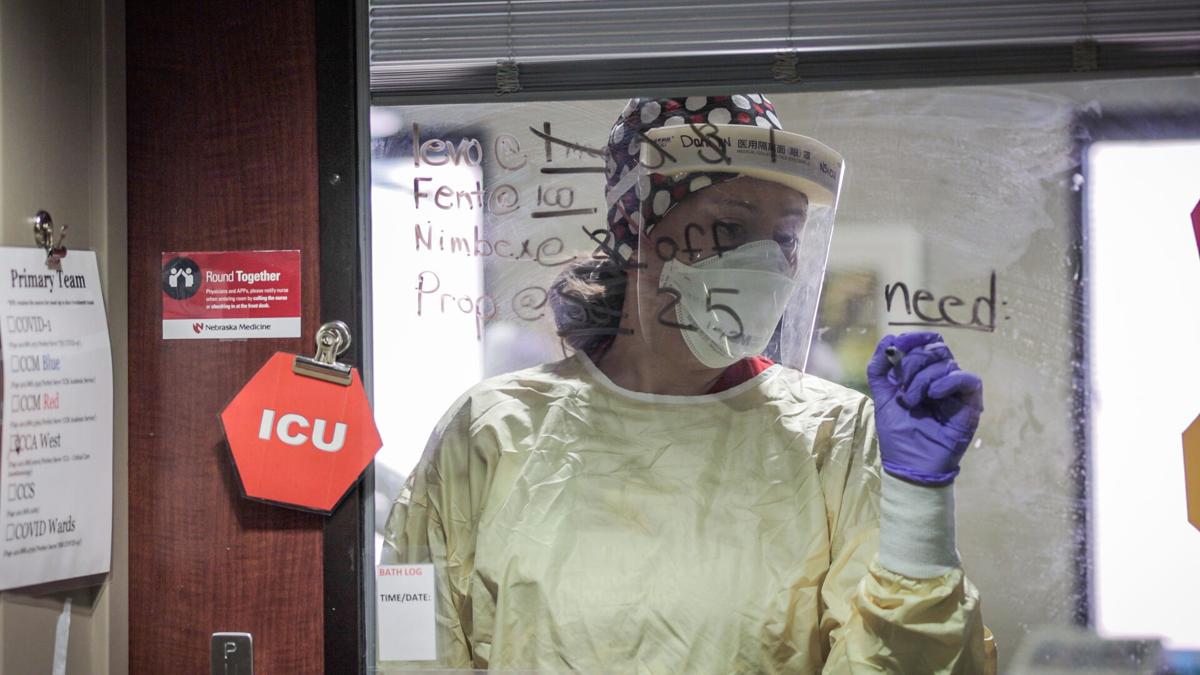 ERs overburdened
I am quite concerned about the emergency rooms — especially a recent visit by my daughter and granddaughter to Children's hospital ER. Children's physicians advertise a safe place for care, but their recent visit was not.
Their recent visit was one week ago. They went to Children's following the protocol of their pediatrician after our 20-month-old took a fall. The ER was full of sick kids. Children vomiting, awful colds, and in comes our daughter and granddaughter for care. They waited in this room of sick children for four-plus hours. (The norm at any ER, it seems.)
My suggestion, especially now during COVID, is for the families to check in without going in. Could there be an arrangement, like many medical offices and even regular businesses, that patients not needing immediate care stay in the car and be called when a room/ physician is available instead of exposing them all to more issues/ illnesses?
I hope some changes can be made for more efficiency.
Sacred space
I want libraries to have tons of money. I don't believe in god, but entering a public library makes me feel like I'm entering a sacred space. I also think we have to be extremely careful about opting for generous, well-meaning, deep-pocketed donors to pay for public resources, because when we move the responsibility of funding public resources from taxpayers to foundations, we take the voice out of the hands of the people and put it in the hands of the donors, however benevolent they might seem.
There is nothing more beautiful to me than a building where anyone can come in, stay for as long as they want, learn something, take something away with them, and be trusted to bring it back so their neighbor can use it next.
Public libraries are a miracle, and I'm going to be watching the plans for Omaha's closely because we have to do right by them.
The past teaches us
In his Public Pulse letter on Sept. 21, Gil Gadzikowski claims that the basis of Critical Race Theory is "that we may judge another person in his or her totality by the color of his or her skin." In stating that, he has unwittingly exposed the reason for CRT. He is right, people should not be judged by skin color; an athlete should not have been banned from Major League Baseball based on the color of his skin until 1947; an American soldier should not have had to serve in a racially segregated unit based on the color of his skin until 1951; an American child should not have been sent to a racially segregated school based on the color of his skin until 1954; an American citizen should not have had to drink from a "colored" water fountain in our nation's capital until 1956; an American student of color should not have had to be accompanied to grade school by National Guardsmen in Arkansas in 1957; an American student of color should not have had to listen to Gov. Wallace stand on the front steps of the University of Alabama administration building and proclaim, "Segregation today, segregation tomorrow, segregation forever!" in 1963; four little Black girls should have been safe from dying in a bombing of their church in 1963. The list goes on and on.
You are correct when you paraphrase Martin Luther King, Jr. that we should all be judged by the content of our character, not the color of our skin, and American history is rife with reasons that Critical Race Theory needs a better understanding by all, and not used to further racial intolerance.
Fiscal madness
Imagine if a relative has maxed out their credit cards, is delinquent on bank loans, as well as Pay Day loans, can't pay their mortgage and is facing foreclosure. They figured out if you would loan them $200,000, they could pay their mortgage for three months and have enough to buy a fully loaded Mercedes to get to work. Would you give them the loan?
The U.S. government is in a similar situation, with the budget through August $2.7 trillion in deficit. Unless the government raises the debt ceiling and borrows more money, the government will have to shut down in the very near future. That, however, is just the beginning. The reconciliation bill being pushed by the Democrats is an additional $3.5 trillion by their reckoning, $5.5 trillion by those who actually count all factors.
The bill is a spending spree to fundamentally change America into a socialist country, which we cannot afford, even if everyone wanted it. It is fiscal madness.
Beth Trimmell, Council Bluffs
Conservatives' duty
I constantly hear that Nebraskans are conservative, especially when it comes to federal spending. Now is their chance to act like one. Republicans in Congress have made it clear that they are opposed to raising the federal debt limit, which is necessary if the spending already approved by those representatives can be funded. This includes what those conservative Nebraskans receive for such things as federal emergency relief, farm subsidies, roads and infrastructure, federal payroll, not to mention funds from Social Security, Medicaid and Medicare that are the primary economic driver of many of the rural counties where they reside.
So, all Nebraska conservatives need to contact their congressman and senators and let them know they are willing to immediately forgo all such federal tax dollars to do their part in avoiding that debt limit being breached. Those who are real, dedicated conservatives might even consider paying back what they have already received since the officials they have elected to represent them have made it clear that their constituents do not approve of the action needed for the federal government to make good on the obligation to repay the borrowing that made those payments possible.
I trust that Nebraska conservatives will act like they talk, and vote, and the phones of their congressional representatives will be ringing off the hook and their email boxes overwhelmed with demands proving how truly conservative they are and how they support the actions of their members of Congress.
'All it takes ...'
Lane Phillips' Sept. 22 Pulse letter made an excellent point. Every two days, COVID kills as many Americans as the 9/11 attack. It brings to mind the quote, "All it takes for evil to triumph is for good men to do nothing."
All it takes for COVID to keep rampaging is for good people to stand strong on their "personal" liberty and do nothing. What has happened to the America that cares about others, the America that sacrificed for the weak and vulnerable among us? The vaccine is there waiting to save people. You could call it "One small step for man, one giant leap for mankind." In Neil Armstrong's day, people thought of the greater good, not just for themselves, but for all of mankind. Remember?
Liberty at risk
When we are willing to accept and even welcome automobile checkpoints, arbitrary searches, identification cards and paramilitary police in our streets, we have lost a vital part of who we are as Americans. Americans should pause and reflect on the lies they are being sold. This nation was born of an innate distrust of government, protest and revolution. Submissive societies neither maintain nor deserve liberty or freedom for long. A nation that does not reflect on the history of their struggle for freedom are destined to lose that freedom. Liberty and freedom are lost through indifference and a submissive mindset. Submissive societies neither maintain nor deserve liberty or freedom for long.
Lockdowns are meant to condition people to obey without question. A nation of people who just do what they are told by the "experts" without question is a nation ripe for a descent into total tyranny. This eventuality is backed up by history. Time to stand up to all the petty tyrants from our hometowns to Washington, D.C. It is time to reclaim our freedom.
Listen to experts
After years of listening to every talking head and elected official voice their theories of how best to interpret COVID-19 data and what actions should be taken, we have reached the conclusion that we are allowing the exact wrong people to make policy that is best for our future health. We hope this doesn't surprise anyone, but collectively our news media and politicians are quite clueless as what to do — mask or no mask; open up or shut down, etc. And yet, we rely on non-medically trained personnel (mayors, governors, etc.) to dictate policy for whole cities, counties and states.
Should we continue to allow politicians with no medical training to make policy? How can we expect a politician, encumbered by party initiatives and the weight of political pressure, to make decisions that are in the best interest of their constituents? After thinking the problem through, we believe the answer appears quite simple. We suggest that we empower the experts — real virologists, epidemiologists and trained physicians — to make recommendations to Congress, which would then take appropriate action.