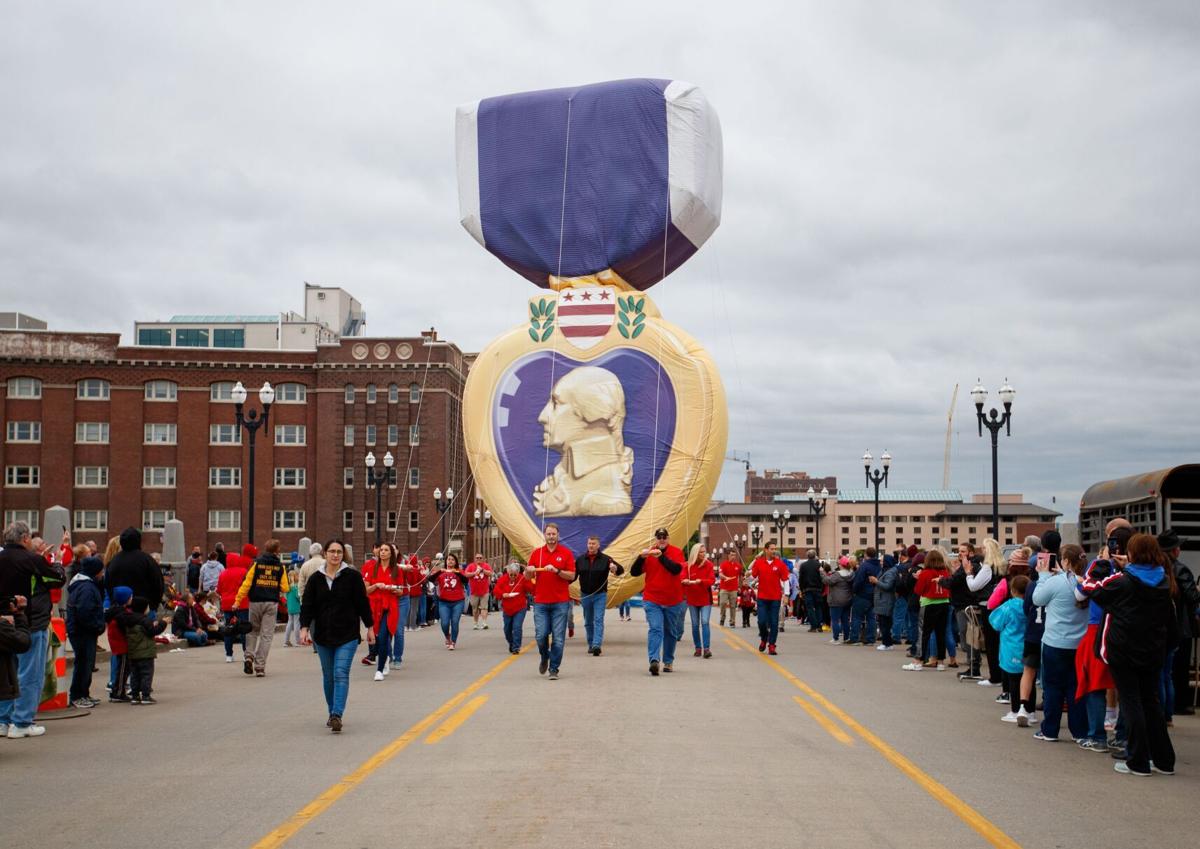 Sacrifices honored
My wife and I, along with some friends, attended the patriotic parade on Friday at the Durham Museum. The evening was very enjoyable but more importantly, a time to reflect and remember the sacrifice by the men and women of our armed forces.
Walking through the towers to read the names and seeing the pictures of those who made the ultimate sacrifice was difficult. However, later on, when the Gold Star family members walked through, my heart swelled with pride knowing the memories of those fallen will forever live on and their sacrifice will never be forgotten.
My thanks to Bill and Evonne Williams for organizing this wonderful event and additional thanks to the many sponsors who also contributed to making this event possible.
At the end of the evening, reflecting back at what was seen and heard, reminded me that we do live in the greatest country in the world. "God bless the USA."
Omaha patriotism
As usual, Bill and Evonne Williams have pulled off another wonderful event with the Patriotic Parade & Concert. I rode with the Korean War vets in Ollie the Trolley and was touched by the outpouring of support and appreciation demonstrated by the crowd. Despite bone-chilling weather, young parents came out to set an example of patriotism for their small children. The concert also was inspiring and beautifully emceed by Hal Daub. How nice to have Congressman Bacon and Gov. Ricketts and the first lady in attendance.
We Omahans are so fortunate to have such a caring community. God bless them all.
Positive event
During the 50-plus years after I returned from Viet Nam, I have participated in maybe two patriotic holiday parades, with mixed emotions. Friday, May 28, as the result of a mental coin flip, I found myself in Omaha's Memorial Day Parade.
The parade route ran roughly from 12th and Jackson Streets in the Old Market. and south on 10th Street to the Durham Museum. Along the route, there was not an empty space on any curbside or sidewalk. This was on a day when all the weather needed was a touch of snow to make it seem more like Dec. 28 instead of May 28. Very old, very young people and people of every age lined the route. There were no fights, no counter demonstrations, no friction that I was able to observe.
In light of the foregoing observations, I would respectfully venture to say that maybe this country isn't as corrupt, rotten and odious as many would have us believe, and perhaps the population is not as divided and fragmented as the media and special interests blow through their collective tin horns.
Many thanks to those who organized, financed and executed this event.
Wartime and afterward
James Martin Davis, I have read all your essays that you have shared in the paper. They are all so thoughtful, revealing and important. My longtime partner, Pat Peterson, served in the Marine Corps in Vietnam in 1969-70. He would say the world he came home to was so different than the one he left, but very little else. That is, until a sight, sound or smell would change his demeanor. I would wait quietly and then he would tell me one of his stories about the war. His passion became helping other veterans, which in turn helped him.
I hope sharing your stories helps you, because this country needs to know the real definition of a hero. Thank you for your service.
Social Security relief
Gov. Pete Ricketts recently signed LB 64, a bill that will begin to eliminate Nebraska state taxes on Social Security benefits. Nebraska is just one of 13 states that currently tax Social Security benefits. According to a study by AARP, Nebraskans age 50 and older account for 56 cents of every dollar in consumer spending in the state and generate an annual economic impact of $50 billion. This tax reduction will be an economic driver for the state, and allowing older Nebraskans to keep a little more of their hard-earned benefits will mean they are better able to pay for things like the growing cost of prescription drugs, food and utility bills.
Thank you to Sen. Brett Lindstrom for introducing LB 64, to Sen. Mark Kolterman for prioritizing the bill, and Sen. Lou Ann Linehan for her work as chair of the Revenue Committee. This is an important victory for Nebraska's Social Security beneficiaries.
Unbelievable claims
The May 28 Pulse letter written by Clark Rutledge is just too much. He states that the protestors who put real pig heads, wearing costume police caps, on someone else's private property were simply "to express their disgust in the enormous sums spent on terrorizing Omaha residents."
Mr. Rutledge has obviously been a very lucky man who has never needed assistance by any law enforcement personnel. Never been robbed or burglarized, never had a car or anything else stolen from him, never even been involved in a traffic accident requiring police assistance. I can guarantee him that if we defund the police and slash the number of extremely wealthy officers on the street, he would soon wish they were back to protect his family, his property and his belongings because the criminals would absolutely control our streets with little fear of consequences.
Law enforcement officers report for work every day to protect Omaha residents and, contrary to Mr. Rutledge's statement, do not make enormous amounts of money. They put their lives at risk every time they put on the uniform, and he publicly calls them terrorists while defending the true terrorists. Unbelievable!
They're professionals
In the April 26 issue of the OWH, in the article regarding what the Legislature is doing in regards to police reform, Senator Lathrop stated, "We are going to professionalize the law enforcement officer and the agencies they work for." As a retired officer of 35 years, I am insulted that he apparently decided that those who are in the profession or have been are not professional nor their agencies. I have always considered myself to be so as well as the agency I worked for. There will always be bad apples, who are usually weeded out, but please, Sen. Lathrop, do not insult the ones who have held their professional standards high.
Steven A. Miller, Bellevue
Bygone days
The article in the Omaha World-Herald on May 28 about Lt. Norma Adams of the Civil Air Patrol was very interesting and brought back many memories. Norma Adams' parents, Pat and Jennie's farm was a half-mile from my parent's farm. My parents were friends with Pat and Jennie, and I remember when Norma was killed. I also remember my folks talking about Norma doing stunt flying. We lived on a dirt road, not gravel, and my dad had a model A Ford that went though the mud quite well. We seldom missed church because of rain or snow. I remember Pearl Harbor Day, V-E, and V-J day. My wife Beth's ancestors founded the town of Adams.
Keeping us informed
There are two people in this community that deserve our thanks for outstanding work, especially during the COVID pandemic. The first is Dr. Adi Pour, our Douglas County Health Department director. I was chair of the Douglas County Health Department when we hired Dr. Pour. She has worked tirelessly to establish best practices in public health in all our communities and has been a leader in providing accurate and timely information during the pandemic even when up against competing "opinions." I wish her well in her retirement!
The second person to be commended is Julie Anderson. Her many articles on health issues in the Omaha World-Herald were well written, understandable and accurate. I'm certain she burned midnight oil in researching and writing her articles, as there was hardly a day went by without seeing her byline, sometimes in more than one article. Her writing clarified the clutter of "news" that COVID brought, and she sought well-qualified people to interview.
Both Dr. Pour and Julie Anderson adhered to their professionalism in bringing factual information to the public during these difficult times and deserve our community's thank-you.
Betty Foster, Ph.D., Omaha
GOP cowards
Thanks to former U.S. Rep. Douglas Bereuter for his Friday May 28 Pulse letter urging the bipartisan commission to investigate the Jan. 6 insurrection that the world watched with horror. By now, it's been voted down by Republicans too cowardly to stand up to the cultish figure of Donald Trump. It makes no sense whatsoever to me that although the lives and safety of all the Congress people and others that day were in jeopardy, the Republicans decide effectively to "let it go." Fortunately the FBI has been investigating the hundreds of individuals involved, many of whom will likely be serving long prison terms.
Former President Trump left a long trail of tweets clearly indicating his responsibility. But by not arranging a full and proper investigation the Republican Party sent its message: "We intend to rule, by any means necessary." This should frighten all Americans.
Justice for all
Before the vote to approve the bipartisan commission findings on the Jan. 6 insurrection, Mitch McConnell asked for a personal favor from his fellow Republican senators. They were to vote against further investigation. How very deplorable and disgusting. McConnell did not ask that his colleagues to carefully review the commission's findings or to vote what they felt was right. He asked for a favor.
Decisions should not be made by doing a favor. And this decision was about a threat to our Constitution and our country. Capitol police asked for the commission, the families of the five people who died that day asked for the commission and so did the Republicans on the commission. But McConnell wanted a favor of his puppet senators, and they bowed down and said yes! I hope they each lose their seat for reelection! Our country is worth more than a favor! It is worth justice for all!
That's a long time


Mike Rasmussen, Fremont, Neb.