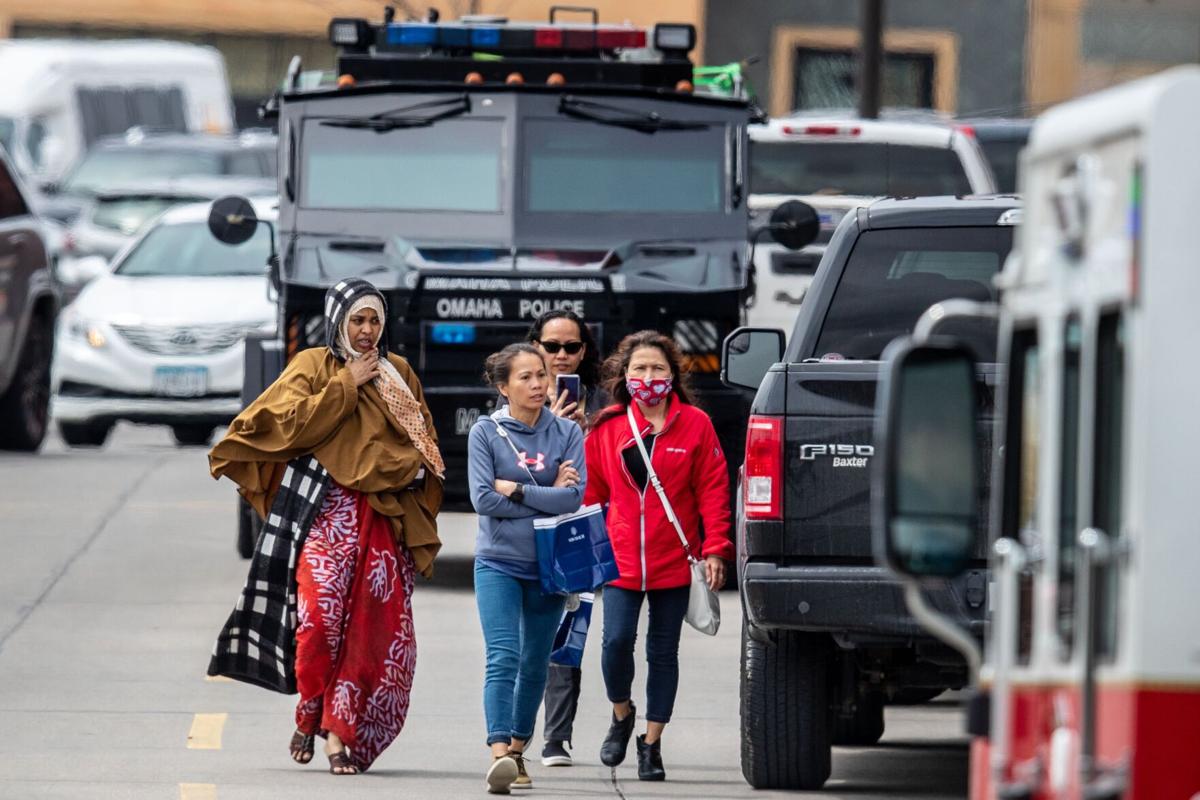 Omaha teen's request
Omaha's elected officials, I am a 16-year-old boy who lives in Omaha. I'm sure some of you have children about my age; when you read this, imagine them in my place. You represent me. I need you to represent me on the topic of gun rights and the Second Amendment as a whole. Over the past month, I have had two separate shootings on two separate days at my workplace of an AMC theatre located in Westroads Mall.
On the first occasion I was already at work and had to shelter in place, frantically trying to reach my family and friends and trying to keep calm as a situation involving a gun was unfolding around me. On the second I was driving to work by myself. I have just gotten my license. You must remember what that felt like, to have freedom and a means to move about on your own, to have independence to do what you liked and get where you needed to go.
Well, I did not have that feeling. The feeling I had was driving to work and then seeing law enforcement blocking the way in and I began to fear the worst. My fears were realized when I pulled into a nearby parking lot and read what was happening. There was a shooting, at my work, for the second time in a month, and I was just as close to it as I was last time.
This vile, unfathomable situation we find ourselves in is too much to bear. There is a solution, if you do your job, and you represent me, a 16-year-old boy, you will work to end gun violence with background checks and bans on weapons of war. Otherwise, this will happen again, and again, and again, until it affects someone close to you.
So I ask you, please do something. I am not asking for much; I am simply asking to feel safe in my hometown. Do what you know you need to, to stop the killings and to stop the shower of bullet casings in the United States of America.
Luca La Fata-Hornillos, Omaha
Will they help?
Gov. Ricketts has taken criticism for refusing to take any of the migrant children flooding over our southern border because, as he stated, he wants to preserve our limited resources for the benefit of our own children. For following this policy, some people accuse him of being uncompassionate. A good way to sway him is to show him an example of your own compassion by letting his office know how many of these children you are willing to take into your home and be responsible for their food, clothes and medical bills, plus having them learn English before putting the burden of educating them on the backs of Nebraska taxpayers.
If his critics do this, then I have no problem with them complaining about the governor's policy.
Donald Busenbark Sr., Omaha
Wrong priority
Regarding " 'We were just so scared': 1 dead after Westroads Mall shooting; search for suspects continues":
Pete Ricketts, however, wants to protect the suspects' gun rights by designating Nebraska a sanctuary state because to him that is more important than the safety and welfare of innocent Nebraskans.
So much for "Nebraska Nice."
Landfill conspiracy
I find it very disturbing that the theft that has being going on at Douglas County landfill has gone unnoticed since 1995! Why were there no checks and balances, and where was Kent Holmes, supervisor of Environmental Services? Obviously asleep at the wheel!
Sanctuary for whom?
A number of Gov. Ricketts' recent dictates are cause for concern. In regard to his statement that Nebraska is a Second Amendment state, I would remind the governor that there are 27 amendments to the Constitution, all of which should be supported by Nebraska. And later the governor intensified his earlier remarks by adding the words "Second Amendment sanctuary." A sanctuary for whom, we might ask. For would-be gun owners who are prevented from buying guns in their own state because of a history of mental instability? Or criminal activity? Or because their state prohibits the purchase of automatic weapons?
Recently, the governor also issued his decision not to house migrant children, because he did not want Nebraska's kids "harmed." I would suggest that there is a much greater potential for harm to Nebraska's children from assault weapons and hefty supplies of ammunition brought to our "sanctuary" state by individuals who flock to Nebraska because these items are unavailable to them at home.
In Catholic school we were taught to perform the corporal works of mercy, e.g., feed the hungry, give drink to the thirsty, and shelter the homeless. These are activities one could expect from a person (or state) that "claims" to be pro-life. The governor's sycophantic devotion to the gun lobby to garner financial support in the future when he seeks higher office, is alarming and dangerous. His recent proclamations and political machinations reflect a more and more autocratic style of governing. Nebraska would benefit from a more humane, more compassionate approach from its governor.
Katie Farrell Wallerstedt, Omaha
Children at the border
As an American from birth, I can't imagine the mindset of parents to send their children to America in search of a better life, much as most of our ancestors did. No question, they may be a burden on our economy and society; however, who do we identify with in Christ's story of the Good Samaritan?
Hypocritical media
What a joke this mainstream media is. You know what they would be doing if Donald Trump wouldn't let cameras or reporters down at the border. Come on, man.
UNMC preserves history
I was so pleased to read the recent article in the OWH about how UNMC will be using and preserving some of the early 20th century history of the Omaha Steel site. It will be a great enhancement to the UNMC campus and should be quite an Innovation hub. Having had an uncle that worked at Omaha Steel many years ago made the article even more interesting for me. I did not know that Omaha Steel had the steel contract for the Nebraska State Capitol back on the 1920s. And the information about the old WWII Higgins landing boats being produced there was so interesting.
I am so glad that the UNMC administration is preservation minded. I am picturing in my mind's eye some banners or signs hanging from those old yellow buildings telling the history of that site! I am wondering how the old railroad tracks can be used in creative ways. The creative designers in Omaha for the project have a lot ahead of them to utilize this site in innovative ways.
Omaha just must do a better job of preserving more historic buildings and sites like this one so we don't lose our history. Every time a building or site like this is destroyed a connection to our past is lost. What might have been if the old Jobbers Canyon could have been saved? I am hoping that that the new administration building to be built at 46th and Farnam can also have some history about this site, perhaps in the lobby. Good luck, UNMC, in your preservation efforts on this big project.
Reelect Stothert
I think the last eight years have been very good ones for the city of Omaha, and I believe it is poised to continue all the good things that have been happening such as low unemployment, balanced budgets and investments in our infrastructure. Much of the credit for this should go to Mayor Jean Stothert, who I hope is returned to office for another term by the voters on May 11.
Hannah Sobczyk, Papillion