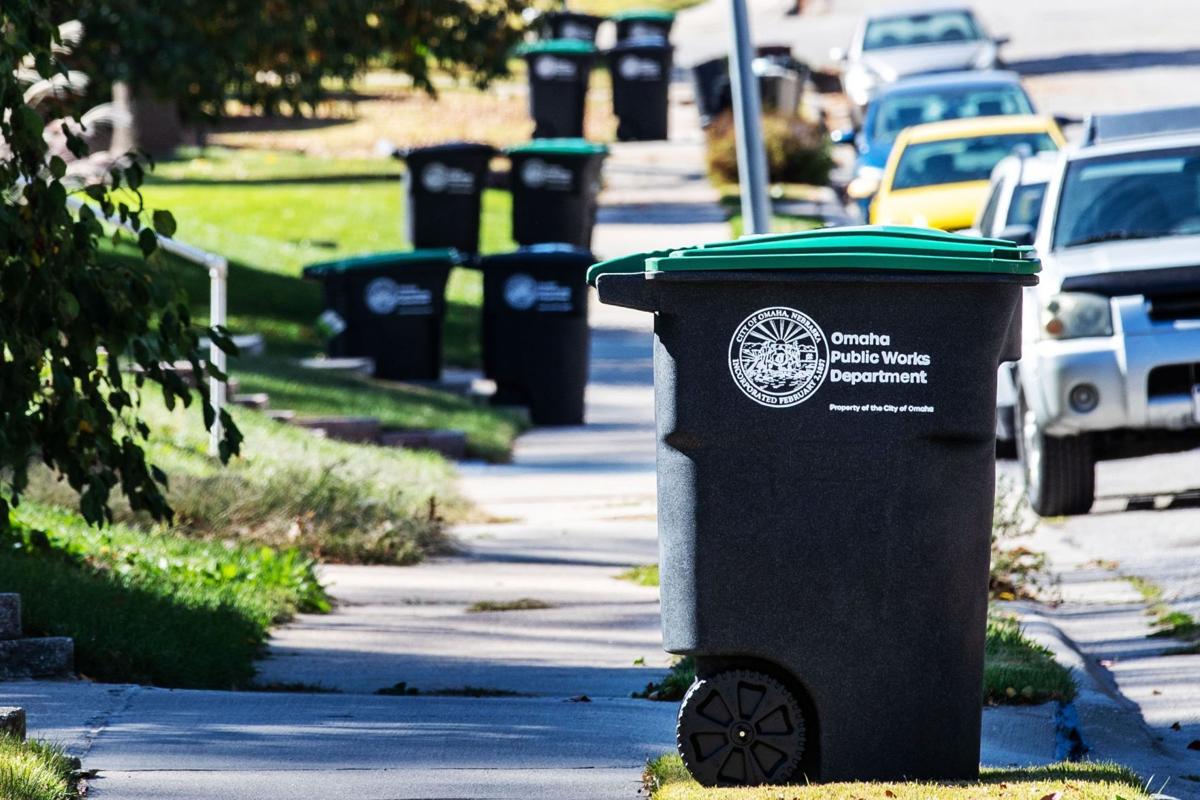 A plus for Omaha
In regard to the June 5 Pulse letter on garbage pickup, I think that the new system is working very well considering that people still have not recognized the new "rules." When notified of the change, I was offered an option to have my bins picked up, based on age. I am considered an older person, so I sent in my request for special service. I live in one of the oldest parts of Omaha. I do not have a driveway, garage or many steps to my front door.
When the new service began, I watched for the trucks since my pickup would be on the alley side of my house. It is four steps up to the alley pavement. The driver had a list saying that I would get requested service. We discussed the plan and my procedure. I was delivered two large bins for both recycling and trash, more than I could handle up the steps.
Under the plan, I place a "STOP" sign on the pillar by my back door on the days I need bins emptied. If no sign, just drive by. So, far this has worked very well for all concerned.
Now, if after eight months of the new service, people could just do what they are supposed to do — no overfilled bins, no trash on the side, lids closed, no excess stuff around the bins, no furniture , etc., and your street will look so much better. I know that in the older parts of the city, the streets are very narrow and the trucks have to carefully work their way along the route, so try to help these guys by following the rules.
I know that change is hard for some, but we all can feel that these new bins will make our neighborhood streets look a lot better and the alleys too, as all the trash is collected and gone instead of being all over your street, sidewalk, your neighbor's yard and your own. Try to "Keep Omaha Beautiful," please. And if you need "special service," call and discuss with the business. Maybe even ask for smaller bins?
Mary S. Thompson, Omaha president,
Dahlman Neighborhood Association
Where is the outrage?
Javondre and Jiaquan, where's the outrage?
My heart and prayers go out to the families of Javondre McIntosh and Jiaquan Williams, taken too soon. Where are those individuals who have been so vocal over the past year referencing "Black Lives Matter"? Where's the outrage? Did Javondre or Jiaquan's lives not matter?
Respect for police
Regarding the article "Police officer who detained youths charged":
In my day, my Dad would have spanked me — once for leaving the house at that hour, and twice for knocking on strangers' doors in the middle of the night waking them up.
My Dad would have left me in jail to ponder my actions for a while. Then demanded that I apologize to the the police officer for my actions.
My Dad would have shaken the police officer's hand for detaining me and apologized for his child's actions while shaking his hand, and stating that his child will never do this again.
In my day, police officers were respected and honored.
Threat to democracy
Contrary to what Donald F. Sutton says in his June 5 letter to the Public Pulse, the Jan. 6 insurrection is not a "dead horse" being beaten by Democrats for political advantage. The date of Jan. 6, 2021, should be burned into Americans' memories as indelibly as that of Sept. 11, 2001.
On Jan. 6 the president of the United States, the loser of a free and fair election, incited a mob to disrupt the certification of the Electoral College vote in Congress. The mob, many of whom were armed, broke into the U.S. Capitol building and brought destruction and mayhem. The mob erected a gallows on the Capitol grounds and searched the halls for Mike Pence and Nancy Pelosi. This was nothing less than an attempted coup against our government. The Department of Justice is pursuing charges against hundreds of participants in the insurrection and is still rounding up other criminals who took part.
My biggest question concerning the event is why Donald Trump has not been arrested and charged for inciting the violent uprising.
Sutton's letter downplaying the event conforms to the Republican Party's playbook of trying to rewrite history. It's outrageous that only 35 Republican House members and six Republican senators (including Nebraska's Ben Sasse) voted to create a special bipartisan commission to investigate the coup attempt and prepare a report to the nation. Recognizing their status as a minority party, the Republicans are now focused on a coup they hope will be more effective: using legislative means to prevent certain Democrats, mostly nonwhite, from voting in future elections.
Patrick H. Brennan, Omaha
Not science-based
It has been asserted that the Nebraska Department of Education's proposed health education standards are science-based. It becomes obvious that science is not underpinning these standards if one looks at proposed standard HE.8.7.3.a, which states, "Assess the role hormones play in the physical, social, cognitive, and emotional changes during adolescence, including among people who are intersex and transgender."
Currently there is no information to indicate that a person who is transgender inherently has hormone levels that are different from others of the same biological sex. Furthermore, while hormones can certainly have a role in emotions, it is not possible to measure hormone levels and then subsequently predict a person's emotions. Emotions are a complex interaction of primarily neurological factors that can be affected by diet, sleep, environment, past experiences and many other factors including, but not limited to, hormones.
Moreover, proposed standard HE.8.7.3.a attempts to confuse intersex with transgenderism. Transgenderism currently does not have a clear causative biological foundation. Conversely, intersex is a blanket term for at least 17 known biologically based disorders of sexual development that collectively affect 0.17% of humans. The complex biological, genetic and hormonal milieu resulting in intersex conditions are way beyond the scope of an eighth-grade health curriculum. Moreover, most people who have an intersex condition do not identify as transgender.
Proposed standard HE.8.7.3.a is just one example of using the guise of health education standards to promote an ideology. A revised draft of the proposed health education standard is due later this year. It will be interesting to see if the next draft of health education standards reflects a more science-based approach. This letter expresses my personal view but not an institutional statement from my employer.
professor of exercise science,
University of Nebraska at Kearney
Voting legitimacy
Steve Chapman's opinion column on Kamala Harris' new, and expanding, responsibilities is a wonderful example of drive-by commentary. Couched within his analysis of Harris and her insuperable duties are several pokes at legitimate efforts by states to ensure voting legitimacy. Mr. Chapman relies on an increasingly common, and lazy, method of presenting complex issues in a simplified and partisan manner. The prevalent narrations from our media (left and right) rely on sectarian talking points with no attempt at presenting different viewpoints or reasoning. The media stakes a position and becomes intransigent in adhering to their message, which seems to be Chapman's intent.
Chapman states, "A campaign against GOP measures to curtail voting ..." "After Georgia passed new restrictions," Coca-Cola and Delta "joined the chorus of critics denouncing them. MLB moved their all-star game to Denver." He continues with his drive-by remarks by suggesting that Harris' best hope is "to rouse enough public disgust with new voting restrictions to elect more Democrats."
I get that an opinion columnist is not always a journalist, but Chapman's characterization of the Georgia voting laws as exclusively restrictive and disgusting is just another example of why trust in the media is the lowest in decades. Align yourself with a position, close your mind, hold your ground, and contrive your arguments. In that respect, Mr. Chapman is a real pro.