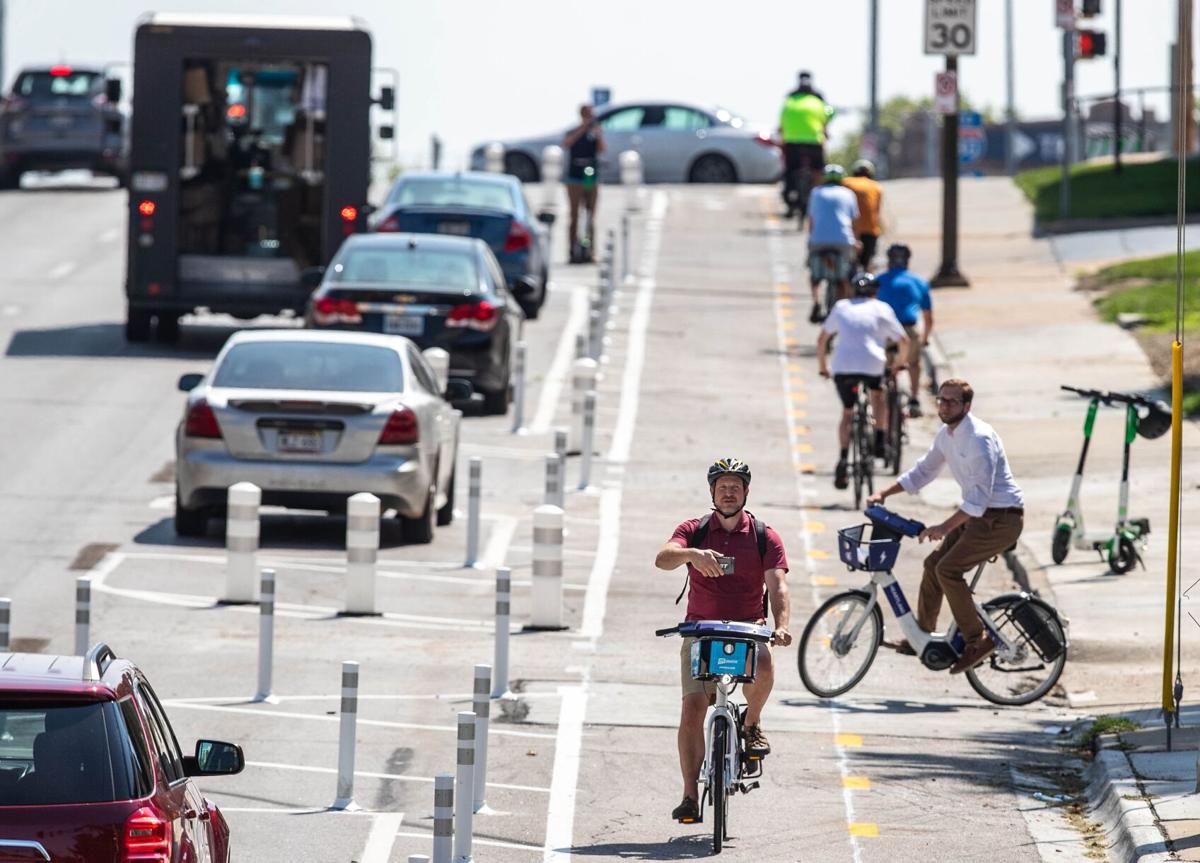 Cycling in Omaha
Omaha has many miles of bike/cycling trails, and the cycling community supports numerous bike shops and bicycle related services and workers. Leaders are to be commended for their vision.
Yet, somehow, the completion of those trails seems a fleeting issue when making those pieces come together for the safety of the cyclist. It is quite impressive to see the Father Flanagan Lake Park and the design that began over 10 years ago. Sadly, there is no connecting bike path yet today. The complexity of areas not annexed, neighborhood associations and so on seem to stump the developers trying to connect the dots in a way to enable commuters and long distance riders. The experiment of bike trail on Harney Street is good and confirms the need for more east/west travel options.
Yet, now there seems motorist disrespect for the safety of the cyclist. Yesterday, while navigating the Harry Andersen Avenue, a motorist passed me as I approached the stop sign at Q Street as an oncoming southbound vehicle was near. That maneuver made me a third vehicle in a two-lane street. The white SUV missed me by inches and got to the stop light four seconds before me. That driver and other motorists need to review the rules of the road outlined in the Nebraska Drivers Manual relating to cyclists. It confirms that sharing the road for the safety of the cyclist can be done. I suggest motorists and cyclists alike review that booklet.
Labor's great value
In normal times, Labor Day marks the end of summer, family vacations, baseball games, picnic's, parades and BBQs. This past year was not normal. We were faced with a pandemic that threw frontline workers and essential workers at great risk and left many workers without jobs, without protections, without health care and without a paycheck. This year, we salute all the workers whom, through no fault of their own, have found themselves without a way to support themselves and their families. We also recognize employees who have joined together to organize and mobilize with others in their workplace to form a union.
Since I was young, my parents instilled in me the value of work. I have come to understand that the value of work has benefitted not only me but my family, my employer and my community. We are blessed to live in a nation that values the wage earner and, due to unions, has passed laws to protect us. We are blessed to have the freedom to form a union. We must not regress to a nation that does not value the worker by passing laws to harm us, to exploit us and undermine our efforts to provide a wage that supports our family and our community. The time is now to set apathy aside and participate in or join a union to uphold what is dear to the American worker.
This Labor Day, I thank my union brothers and sisters for standing up for working families, and I wish all working people a Happy Labor Day.
president/secretary-treasurer
Millard, masks
As a parent who has two children who attend Millard Public Schools, there are not words to describe my feelings in the school board's lack of a mask mandate. It is truly disappointing. Last year MPS was the leader in the metro; now they are placating government overreach groups. So I will leave the board with these two points:
1. Don't ask for any more money through bond issues. If you can't protect our kids until they are able to get vaccinated, myself and many others will not only not support bond issues, we will actively campaign against them. I wouldn't count on the groups you are pandering to, to help. I can't think of anything they hold in more contempt than higher taxes.
2. Our kids will eventually be vaccinated, hopefully in the next few months. If the trend that we see in adults holds true for the kids, there will be very few breakthrough cases. However, our kids will be asymptomatic spreaders. So they won't get sick, but unvaccinated kids will. When those cases skyrocket, don't ask us to mask our kids back up.
All choices are not equal. And choices have consequences.
Bacon's office helped
A Public Pulse letter on Sept. 1 criticized Rep. Don Bacon for not getting "on board with the president to get Americans and trusted Afghans out of Afghanistan." This could not be further from the truth. Many local news outlets have highlighted how impactful Congressman Bacon and his staff have been in saving countless lives. In fact, the director of Afghan Studies at UNO praised the work of Rep. Bacon for going above and beyond to rescue people leading up to this week's deadline, despite obstacles from the State Department.
This administration owes us a plan outlining exactly how they plan on rescuing the remaining Americans stuck in the region. Rather than criticizing Rep. Bacon, he and his staff deserve credit for his key leadership during this time of crisis. Leadership that undeniably saved lives.
Afghanistan MIAs
Unlike most MIA lists, there will be no names, pictures, bios, or cause of death. It will only be estimated numbers made up of men, women, children and babies who vanish from the face of this Earth — no cemeteries, records, markers, nor places to mourn of their passing. The numbers, if ever available, will increase rapidly for some time to come.
Americans and other foreign nationals have been left behind; some may want to stay, and others just could not safely get to an airport. Their names may be on some special MIA lists, but nothing more.
The world has openly condemned us, and their confidence in us has been shattered. Years and maybe decades may pass before we are fully trusted again. We hear words like: We betrayed our allies, we have a shameful, heartless and callous disregard for human life, and some just do not care.
To veterans and their families: You did make a difference by showing your service and compassion and what positive things could be done for others; it was not in vain. Those serving at the Kabul airport need a hug and thank you for tirelessly getting people out.
COVID, WWII spirit
Aside from the fact that I don't understand the anti-vaccine and anti-mask people (I'll just call them "antis") I'm glad about one thing; that they weren't in this country when we were fighting World War Two. If so many selfish people were called on to make the same adjustments made by the Greatest Generation (including my parents), we would have lost the war.
My parents had the ability to do the one thing that makes a person great; they were willing to sacrifice for someone else. They accepted, grudgingly perhaps, food ration books, gas rationing, travel restrictions and more for almost four years not because they blindly followed anything the government told them, but because they knew that by sacrificing, we would win the war.
The motto for the antis seems to be, "I will only do what's best for me. Let others do the work of getting us out of this COVID mess."
I thank those who sacrifice to fight COVID and pity those who don't. They'll be remembered as obstructers to victory.
Biden bears blame
In response to Richard Lane Bailey's Pulse letter in The World-Herald on Friday, Sept. 3: President Biden said while it was happening that the buck stops here. it should; he bungled the pullout. Trying to blame his predecessors for his errors is simply wrong. They were held accountable for their actions while serving.
Biden blew it and is responsible for his action and will be held accountable by the voters. It is also time to stop blaming Trump for Biden's decisions.
Same as Vietnam
Mr. Leahy (Aug. 31 Pulse) says our president of eight months was totally responsible for Afghanistan's fall and should be impeached. Where was his outrage for Ukraine, Russian voter meddling, abandonment of the Kurds — and the Jan. 6 attack on our government? Oh, and the art displayed for the Taliban deal negotiated earlier? For those with selective memory, the war was 20 years long and rife with corruption and mistakes through all four presidents.
As a servicemember during Vietnam (another 20 year war) we saw the same mistakes/corruption, left our equipment behind, and unwillingness of our "allies" to fight. We win every battle, but never won the hearts and minds of either population. As Robin Williams ("Good Morning Vietnam") asked, why were his "friends" attacking? It was simple — because you're here! It was well past time to leave.
Jeff Johnston, Elmwood, Neb.
Double standard
One cannot help but remember how fiercely Nancy Pelosi and the Democrats tried to impeach Trump over a phone call to the Ukraine — a matter not even an impeachable offense. I haven't heard of a concerted effort to impeach Biden. Perhaps his handling of the Afghan evacuation is not as serious as Trump making a phone call.
How it spreads
A health care worker said that she didn't need the COVID vaccination because she was very healthy. Girl, this isn't about you! What about all the people you may expose — your family, coworkers, patients who have health issues? Just because you are healthy doesn't mean you can't contract a highly infectious illness! Where did you get your education as a nurse, aide, doctor, etc.? Didn't you learn anything about infectious disease?