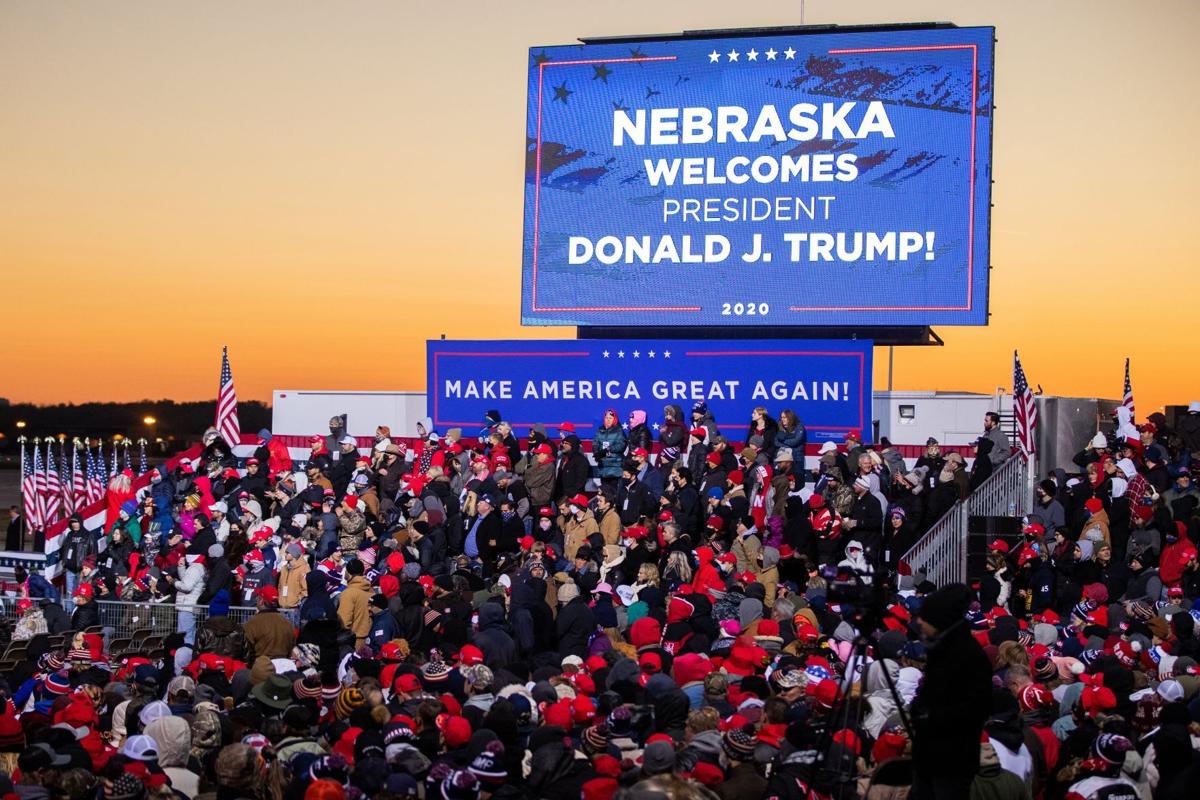 Rally was a positive experience
We were fortunate to attend the presidential rally. We would like to comment on the positivity of the crowd. Despite the cold and shuttle delays, we did not hear anyone complaining. We saw folks at the back of the line pressing forward those with disabilities. Being able to see a United States president up close is a special event for the Midwest. We are in our 60s. I have seen three presidents in my lifetime, and this was the first for Jeff.
We would also like to thank the Omaha Police Department and Arrow Stage Lines. The police force was very visible, helpful and kind. We enjoyed seeing the mounted police. We thought that officers on horseback was something we only have out west. And the driver of the bus that picked us up after we decided to walk back to the car was so polite. He must have been frustrated by the traffic delays but he did not show it.
We are so thankful that we could be there. Thank you, Omaha, for the memory.
Jeff and Peggy Orr, North Platte, Neb.
We're ruled by a political minority
We currently have a Supreme Court that is comprised of a majority of members who have been appointed by presidents who did not receive a majority of the votes and approved by senators who are not representing a majority of the population. A 6-3 majority of the Supreme Court is comprised of highly partisan people, hand-picked for their views rather than their judicial skills. I always believed the Supreme Court should reflect an unbiased group of individuals who have the nation's best interests at heart. When our governing bodies play partisan politics to choose them, there is no longer even the illusion of fairness.
Judges who allow themselves to be appointed by this process are not unbiased, and their judgments cannot be thought of as fair. Our judicial system is now filled with partisan hacks rather than impartial judges. Their decisions will likely please a minority of people, those who put them in power, and they will benefit for years to come. A majority does not rule, and the minority is making sure it never does.
Bob Rutledge, Ashland, Neb.
A tainted justice
That Amy Coney Barrett is now an associate justice on the Supreme Court is the outcome of a hasty confirmation process orchestrated by a panicked Republican Party. That Amy Coney Barrett's tenure and legacy on the Supreme Court will be forever sullied by that process is true justice.
Don't sidestep moral principles
It's with sadness I've watched Creighton University steadily slide into increasing secularism. Tuesday's "Midlands Voices" accentuated that observation.
This editorial from Professors Miller and Salzman is full of half-truths, quotes taken out of context, and talking points typically provided by the political left.
Let's be clear — the Democrat Party is the party of abortion. Every election it moves more and more pro-death, to the point now where the platform is for abortion anytime, any reason. And Mr. Biden has done nothing to use his Catholic faith to counter that, but rather promotes it. How exactly does Mr. Biden's faith, of which he is fond of speaking (without any specificity), inform him?
The popes have been very clear on their teaching on the primacy of abortion as a life issue, contrary to the quotes lifted out of context that the professors cite. Can the pro-abortion politician have other positions that balance out their support for abortion?
St. John Paul II, in his Apostolic exhortation — Christifideles Laici, could not be clearer: "Above all, the common outcry, which is justly made on behalf of human rights — for example, the right to health, to home, to work, to family, to culture — is false and illusory if the right to life, the most basic and fundamental right and the condition for all other personal rights, is not defended with maximum determination."
Or how about Pope Benedict — he felt so strongly about it that he handed down a letter to the U.S. Conference of Catholic Bishops saying that pro-abortion politicians ought to be denied Holy Communion.
Vote policies, not personality
You don't vote for or against someone because of their personality. You vote for their policies and their ability to provide success and direction to the country.
Do you want a leader who believes in the exceptionalism of America and believes in capitalism over socialism, or do you want a leader that apologizes and bows down to his radical leftists?
If you want open borders, "Medicare for All," higher taxes, ending the Electoral College, adding/packing the Supreme Court, defunding/redistributing funding for law enforcement and more choking regulations, then Joe is your man.
However, if you believe in the greatness of America, lower taxes, enforcing "legal" immigration, supporting law enforcement, making great trade agreements, Middle East peace pacts, destroying ISIS, staying energy independent, reducing prescription costs, putting America first, making economic policies that have produced the lowest minority unemployment rates ever, stopping endless wars and bringing troops home, improving the VA, ending child trafficking, making our allies pay their fair share, moving our embassy in Israel to Jerusalem, allowing terminally ill patients access to experimental therapies and countless other things that have brought success to this country, then Trump is your man.
You don't need to love President Trump, but you do need to recognize everything he has done for us.
So focus on who has the vision, stamina and determination to get things done and who's going to continue to solve our problems and keep America on the right track moving forward.
Chris Darrell, Plattsmouth
Disappointed with endorsement
I have been generally impressed with OWH endorsements, but was terribly disappointed in your endorsement of Don Bacon.
It may be true that Bacon had made efforts at nonpartisanship, but his campaign has been the most vicious, inaccurate, abusive we've ever experienced in Omaha. How can OWH support a candidate who conducts such a vicious campaign and has such a terrible voting record?
None of his comments in debates and ads, and those of his PAC supporters, have made complaints about a single one of Kara's actual positions; rather they make unbelievable, false, fantasy statements about Kara.
» That she supports defunding police, but she says the opposite.
» That she supports government takeover of elections, not true.
» That she is socialist, using comments she made when explaining that "Bacon claims 'I am a socialist.' "
» That she favors high-cost climate proposals, which she does not.
» That she was involved in rioting/looting in Omaha — crazy!
Bacon's own record is pathetic: He voted for Trump initiatives 93% of the time. He voted "hell yes" when he voted to end ACA health insurance.
He voted for an age tax for health care, for increasing the retirement age for Social Security and Medicare, for the tax bill that gave billions to the top 1% income group.
He voted against the HEROES COVID Rescue package and failed to secure funding for the City of Omaha in the CARES COVID relief package.
False attack on Biden
A Pulse letter from R.H. Davis (Oct. 22) said Joe Biden had no substance and couldn't do a better job handling our pandemic, among other things, than Trump.
Look at joebiden.com for clear specific details of many of Joe's plans, including health care for those with preexisting conditions. Trump's site has not one detail. His pep rallies, you'll notice, contain vague hyperbole and wild promises without a clue as to any plan. Joe has planned no tax increase for those making less than $400,000. Some substance.
Trump haters are unfair
For some reason there are those who blame President Trump for the rise in COVID-19.
Is Trump supposed to create a vaccine? Is Trump responsible for the thousands who gather in huge settings and do not bother to wear masks nor to keep social distance? Soon haters of Trump will blame him for the "murder hornets" and wonder why he is not getting rid of them. Ever since President Trump's election in 2016, he has been blamed, blamed, blamed.
President Trump doesn't have the smiling, hugging personality of Biden, but Trump gets things done. Which do we really want? Before COVID-19, Trump saw to it that there were job openings and the economy was doing very well and we were energy independent.
The question is: Do we want to elect a smiling, hugging president who has no real plan, or do we want a president the likes of Trump who will restore the economy and open up more jobs?
Catch the latest in Opinion
Get opinion pieces, letters and editorials sent directly to your inbox weekly!