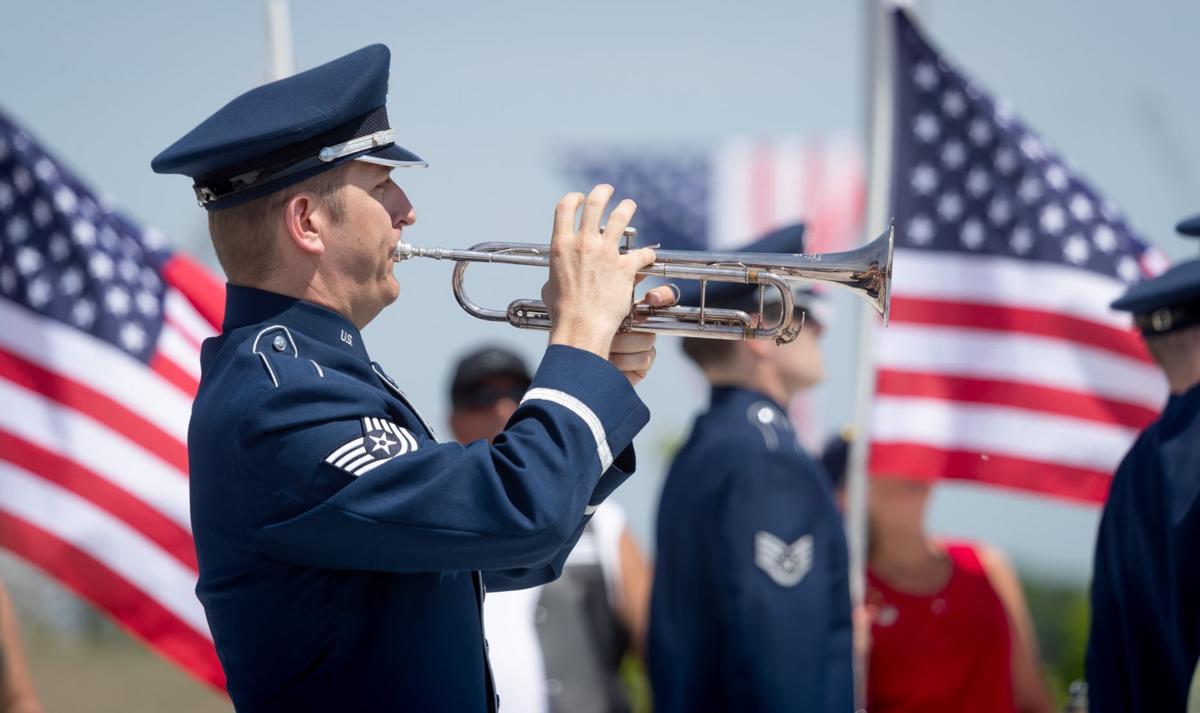 Respect their sacrifice
I was greatly disheartened to read the article about President Donald Trump supposedly disparaging American war dead and American POWs. I do not know for sure if President Trump said these things, he says he didn't, but what I do know is he insulted Sen. John McCain. If he can insult Sen. McCain, a true war hero, I don't doubt that he could have said other things about American service personnel.
I would recommend all Americans, including President Trump, to take time to read the poem "In Flanders Field." It's a short poem, even President Trump could sit down and read it, but it is one of the greatest literary writings honoring war dead.
The poem was written by Lieutenant-Colonel John McCrae in 1915. Colonel McCrae was a Canadian doctor serving in the Commonwealth Army during WWI. His poem transcends nationality, though.
The VFW in the United States adopted the symbol of the poppy to honor American war dead around Memorial Day.
Get some tissues, and start reading. When you come to the line, "We are the dead," think of all those United States service personnel that have given the ultimate sacrifice. If you have a chance, stop by the National Cemetery south of Omaha. You will be moved. If possible, stop by Fort McPherson National Cemetery, east of North Platte. It is one of the most beautiful places in Nebraska.
There are no "suckers and losers" buried in the American cemeteries, only brave young men and women who did not look to "how they could get something out of serving." They served because they knew it was the right thing to do.
Unfair, false attacks on Trump
I take strong issue with Tom Purcell's criticism of President Trump (Sept. 5 Pulse) regarding certain of the president's remarks and the unsubstantiated remarks attributed to him by an anonymous source and published in a magazine that dislikes the president, as I assume is the case with Mr. Purcell.
Any article that quotes an unnamed source is suspicious at best. When that publication openly and strongly dislikes the subject of the quote in the first place, it should be ignored and certainly not passed on as fact as did Mr. Purcell. He did not mention that John Bolton, one of the president's most outspoken critics, was on that trip with the president and states on the record that he was never aware of any such remarks by Mr. Trump.
Mr. Purcell also does not understand the context of the statement, "Why would anyone make such a sacrifice, what was in it for them?" He considers this as disrespectful. He does not understand that what was being questioned is what motivated these brave young soldiers to make the supreme sacrifice not for the purpose of obtaining any personal gain but rather for the good of their country. The president was right. There was nothing in it for them.
I am sick and tired of hearing information from unnamed sources, selective editing of statements, information out of context, misquoting and the flat-out lies that are being told to us. I am also tired of others then passing it on as fact.
Reason for the border policy
In the Sept. 6 edition of the OWH, Mona Charen, with Creators Syndicate, wrote an essay stating why she could not vote for President Trump even though she is pro-life. She listed several of what she perceives to be shortcomings in our current president which I could disagree with some and agree with others.
However, when she speaks of President Trump separating "thousands" of children from their parents at the Mexican border, I find that it is important to again point out that this practice was started by President Obama and inherited by President Trump. The reason children were being separated from "parents" was because children are being abducted or being bought from their parents in southern countries so that illegals can come across appearing as if they are families. Once across the border, many of these children are then trafficked usually for sexual reasons. The idea of detaining children was to be able to prove that the people claiming to be parents were actually those children's parents.
We know personally three children who were adopted here because of the physical and sexual abuse they suffered from their "parents" who brought them over the border. The oldest of the three related a story about the people who brought them over killing their mother to obtain them.
President Obama needs to be credited for starting this policy, and President Trump should not be attacked for continuing it.
Steven A. Miller, Bellevue
A park renaming
Do Ben Sasse and Don Bacon support a current GOP initiative to rename the park at 60th and Dodge "Losers and Suckers Memorial Park"? A large new sign on Dodge would be nice!
Catch the latest in Opinion
Get opinion pieces, letters and editorials sent directly to your inbox weekly!