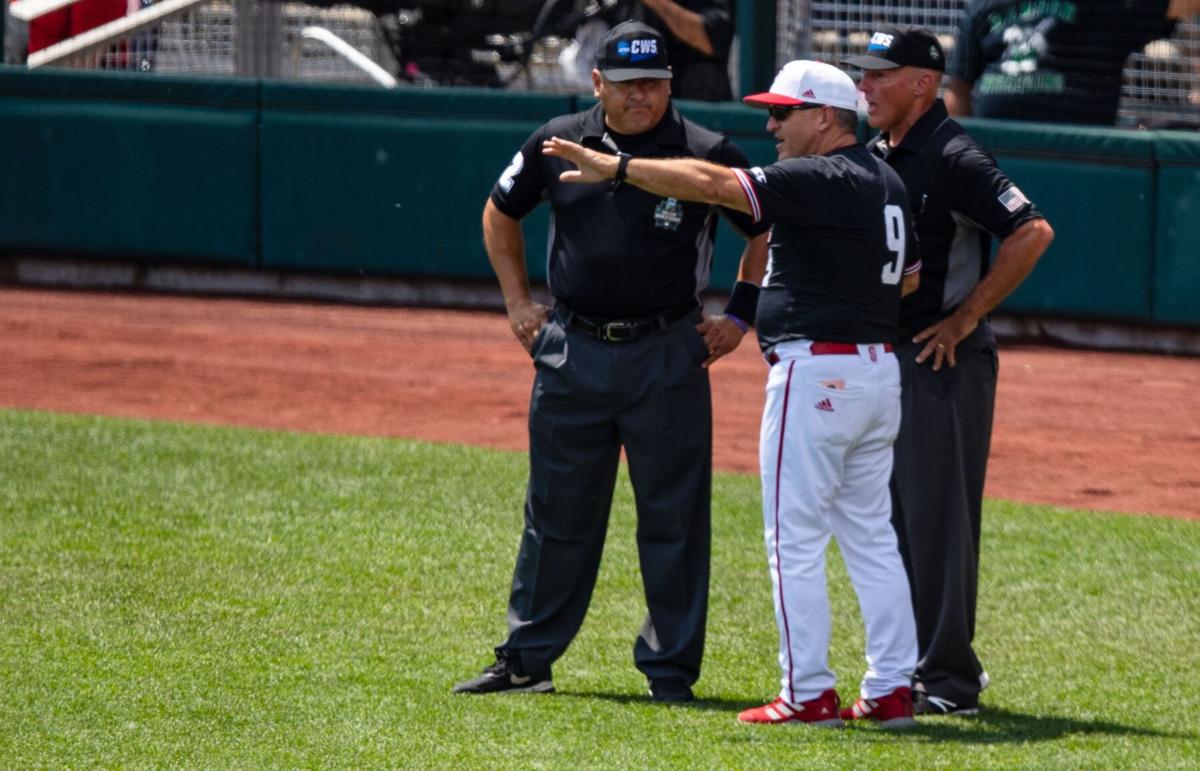 Shame on NCAA
Shame on the NCAA and any college team not vaccinated!
It is very unfortunate our traditional CWS format could not be completed because of lack of responsibility by the NCAA. Months ago they could have required all participating athletes regardless of their sport to be fully vaccinated.
Does anyone not care about others they come in contact with, including many children under 12?
You cannot depend on young athletes to make the right decision.
Administrators feel it is a political issue and coaches feel it is a personal decision and should be left to judgment of their players — this does not work!
We see the result of a monstrous problem that could have been rectified. If everyone would have been vaccinated, we wouldn't be dealing with an incomplete CWS.
Act of ignorance
I live in Omaha and rooted for NC State until they put my grandkids in jeopardy of getting COVID through their ignorance, lack of compassion, and incompetence. The athletic director and coach should be fired, and all of those athletes and fans not vaccinated (I'm sure there are others, including people in Omaha) need to go back home and infect their own and keep safety concerns for others as the primary motive in their stupidity.
Choice, responsibility
It was indeed heartbreaking to see how North Caroline State exited the College World Series last week. But they, just as every other American, have been reminded ever since the introduction of the vaccine that when one chooses not to be vaccinated, one runs the risk of infecting others. Professional and college teams have had their season cancelled because of this pandemic.
The unvaccinated players made their choice, just as their teammates chose to be vaccinated. It's about freedom. But it's also about responsibility to others. The NCAA isn't at fault. It's unfortunate that the team suffered the consequences of what was always a possibility of occurring with hundreds, if not thousands, of fans who made the same choice to take that risk. I hope the Wolfpack return soon to the CWS. They're a terrific team with a lot of heart.
Technology, generations
This is in response to Dexter from Lincoln (June 25 Pulse) and his comments about CWS electronic tickets. Believe it or not, Dexter, some boomers embrace technology. This is the first time we've had any trouble with electronic tickets, and we've attended many sporting events and concerts. The NCAA already admitted they had problems with scanners initially, and it's improved since then. Before you call out us boomers, you should use your savvy tech skills to do some online reading. It's us and our parents supporting the CWS over the years that have made it possible for you to even have the opportunity to buy a ticket. Be kind and show some respect.
Not just boomers
Dexter Schrodt's letter informed me that if you have a problem using electronic tickets at the CWS, then your a boomer. I am part of the generation born before the boomers. I also work as a ticket taker for MECA events. I see people of all ages struggle with electronic tickets. A high percentage of them are 20- to 30-year-olds attending concerts. Many of these young adults will struggle in line for 15 minutes before they go to the ticket office for a resolution.
Don't stifle debate
Why is the OWH so quick to write off concerns about critical race theory (CRT) as purely a political tool?
Both your June 23 editorial and a recent article in Education Week acknowledge that CRT is a nebulously defined, somewhat catchall term for a methodology that attempts to explain a legacy of racial discrimination and its lingering harm. Of equal importance, it also often considers a wide range of policy proposals regarding how society should attempt to remedy these past injustices.
It's this murky space that leaves room for the spread of ideas that are at least questionable if not pernicious. CRT has been too often used as the philosophical basis for the elevation of group identity as the defining trait that trumps individual character, the division of our society into oppressor and oppressed classes, the promotion of white people as inherently and exclusively racist, and other arguably harmful notions that will undermine long-term reconciliation.
Efforts to push back against such propositions are hardly the stuff of white evasiveness and political manipulation as you allege, but are rather attempts to reduce the influence of extremism and bring the discourse back to a place that can be genuinely productive.
We've been told for years that it's long past time for our country to have an "honest conversation" about race. That needed dialogue will continue to elude us if the OWH's brand of dismissiveness toward legitimate concerns wins the day.
Young leaders
Every year, the Omaha Jaycees select 10 outstanding leaders for the designation as a "10 outstanding young Omahan," or "TOYO!". This year, I had the privilege of being honored amongst community leaders dedicated to a life of service to our great community and state, and it's encouraged some additional reflection.
As each of the awardees shared a bit about their work, I was struck by their civic engagement, their vision for the legacy that their work stands to bring our city, their level of altruism, their lack of ego, and most importantly their genuine understanding and prioritization of "leading from the middle."
Leading from the middle is a common phrase in our household, as my husband and I collaborated with two of our colleagues, Nik Stevenson and Sarah Andrus, to capture the very sentiment in a book published this year, "Leading from the Middle: When you have zero authority but need maximum influence to accomplish the core mission." In essence, it is leadership without authority.
The TOYO! winners personify this idea of leadership without authority. None of the TOYO! awardees were given the title of "leader," "manager" or "community influencer." Rather, they all rose to the occasion, dug in with both feet, and got to work on challenges and roadblocks that they observed, in order to make the quality of life better for every Nebraskan.
The long history of the TOYO! awards from the Jaycees recognizes the tireless civic-minded servant leaders in our city. Thanks to the Jaycees Foundation for helping to instill a consistent message of service, and the importance of caring for others in our community.
Christine Cutucache, Bellevue
Omaha transit
In regard to recent talk and letters (such as "They're a waste" by John Winger, June 24 Pulse), there have been two areas here that are up for thought.
The first is ORBT. I have been driving up and down Dodge Street for over 75 years, and I, like others, have seen that the new super-big buses are running at near-empty capacity. They are here, but no more.
The second topic is street cars — no way, forget it. They were retired in the '50s and are not flexible enough to be renewed. But, maybe a Toonerville Trolley-type of car on tracks would be appropriate, circulating the Old Market, the new Central Park Mall, the updated waterfront and the Kerrey bridge (maybe even to the ballpark). This small car would be similar to those found at zoos.
Yes, Omaha needs public transportation, but still is a "car" city. As others suggest, the Omaha Metro people should look at smaller buses or even vans to serve the non-car riders. OPS used both large and small vehicles which are sized to fit their needs. Passenger vans are available that would be adequate for some runs.
What the city really needs is to take the future of transit out of the hands of local Metro (which has a vested interest) and hire a city transit expert from out of town to help map out our future transportation. This isn't a time for large buses or street railways.
Hastert's contribution
The recent report of the demise of Robert (Bob) Hastert brings to mind his influence in naming the Omaha park now known as Lewis and Clark Landing. Bob and his wife, Ava, longtime residents of Omaha, were dedicated followers of the history of the expedition in 1803-06 by Meriwether Lewis and William Clark. As most know, their task was to explore the westward extent of the Louisiana Purchase.
Bob prepared and presented a superb speech before the Omaha powers that be, and was successful in convincing the naming committee to officially dedicate the current name. He gave me a copy of that speech several years ago, and I found it extremely convincing. Perhaps city historians or the Lewis and Clark Trail Foundation have more details. Bob is no longer with us, but Ava and daughter now reside in Lawrence, Kansas.
Ellis McClintick, Papillion, Neb.
Win-win idea
Here's an idea to help the city transportation issue: Why not make the buses free for anyone "elderly" or anyone who is a student of a local school or university? This will help fill the buses that are running anyway and save people some money they could spend on other things.
Seems like a win-win, doesn't it? Omaha could, in fact, start something by example that could impact cities nationwide. Let's talk about that.
Troopers' role
Gov. Ricketts is once again wasting our tax dollars and weakening law enforcement protection by sending State Troopers to the southern borders. We have Army Reserves and the National Guard in constant training throughout our country, and protecting our borders should be part of their training. Our State Troopers were hired to serve and protect Nebraskans. The Army Reserve and National Guard our trained to protect all citizens.
Let us think this over before we send State Troopers away from the responsibilities protecting Nebraskans, enforcing state laws, making our roads safer and being good Nebraska citizens. This why they became State Troopers, Nebraska State Troopers.
Sasse interference
When I learned of Mr. Sasse's ill-timed and ill-conceived letter to the U.S. attorney regarding a trial in progress in Furnas County District Court, I cannot help but recall the old saying: "We're here from the government and we're here to help."
Apparently our "show dog" senator didn't bother to consult with legal counsel, or even someone with common sense, before running his mouth. Had he used any measure of competence, he would have first consulted with the Office of the Nebraska Attorney General to see if they needed assistance. He would have learned that thousands of hours have been dedicated — from the Furnas County Sheriff, Nebraska State Patrol, Furnas County attorney and the criminal division of the Attorney General's Office. They have it handled, thank you very much.
Why in the world would a Nebraska senator jeopardize the work and diligent preparation of these competent officers and attorneys? One must conclude that Mr. Sasse is completely bereft and deprived of judgment, common sense and understanding.
Apparently he just does not know any better.
Roger L. Benjamin, Oxford, Neb.
Nixon pattern
Robert Sigler (June 25 Pulse letter) had no problem equating Ben Sasse (not exactly a favorite of mine, anyway) with Nixon when the then-president proclaimed Charles Manson to be "guilty." Yes, he certainly was. But it nearly caused a mistrial. Neither is as blatant as Maxine Waters doing the same when she not only convicted Derek Chauvin, but even threatened the jury in such an overt manner ("we will get more confrontational!") that even the judge had acknowledge that it could be grounds for an appeal! I don't think anything will change, but if anything works in Chauvin's favor, the only one to blame will be Maxine Waters. She may be the "New Nixon."
Mel B. Shelnutt, Clarinda, Iowa
All that sand
The report that there is sand in a Sand Hills river is very disturbing. It is really great to see that the EPA is on top of this. There is a similar problem that I want to bring to the EPA's attention.
I live on the banks of the Platte River. There are sandbars everywhere! When I wade in the river, there is even sand on the bottom of the river!
This has been going on far too long. Lewis and Clark wrote about it in their July 21, 1804, journals. Clark reported, "… passed many Sand bars opposit or in the Mouth of the Great River Plate." So the federal government has known about this problem for more than 200 years.
I'm tired of waiting. It's high time the EPA figured out who put all this sand here and make them take it away.
(Dear reader, in case you missed it, the above is satire. I wish I could say the same for the EPA.)
Correction
A June 25 Pulse letter incorrectly stated that an earlier Pulse letter, by Linda Bradbury, was about the Keystone XL pipeline. Ms. Bradbury wrote on another topic.