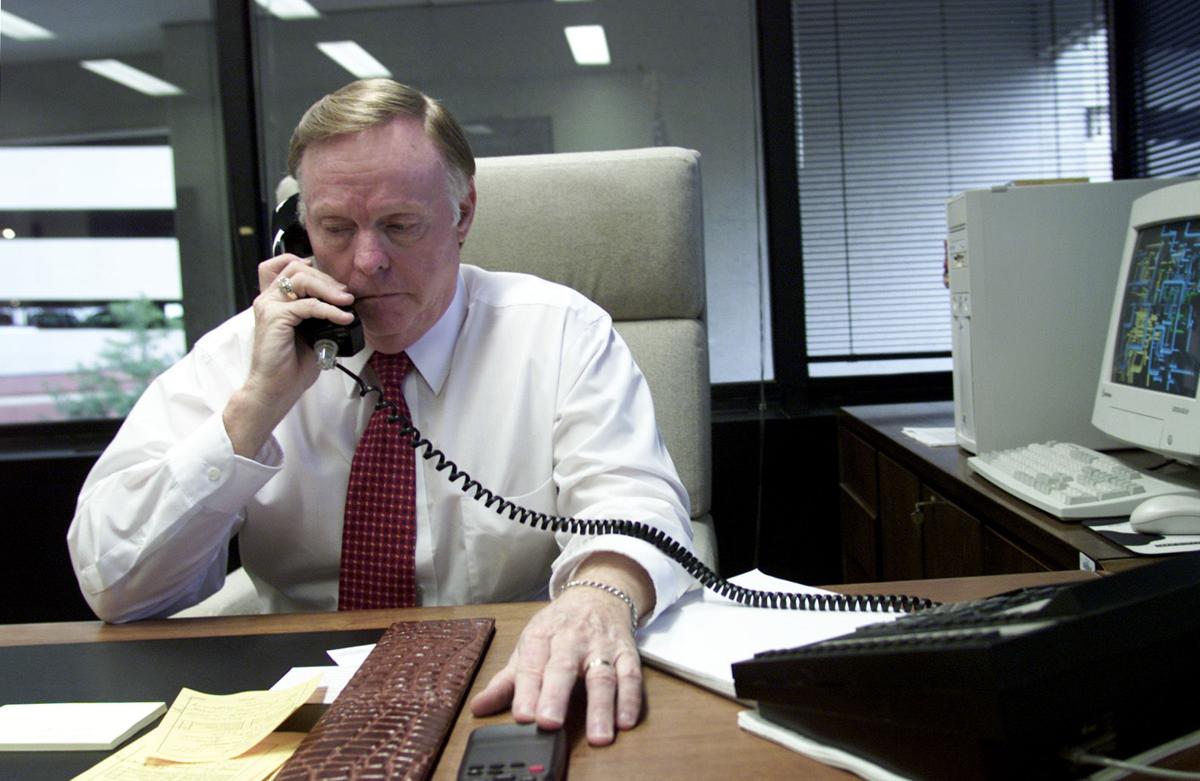 Sigerson set admirable example
Over the weekend, Omaha lost a giant in Republican politics with the passing of Chuck Sigerson. I was fortunate to have known Chuck and even was an opponent at one time. He represented our city with integrity and dignity. Chuck treated everyone, friend or foe, with respect.
There is a lot we can learn from how he lived his life. I have certainly learned much from him. He was a man of faith, a veteran and a man who loved his family. My thoughts and prayers go out to Liz and the entire Sigerson family. Rest in peace, sir.
False attack on the president
A systematic, purposeful activity has emerged again with the latest "anonymous source" allegation against President Trump. Mainstream media outlets and cable providers of anti-Trump falsehoods dutifully reported the allegation. The faux sense of outrage played out again, complete with the use of the same catch words providing subliminal "drummed into your head" authenticity.
The reason for latest "anonymous source" allegation is simple: Make military service individuals, their family members and pro-military groups believe President Trump is anti-military and has made disparaging remarks about fallen heroes. The ploy is to destroy confidence in President Trump by one of his strongest coalitions and the voting public susceptible to such tactics.
The left has used "anonymous sources" repeatedly over the last five years. They do it well because the use of unnamed sources has always been accepted and enhanced by their media sycophants. The appropriate and accurate description should be "Straw Man Source"!
Nebraska is not for everyone
Nebraska: It's definitely not for everyone:
» Refusing to wear a mask to protect others in the community.
» Shouting at restaurant workers for denying to allow dine-in seating (see: Ming's in Papillion, even though Ming died of COVID-19!).
» A racist driving around Nebraska's capital city with racist language and "Trump 2020" blatantly displayed on the truck.
» Gov. Ricketts' veto of a bill to protect against discrimination of Black people for wearing their natural hairstyles.
» Gov. Ricketts' refusal to extend emergency federal aid for SNAP (affecting mostly children, elderly and disabled folks).
Still wondering why everyone wants to move away? Nebraska, not so nice. Nebraska, it's definitely not for everyone.
Nebraska, we need to do much better.
Brooklynne Rosado, La Vista
Eastman right about health care
I believe every person should be able to get the health care they need when they need it.
That's why I'm supporting Kara Eastman for Congress.
I'm a Nebraska native and while attending UNL, I was diagnosed with a rare autoimmune disease. Managing it can be tough, but between good doctors and the protections in Obamacare I've been lucky. But getting sick showed me our health system is broken and inspired me to help fix it.
So after graduating, I fought to protect Obamacare and improve our health system as I worked in the U.S. Senate and for President Obama. When I hear Don Bacon say he supports protecting preexisting conditions, I pause. Because the truth is he voted repeatedly to shred those very protections.
Because I remember 2017, when Bacon voted to raise Nebraskans' premiums, gut protections for preexisting conditions, and impose an "age tax" on older patients. He didn't just begrudgingly vote for that bill. When asked if he was supporting it, Bacon responded, "Hell yes!"
It's pretty clear that Don Bacon is serving someone's interest — just not yours.
With Kara Eastman, I see the opposite.
I see someone who has spent a career fighting to give Nebraskans a fair shot, and who has experienced firsthand just how important it is that we can get care when we need it.
One of the core values Nebraska instilled in me is fairness. I know, if you give her the chance, Kara Eastman will fight every day in Washington to protect people with preexisting conditions and for policies that ensure every one of her constituents gets that fair shot.
Emily Schlichting, Atlanta, Ga.
past health policy specialist with U.S. Senate staff and U.S. Department of Health and Human Services
Abortion remains central priority
In his Aug. 23 Midlands Voices essay "Neither U.S. political party fully follows Catholic values," Dr. Kelly's opinion has badly misrepresented Catholic teaching.
Earlier this year, U.S. bishops, in their conference, reaffirmed that abortion — the deliberate taking of a defenseless human life (of a child in the womb) — is the preeminent moral evil in our day. It is the foremost grievous sin against God. All other rights and social concerns and issues must take a secondary place behind it.
One of our political parties, and our president, have uncompromisingly supported the sanctity of human life of the unborn. Another of our political parties has uncompromisingly endorsed and empowered elective abortion. It goes so far as to demand that all citizens pay for it.
Dr. Kelly is simply wrong, and his opinion falls short of being truly Catholic. Read the Catechism of the Catholic Church and you will see this confirmed. There is no comparison between elective abortion and other social problems or ills that he cites.
Incidentally, Dr. Kelly's reference to children in "cages" should correctly be assigned to the previous (Obama/Biden) administration, when they were ordered and constructed.
Sadly, his opinion, and his insistence that he be identified with Creighton University, reveal the long slide of Creighton and some of its professors into liberalism, socialism, identity politics and worst of all, subjective Catholicism. The failing reputation of that once great university is widely known and sadly acknowledged. Dr. Kelly's dishonest essay simply confirms it.
Geoffrey Coleman, Denton, Neb.
Catch the latest in Opinion
Get opinion pieces, letters and editorials sent directly to your inbox weekly!