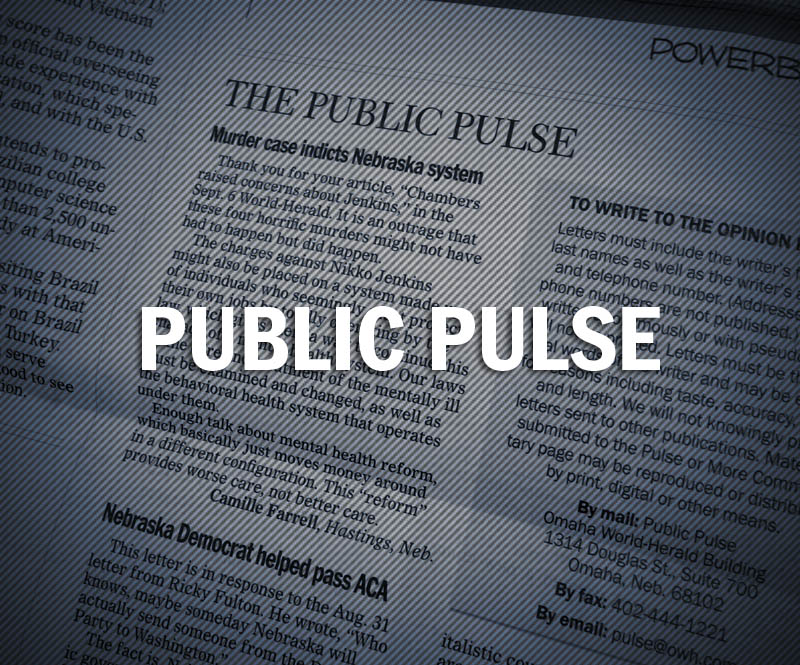 Pointless exercise
I think we should get Superman to turn the world back one hour so we wouldn't have to have millions of people spending hours resetting their clocks twice a year. Very few people that like the time change. So what is the point?
Support the Huskers
He's giving it his all. So are his assistant coaches. And especially the players.
Let's stop whining like a bunch of spoiled brats and show him, his staff and the players the respect they deserve. A continual revolving door of head coaches may not give us any more games in the win column.
Bill Van Haaften, Bellevue
American justice
El Chapo is in prison, but the Sackler family of OxyContin-promoting Perdue Pharma is walking around free, and the body count from their drug dealing is at least two orders of magnitude greater than his. Also, what about the tobacco industry, where the death toll is four times that?
Millions of addicts across the country, billions of profit dollars flowing in, not one member of these cartels in jeopardy of prison. But the poor kid from the street corner, dragged in, beaten up, is doing 20 years for selling dime bags of China White and Blow to lawyers. At least we have locked up that unsavory brown-skinned guy, El Chapo.
American justice. Dig it.
Scott Hartley, Fairfield, Iowa
Climate tipping point
There can be no more excuses. The majority of Americans now consider climate change a matter of high importance (OWH, Oct. 30).
President Biden's "framework" for his Build Back Better bill includes some significant climate measures. But they are, according to Citizens' Climate Lobby, not adequate to reach his stated goal of lowering greenhouse gas emissions 50% from 2005 levels by 2030, a minimum for meeting the U.N. goal to keep earth's temperature from rising more than 1.5 degrees C. and avoid the worst of climate change.
It is still possible to achieve that goal.
When thinking of Midwestern farmers and ranchers, Democrat Cindy Axne should negotiate to include a fee on corporate carbon pollution in Biden's package. Republicans such as Chuck Grassley, Joni Ernst, Ashley Hinson, Mariannette Miller-Meeks, and Randy Feenstra should offer a stand-alone bill placing a price on carbon pollution with the revenue returned to consumers as dividends. Worsening weather events hurt all of us.
Steven Hultman, Crescent, Iowa
'Thoughts and prayers'
Pete Ricketts' offer of prayers for Jeff Fortenberry (World-Herald, Oct. 26) seems analogous to the Republican mantra, "thoughts and prayers," following the continuing slaughter of Americans by mass shootings.
Bacon contradiction
Is anyone else excited to hear Don Bacon talk about how the most powerful Democrats in our federal government are far-left radicals he is dedicated to stopping and also he is extremely bipartisan and always working with those same far-left radicals?
Hypocrisy
Isn't it interesting that the liberal, mostly Democrats, say "my body, my choice" when discussing abortion but change it to the so-called vaccine that some don't want, and there is no choice; it's mandatory.
Yes to price controls
As Americans we live in a capitalist society. Everyone knows most companies and corporations want to make a profit every year. After President Biden's spending package is approved, prices will continue to rise sharply. Financially, the middle class will be hurt the hardest. As a nation, we have there before. So, now is the time Congress must enact a "price and rent freeze" as they did years ago.
Immigration crisis
It's bad enough that we are allowing thousands upon thousands of illegal immigrants to enter and to stay in our country thanks to Joe Biden. But to add insult to injury, our incompetent president, along with his pandering bunch of corrupt progressives, now want to give millions of dollars to these immigrants who broke our laws to get into this country to begin with.
This is absurd and it really angers me. I ask myself who could possibly think this is a good idea. I guess the answer is pretty simple when you consider that only one of our political parties supports this insanity. That of course would be the Democrats. There is only one reason to do this — and that is to make these immigrants beholden to the Democrats so that they will vote for them and keep in power. In my book that is corruption at its core. It certainly is not consistent with upholding our Constitution nor with looking out for the greater good of our country overall. It is truly despicable.
I would ask all of our country's citizens, Democrat and Republican alike, how can you support handing out this kind of money under these circumstances? No matter your political affiliation, this sort of thing should really cause all of us to be severely ticked off. I, for one, am contacting both of Nebraska's senators and my congressman. You should do the same.