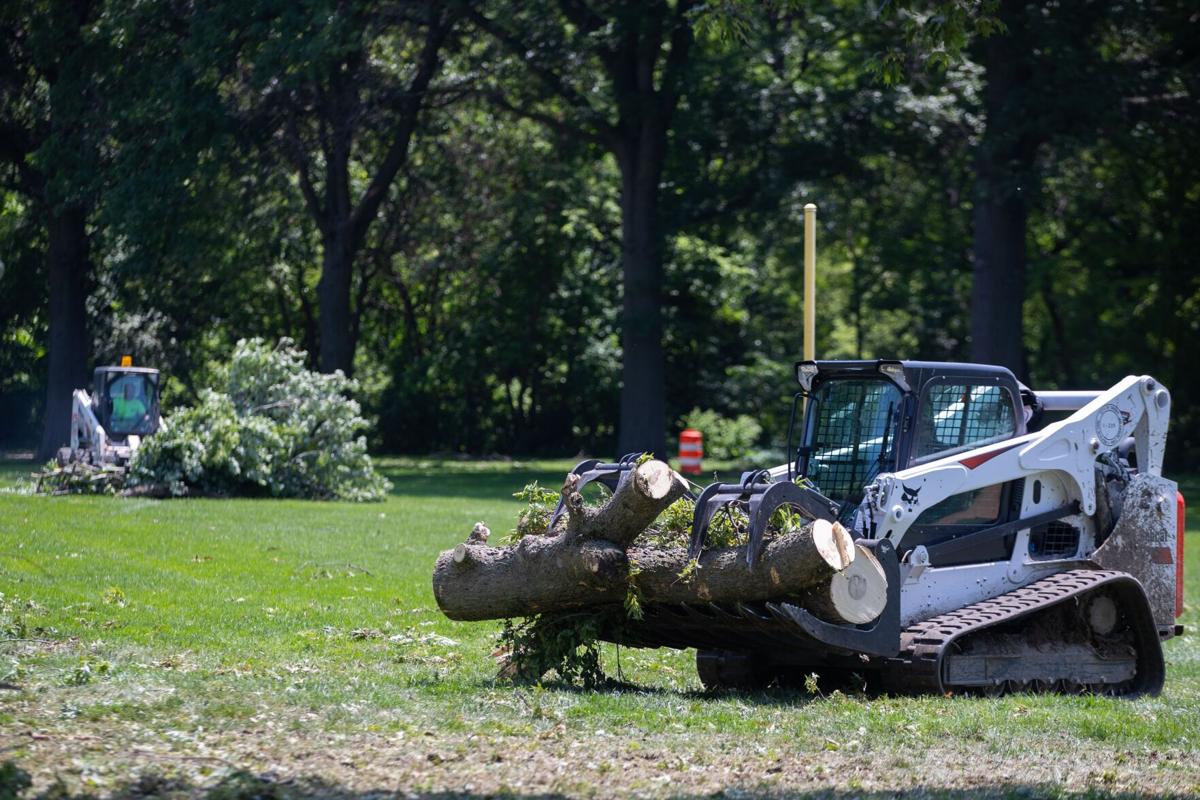 Better park approach
I went for a jog through Elmwood Park last weekend. Elmwood Park Road was still closed to cars for park cleanup, so I ran right down the middle of it. While traffic is usually light, the park still felt transformed with no traffic at all — quiet except for the sounds of birds and golfers. I could imagine rollerbladers, rollerskaters, and families on bicycles taking advantage of the closed road. Maybe some hot dog carts or ice cream vendors too?
Does this make the park more accessible for folks with disabilities? And there is easy access with a giant parking garage just south of the park! (The New York Times just published an opinion essay on this overall issue.)
While my daily commute to drop my daughter off at preschool normally takes me through the park, with the days-long closure, I realized that there are several easy ways around it. Certainly it wasn't a hardship.
Why doesn't Omaha follow in the footsteps of other great cities and close Elmwood Park Drive to auto traffic every Sunday, so that "other kinds of uses can blossom"?
Rowe is right
Thanks to Don Rowe, the only one on the City Council to vote against the tax increment financing for the casino to be built at Horsemen's Park. I did not know that when the taxpayers of Nebraska voted for casinos that we would be giving them a tax break also. If they want to build it bad enough, they should pay the entire cost! Sorry, but I won't be spending my money there.
Bad TIF decision
Lance Morgan and other executives of Ho-Chunk Inc. are laughing all the way to the bank. Ho-Chunk spent hundreds of thousands of dollars on the petition drive to get gambling in Nebraska on the ballot and in the political campaign to get the law passed. The casino at Horsemen's Park was going to be built regardless of the use of TIF.
I voted against the proposal for gambling in Nebraska but can see the value for taxpayers in Nebraska. The opponents of gambling point to the social negatives of gambling, but people are going to Council Bluff anyway and leaving their money but the social ills stay in Nebraska. Why not leave the money here as well and help with our property taxes?
But I am strongly against using TIF for something that will be built without taxpayer funding. I will keep in mind the city council members who voted for TIF for this casino. Pete Festersen, Juanita Johnson, Danny Begley, Vinny Palermo, Brinker Harding and Aimee Melton will never receive my vote for any elective office in the future.
Sound election approach
Too many elections are hyper-partisan and filled with vicious attacks coming from each side. But in Omaha, the official nonpartisan aspect of elections make the candidates more likeable and encourages bipartisanship.
For both the city council and mayor elections, they start with a blanket primary where all qualifying candidates are listed on the same ballot despite their party preference. This benefits many independent voters that do not wish to register with a party to vote in a partisan primary. This also discourages strategic voting and helps people to vote for who they believe in rather than who they think can "beat the other side."
It benefits both political parties, with a swing between both Republican and Democratic mayors. As well as the swing of power between Democrats and Republicans on the City Council. In conclusion, the election system in Omaha is the right way to do city elections and shouldn't change.
It's for us all
In response to Victoria Cork, she needs to understand that the law enforcement sent from Nebraska to Texas is there to protect all citizens including us, not only Texas. The cartels and the drugs coming across the border are also a threat to all the states. Fentanyl is very dangerous drug which killed three college age students in our neighborhood. Texas has seen an 800% increase in Fentanyl alone coming across the border.
If you want to keep human trafficking and drugs out of our state, then we need to be able to do your part and help.
Stop dividing us
Most leftists, politicians and media are intentionally dividing our nation. They are dividing us every time they say: black vs. white, rich vs. poor, gay vs. straight, liberal vs. conservative, and so on.
But it doesn't have to be that way. While the above are dividers, the following are uniters: family, illness, love, church, challenges, jobs, tragedies, education and so on. All of these are colorblind and other-blind. All of us have many of these, and they tend to bring us closer together. They are what make people, well, people.
We are all members of the human race.
Yet, the insecure walk among us and they always will. And now that critical race theory has been added to their arsenal of wedges and dividers, they have another powerful tool to keep us at each other's throats. But this will never change because the power that resides in division is a must for the dividers, because that power is the very salve that mollifies their insecurities and seemingly adds value, meaning and purpose to their lives.
Ricketts' failure
I want to thank the World-Herald for the editorial in the July 21 paper. Pete Ricketts needs to be held responsible for his ridiculous actions. He has spent $50,000 of Nebraska taxpayer money trying to illegally buy a drug for executions. If you or I took $50,000 of state funds and threw them away like that, we would be prosecuted. He made no attempt to reimburse the state.
The World-Herald is absolutely correct in holding him responsible for the cost of sending 25 state troopers to Texas. Not incidentally, the four border counties where the immigration issue is going on say no such help was needed and did not agree with the Texas governor's request. In his almost eight years in office, Ricketts has not corrected to the public's satisfaction the property tax problem, the prison overcrowding issue is worse now then when he was elected, he has thrown away millions of dollars on the St. Francis child welfare fiasco and has hurt children and families in the process, yet he makes no apology or comment on that.
He has turned the Legislature more partisan and toxic than ever, he spends taxpayer dollars to attack the federal government's voluntary 30x30 program, makes an issue of critical race theory, which is not taught anywhere in Nebraska, and the list goes on and on of his failed administration.
Nebraska needs a governor who takes responsibility and doesn't spend tax dollars promoting himself.
president, Nebraska Alliance for
Retired Americans Educational Fund
Sex ed's importance
As the Nebraska State Board of Education works on content standards for state schools, many are debating the value of sex education. But one group has been largely absent from the conversation: Nebraska students. According to a poll in conjunction with the Adolescent Health Project, most Nebraska teens want to learn more through school-based sex ed than they're receiving now. This includes nearly all proposed sex ed topics, such as contraception, sexual anatomy, gender identity, gender expression, sexual orientation, and the mechanics of sex. Most respondents believe that concepts like consent and gender/sexuality should start in elementary and middle school. Currently, young Nebraskas rely heavily on social media and the internet for sex ed. Wouldn't we rather have students learn this vital information from trusted teachers and community resources instead of randos on TikTok?
While it would be ideal for every child to have a knowledgeable, trusted adult at home, that is simply not the case for everybody. Some of the controversial subjects — like gender and sexuality — are already taught in Nebraska schools. Shockingly, the sky has not fallen. So this becomes an issue of equality. Why should a student in one school district receive the education she needs to keep herself healthy and safe while her peer at a different school is kept in the dark?
As a high schooler and peer health educator, I urge the board of education to stand strong against political pressure and keep inclusive sex ed provisions in the standards.
Westside High School student
Biden's threat
I hope that alarm bells went off in the heads of every American who heard Jen Psaki make this astounding statement recently: "We're flagging problematic posts for Facebook that spread disinformation." The expectation of the administration is, of course, that Facebook will "take down" any posts that the administration flags. What is really problematic, however, is that truth is rarely a settled thing. Reasonable minds may — and often do — differ on public issues.
Is the Biden administration claiming the right to be the arbiter of what is and isn't true? What is and is not "misinformation" is and ought to continue to be the subject of robust public debate, without the government's acting as referee.
For the government to force, or even persuade, private companies such as Facebook to say things is as much a First Amendment violation as it is to forbid private companies to say things. Jen Psaki's suggestion sounds like an Owellian "Ministry of Truth" empowered to work closely with a major private-sector political ally to stamp out information the government would prefer us not to hear.
What she is suggesting amounts to the White House's asserting the right to censor any information it doesn't like. It boggles the mind.
Waldine H. "Dean" Olson, Omaha