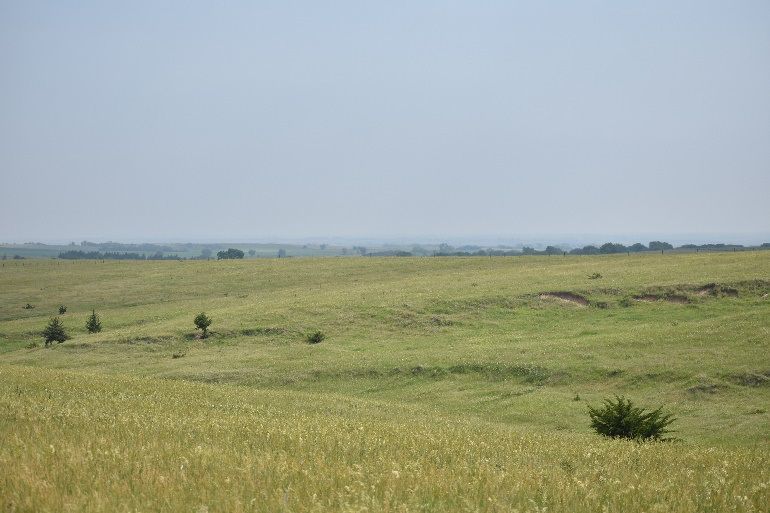 Conservation easements
My wife and I, raised in rural Nebraska, bought land years ago and expected to enjoy our property according to the law. We recently entered into a permanent conservation agreement to enhance it, stimulate the environment and promote wildlife — and to still pay our property taxes.
But our governor has now ordered state agencies to stop support for permanent conservation easements, requiring a statewide inventory of them. Pete Ricketts is doing this to frighten Nebraskans and spread misinformation about the 30-year plan — an initiative to place 30% of U.S. land in conservation reserve. That 30% will come out of all U.S. land, not 30% in each state. And it's possible no additional Nebraska land will be impacted.
So, consequently, how many landowners are now asking themselves, "What is wrong with what I legally did with my property? Will my agreement be voided and my improvements lost? Or is there something wrong with Ricketts?" This order is flat-out intimidation to curry favor with his political base that he hopes will enhance a delusional run for federal office.
But intimidation is what you see in authoritarian countries, in banana republics. It has no place in Nebraska. The citizens of this state need to stand up and let him know he is entirely out of line. That in Nebraska, we foster democracy and raise corn and cattle — not bananas.
Doug German and Constance Koch, Eustis, Neb.
OPS pathways
My daughter participated in a Medical Explorer Academy in her freshman year of high school in Sioux City, Iowa, in the late 1970s, so I'm glad that OPS is providing academies and pathways that can lead to a successful future for students. For a student interested in a high-wage, high-skill, in-demand career not covered by the current college and career academies and pathways, the student, family and school counselors and administrators can organize a series of existing courses into a pathway that will align with the goals and objectives of the student after graduation. What more could you ask for?
Students can explore various careers early in high school, which will give them in-depth knowledge, training and experience where they can use their creativity, explore their curiosity in those fields, and come out of high school knowing what their career path will be! They may even consider staying in Nebraska! This program also provides minority students a pathway into businesses and/or careers where minority numbers are low.
Good job, Superintendent Logan, and thank you, OPS Board, for voting to approve the program to keep education for our students relevant!
Sarpy, redistricting
I need to clear something up. The World-Herald recently ran an editorial in which I was quoted from 2011. The topic was congressional redistricting. I was quoted as saying that Douglas County is the core of congressional district 2 and "the rest of it is the rest of it."
"The rest of it" referred to the portion of Sarpy County that my map placed in the 2nd Congressional District. I was responding at the time to an assertion made by one of the opponents of my map that Bellevue was the core of the congressional district, so we could not move Bellevue to the first congressional district. I thought at the time that was absurd, but I responded somewhat dismissively regarding Sarpy County.
In floor debate later that year I decried the apparent belief that we could chop up Sarpy County any way we wanted to make the numbers work while always leaving Douglas County whole. My prior comment from 2011 has become an issue now, with people from Sarpy County appearing at the redistricting committee hearings wearing t-shirts that say they are from "the rest of it". I understood how they felt then, and I understand now
Swing-district value
The Legislature's LR 134 sets out the constitutional considerations for redistricting boundaries, and by those criteria, I fail to see how a map that divides Douglas County in half meets any of them. However, keeping Douglas County together clearly does.
Since Nebraska became a state, the entirety of Douglas County has been the core of the 2nd Congressional District.
Nebraska's 2nd Congressional District is one of the last "swing" districts in the country. The current district has almost the same number of registered Democrats (157,996) as Republicans (162,306) and is home to the most independents in the state (109,631). Thanks to Nebraska's unique system for dividing electoral votes, nearly every presidential candidate has fought for the 2nd Congressional District's vote since 2008. Likewise, our House seat is a battleground for both parties. In short, the 2nd Congressional District matters. But, by dividing it up as proposed by LB1, it will become just another safe Republican district in a Republican state that is taken for granted. The district will no longer matter.
Therefore, I urge the Legislature to vote down LB1 and design a map that maintains the importance of the 2nd Congressional District, a district where every constituent matters regardless of their political leanings. This sort of district is a rare and needed thing in today's toxic political environment. So why would we change it?
2nd District solution
There is a simple, elegant solution to the problem of congressional redistricting in Nebraska. All that is required is a nonpartisan approach and giving up gerrymandering to protect incumbents. My self-appointed committee of one proposes the following: District 1 would include all of southeast Nebraska including Sarpy, Saunders, Seward, Saline and Jefferson Counties. District 2 would include all of Douglas, Dodge, Washington and Burt Counties.
This plan avoids the ugly splitting of Nebraska's larger counties and cities. The size of the districts would be within 1% of the ideal population numbers.
I would also propose that the Legislature consider a different approach to state legislative districts. Give up the goal of maintaining existing district boundaries and numbers. Currently many senators seem to feel that they own their district. This just encourages more gerrymandering. Perhaps all seats should be up for reelection following redistricting. I know that this would require changes in term limits rules, but it might be well worth the effort.
Michael Yankus, Plattsmouth
Afghanistan, Vietnam
Rick Galusha's Sept. 11 opinion column in The World-Herald titled "Anniversary: 9/11 remembrance" brought back memories and deserves a response. While Rick correctly points out that Biden inherited a conflict that began 20 years earlier, his statement that the "withdrawal was not elegant, it was inevitable" misses the point. The manner in which the Biden administration withdrew our forces was anything but inelegant — it was atrocious! First, we abandoned the Afghanistan military and Bagram Air Base in the middle of the night. Pulled out without warning the Afghanistan military. Secondly, our contractors left, leaving the Afghanistan aircraft unserviceable. Thirdly, in his desire to celebrate a political victory on 9/11, Biden ignored his own military advisers and pulled the troops out before the U.S. and Afghanistan civilians.
Desperate Afghans clinging to C17 evacuation aircraft and plunging to their death, a suicide bombing at the entry point and hundreds left behind aren't my idea of inelegant!
As a Vietnam combat veteran and career military officer, I remember that conflict very well. We were told by the Nixon administration in the fall of 1972, "Peace was at hand," only to find myself flying combat over Hanoi in late December 1972. The North Vietnamese finally came back to the negotiating table and signaled a end. Only for the U.S. to abandon the South Vietnamese in 1975. So yes, soldiers fight while politicians lie!
"I ain't no fortunate son" — Creedence Clearwater Revival
No to despotism
In his speech announcing his COVID-19 mandates, President Biden claimed his source of power to decree the mandates was the job of the president. He claimed that the job of the president is to protect the American people. And that the job of the president to protect the people gave him the power to dictate his mandates on the people of the United States.
Where in the Constitution of the United States did we, the people, grant to the president the all-powerful job of "protecting the people"? Just what is the job of the president according to the Constitution of the United States of America? Can anyone quote in full the paragraph of the article of the Constitution that grants to the president the powers of the Lord Protector?
Joe Biden is no Oliver Cromwell. Joe Biden has not been elected dictator, Lord Protector. Joe Biden holds the office of president of the United States, sworn to preserve, protect and defend the Constitution.
The duty of the president of the United States is to Constitution. The powers and duties of the president are few and enumerated in Sections 2 and 3 of Article II. The power to rule by decree, to issue mandates, is not in the Constitution.