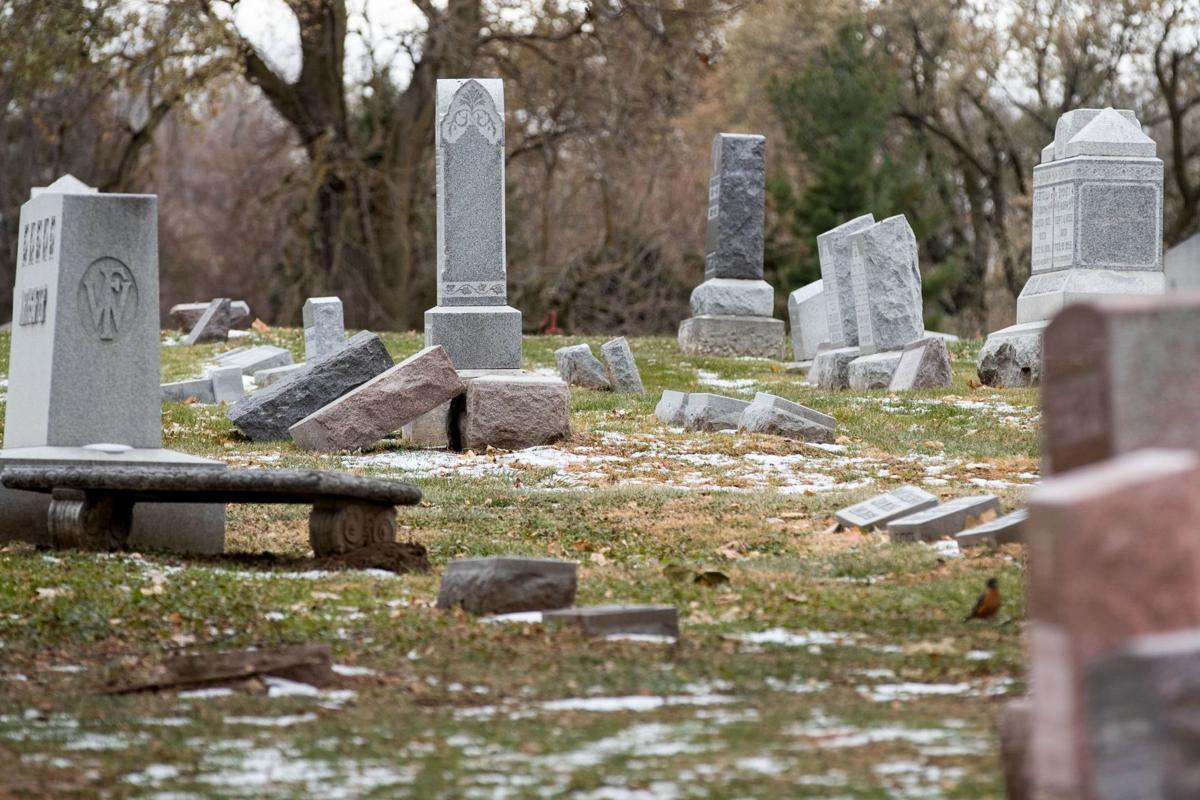 Path forward from vandalism
On behalf of the governing board of Omaha's Prospect Hill Cemetery, 3202 Parker St., I express our sympathy to everyone associated with Temple Israel Cemetery in the aftermath of the outrage wrought there recently. This crime was an assault upon our social fabric and hence an assault upon us all. May those responsible be brought to justice.
What lies within our power as individuals to bring something good out of this evil? Let us keep in mind that because of demographics, many older and smaller cemeteries have diminished support bases; grass-cutting and related work can create huge challenges. Funds are seldom available to repair or replace damaged markers. Descendants of persons interred may be geographically remote, unknown or simply don't exist.
As Erin Grace noted in her Nov. 16 column ("Every toppled headstone at Jewish cemetery in Omaha represents a life story to be told"), the estimated cost of repairing the damage at Temple Israel Cemetery is $40,000. My guess is that Omahans and others will respond generously.
Long term, we need to treat all cemeteries as community resources that link past and present. Gravestones and other design features of cemeteries are historical sources and, as such, are basic tools for teaching history and related subjects. Cemeteries, large and small, are a special realm for genealogists. If you have the time and interest to help in the upkeep and outreach of a cemetery in your area, please consider getting involved.
Spread wings in college
Two especially fine pieces in the Nov. 16 World-Herald caught my attention.
The coverage of the desecration of the little Jewish cemetery on North 42nd Street made me both sad and angry. My family lived a few blocks from there in the late 1960s. We liked the neighborhood. It was friendly and welcoming. I hope things can be restored.
Under Midlands Voices, Thomas Martin's piece on the importance of a well-rounded education spoke right to my heart. I was fortunate enough to attend one of Nebraska's fine small liberal arts colleges — Hastings College (1962-66). Not only did I get opportunities to study a wide range of subjects beyond my major, but many of the classes I took broadened my knowledge and horizons.
Learning what one needs to know is limited, but adding things you want to know or find interesting and amusing challenges you to broaden your mind and be a more complete person.
Life does not have to be just business and responsibilities — take advantage of the full menu of music, drama and other arts while in college. Imagination makes for a more joyful life.
Party of the center
Until now, third parties haven't worked, but America is in desperate need of a new political party of the center — a party made up of hard-working citizens who believe in paying their own way, standing with our allies, working to solve real problems from foreign interference in our elections, rebuilding our infrastructure and establishing reasonable healthcare reform. Now all we have is tribalism, hatred and gridlock.
The Republican Party is in thrall with a narcissist who apparently believes he is not accountable to any law or the Constitution and seems bent on trashing alliances that have kept the world a safer place for generations. Where are the GOP fiscal conservatives, free traders and defenders of the law of the land — the John McCains — when we need them most?
And too many in the Democratic Party are rushing hard left, with leading presidential candidates promising pie-in-the-sky giveaways that could bankrupt the nation and make working for a living seem like a sucker's game.
Surely there are silent centrists in both parties eager to work together to fix America's problems. Now is the time for them to step forward and forge a new party pledged to working for the American people rather than big-money lobbyists, exploring good ideas no matter who has them, and above all, preserving, protecting and defending the Constitution of the United States.
OK, millennials
The millennial retort "OK, boomer" feels pejorative. Total transparency: I am a 60-year-old "boomer," father to a pair of millennials. No one in my household has uttered "OK, boomer." But I feel it coming on every time I say "no" when they hoped I would say "yes."
I find this amusing. My 96-year-old father and 91-year-old mother come from the greatest generation. They lived through the Great Depression and World War II and begat the baby boom generation. Let's face it, they saved the world from Hitler and Stalin and gave their children everything they never had.
But the greatest generation also plunged us into a war in Vietnam, which was fought by, guess who? The baby boom generation.
Millennials view boomers as stodgy, old and rigid — quacks standing in the way of progress, unwilling to give up our polluting habits and save planet Earth from humankind. This is reminiscent of the tension during the 1960s, when the younger generation labeled "the establishment" as square, un-hip and out of touch. The more things change, the more they stay the same.
The older I get, the more I realize just how smart my mom and dad were, and still are. It's not the age. It's the years. The more years you have survived and thrived, the more wisdom you gain from your mistakes and triumphs.
OK, millennials. We could all do with a little more respect and cooperation. The planet needs us working together to solve the problems of the 21st century.
Giving second chances
The purpose of the Second Chance Act, also known as First Step Act, signed by President Donald Trump in 2018, is to reduce incarceration and to help ex-offenders' reenter society. The act helps cut the sentences of nonviolent inmates, opening space for violent offenders.
I am a nonviolent offender, sentenced to 90 months in 2013. Under the Second Chance Act, I was granted early release on Aug. 16, 2018. Reentering society with a job and housing, and being a college student, has been one of my biggest successes. Second Chance provided employment workshops to help with resumes and how to dress properly for interviews.
I took full advantage of that help. I have been employed at Goodwill Industries for a year and now I am a team leader. Education grants can help people further their life goals. Not having an education and job were huge factors in my incarceration. These programs help ex-offenders to avoid reoffending.
Statistics show 45% of federal inmates reoffend within five years. Offenders report that lack of housing and employment due to their criminal history were key factors to reoffending.
Having people you don't even know believe in you and your success is the best feeling ever. Beating the odds and not being a statistic are goals I aim for every day. I have two amazing children who look up to me. I want them to know making a bad choice and a life-altering decision isn't the end of the world.
Tax plan disappoints
I was stunned to read the Revenue Committee's planned approach to property tax relief.
State Sen. Lou Ann Linehan told me she had lived in other states and did not believe that many legislators realized how bad Nebraska's property taxes were.
Additionally she stated she wanted relief for all. Now I find the plan is that agricultural land would decrease from 80% of value to 55% of value. I am happy for all in agriculture.
Then I find out residential property taxes would not go down for three years or more. And that would occur only if tax revenue continues at a brisk pace in three to five years. At least be honest and say urban areas will not get property tax relief in our lifetime.
The legislative branch will not address the underlying reasons for these problems that property owners and schools face. We would probably be better with the status quo than this plan. No wonder some are pushing for 35% property tax reduction.
And to think I was so naive to think our elected officials in Lincoln were more honest and trustworthy than those in Washington, D.C.
Mike Dohmen, Hickman, Neb.
Fire for air conditioning?
On Nov. 14 the Omaha Public Power District board approved, 7-1, its "Power with Purpose" plan. The addition of large solar energy facilities is greatly needed and appreciated. The request for proposals also requires that the solar arrays be battery-ready for future backup energy. OPPD should give bidders the option in the original RFP to bid on accompanying battery storage even if it is only for a pilot project. OPPD also will seek modernized natural gas energy. The fewer natural gas plants OPPD builds, the faster it can reach its strategic directive for net zero carbon by 2050.
The Rocky Mountain Institute, dedicated to sustainability research and consulting, recently released a report, "A bridge backward? The risky economics of new natural gas infrastructure in the United States."
A report out of Alberta, Canada, concluded: "clean portfolios provide the same services as the gas plant at a lower cost over the lifetime of the energy source." Part of a clean portfolio includes energy efficiency, demand side management and residential/commercial solar. Taking these measures can dramatically decrease the amount of new natural gas OPPD says it requires. Let's hope OPPD's plan won't be risky and that it can reach its net zero carbon goal by 2030, not 2050. It's difficult to see how purchasing fossil fuels will help to reach net zero carbon.
In the not too distant future, it would be great if OPPD and other utilities would stop using fire to air condition our homes and businesses.
chair, Nebraska Chapter Sierra Club
Catch the latest in Opinion
Get opinion pieces, letters and editorials sent directly to your inbox weekly!