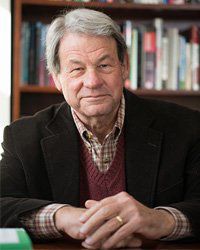 Donald Trump didn't reckon with Gary Herbert.
Since the day the president took office, he has conducted a morally abhorrent and economically absurd campaign against refugees, slashing the annual quota admitted to America from 110,00 during Barack Obama's last year in office to 18,000 currently.
Last fall, Trump doubled down on his appeal to the country's worst nativist instincts, issuing an executive order that allows individual states and localities to bar all new refugees from resettling within their borders. Clearly, he thought most Republicans would join his cynical crusade.
Enter Herbert, the governor of Utah since 2009. Not only did he reject Trump's offer, he wrote a letter to the president welcoming refugees to Utah and asking the administration to send more of them, not fewer.
"Those refugees who resettle in Utah become integrated and accepted into our communities," wrote the governor. "They become productive employees and responsible citizens. They become contributors to our schools, churches and other civic institutions, even helping serve more recent refugees and thus generating a beautiful cycle of charity. This marvelous compassion is simply embedded into our state's culture."
It turns out that "marvelous compassion" is still embedded in our national culture, not just Utah's, despite the president's efforts to deny and destroy our heritage. Political leaders across the country, including many Republicans, have soundly rebuked the president because they know Herbert is right: Refugees are an enormous benefit to any community.
The Utah governor admits that compassion is not infinite; that there is a "logical limit" to how many newcomers any state can absorb. But this is a vast and booming country, and he speaks the truth when he says that "we are far from reaching that limit."
Herbert is not alone. In Tennessee, Republican Gov. Bill Lee ignored the protests of legislative leaders and encouraged more refugees by saying, "The United States and Tennessee have always been, since the very founding of our nation, a shining beacon of freedom and opportunity for the persecuted and oppressed, particularly those suffering religious persecution."
In North Dakota's Burleigh County, a move to bar refugees drew an overflow crowd of more than 200 to a middle school auditorium. National Public Radio quoted Tresor Mugwaneza, a refugee from the Democratic Republic of the Congo, who told the county commissioners, "We are not in this country just to take your government money; in fact, we are here to work and be successful in life, just like everyone else here."
The commissioners voted 3 to 2 to accept more refugees. Commissioner Jerry Woodcox, who joined the majority, explained, "When you see the success of the refugees that have been here for 20 years, and it's been a long-term program that's done an excellent job, I was convinced that that was what we were going to be doing."
Some of the revulsion to Trump's anti-refugee rampage is simply moral. The Rev. John L. McCullough, president of the Church World Service, an agency that helps resettle refugees, told the New York Times, "With one final blow, the Trump administration has snuffed out Lady Liberty's torch and ended our nation's legacy of compassion and welcome."
Some of the revulsion is legal. This month in Maryland, U.S. District Judge Peter J. Messitte issued a temporary order blocking the administration's local-option policy, saying it "flies in the face of congressional intent" to set national standards for refugee resettlement.
PBS sent a reporter to Bowling Green, Kentucky, which accepted more than 460 refugees last year. Many have found work at an auto parts company, Trace Die Cast, which still has 40 unfilled jobs. Chris Guthrie, the CEO of the family-owned company, said: "We really need more refugees and more immigrants coming into Bowling Green ... There's a lack of employees. And for our economy to grow, we need to have people moving here to fill those jobs. And if that pipeline is cut off, then the whole community here will suffer from that."
The whole country will suffer from Trump's poisonous policies. Gary Herbert's "beautiful cycle of charity" is also a beautiful cycle of growth and prosperity.
It's heartening to see the governor, and so many other Republicans, stand up for what's right and what works.