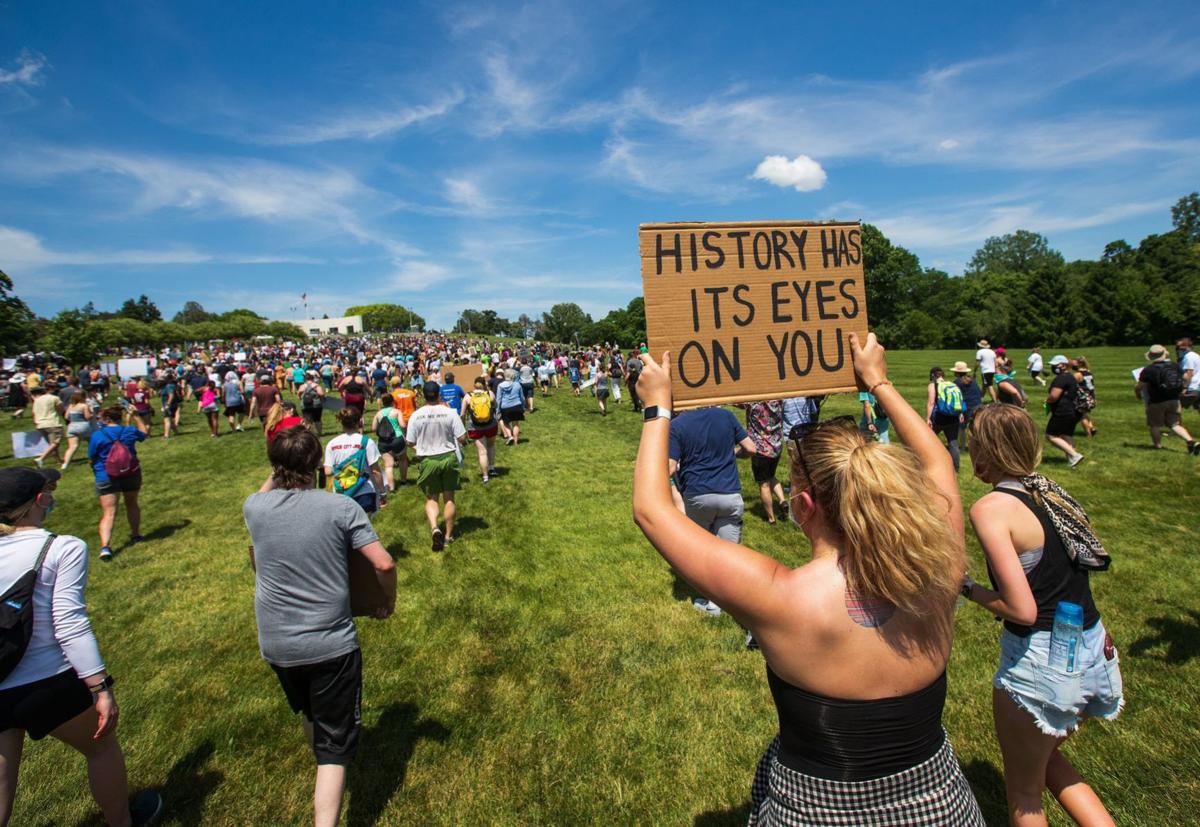 It's time for justice
I am white. I do not know how my fellow human beings, those of color, feel today, yesterday or 400 years ago. But I feel a sadness and an anger that won't subside.
If 10 years from now black men and women are being dragged out of their cars, thrown on the ground and handcuffed or shot by police just because they are black, then we have failed.
If 10 years from now people of color are still imprisoned in poverty because we've refused to raise the minimum wage, then we have failed.
If 10 years from now our teachers in impoverished school systems are purchasing supplies from their own pockets because we put more value in tax breaks for the wealthy instead of the promise of good education for all our children, then we have failed.
If 10 years from now blacks are incarcerated nationwide at the rate of five times that of white, then we have failed. (In 2016, black inmates in Nebraska were incarcerated at a rate nine times that of white.)
If 10 years from now I ask the question, "I wonder what he did wrong?" when I hear a black man was shot by a police officer, then I have failed.
I don't want to be mad 10 years from now. In 10 years, I don't want to cry for victims, victims' families, friends, communities and our country when we could have done better. More importantly, I don't want people of color to be angry, in mourning and feeling abandoned. In 10 years (hopefully less), we need to make 400 years of cruelty, disenfranchising, marginalization of opportunity, stripping of humanity and the exclusion of citizenship in the fullest sense of the word a thing of the past. If not, then we have failed. I, for one, do not want to fail.
End police immunity
The continuing death of black men in the hands of the police shows the need for effective change. I would argue the policeman wish no harm to the suspect, and certainly the police need to defend themselves, but I think the tragic deaths we are seeing are in many cases nothing more than the result of indifference. It is the indifference that must be changed to make progress.
There is nothing in the U.S. Constitution to protect police officers from being sued for excessive force. The recent events add pressure on the Supreme Court to change its concept of "qualified immunity," a principle that makes it nearly impossible for victims to get justice. Views on both sides of the political spectrum appear supportive of a change. A change in the principle would plant an ever-present hesitation in the mind of police officers during their work.
But any changes need to consider the dangers police face in their work. Second-guessing police response is easy from the comfort of an armchair. Never forget who you call when someone is breaking into your house.
Anti-bias law enforcement training
On Jan. 10, State Sen. Ernie Chambers introduced Legislative Bill 924, to change provisions relating to racial profiling. Current state law requires the Nebraska State Patrol, county sheriffs, all city and village police departments and any other law enforcement agency to adopt a racial profiling prevention policy that includes internal methods of prevention and enforcement.
Section 1 of LB 924 would add anti-bias and implicit bias training and testing designed to minimize apparent or actual racial profiling to a list of the types of methods to be included in the plan. Implicit bias is defined as any unconsciously held set of associations about a particular social group.
Section 2 of LB 924 would add two hours of anti-bias and implicit bias training to the annual continuing education requirements for sheriffs. Section 3 would add two hours of anti-bias and implicit bias training to the annual continuing education requirements for law enforcement officers. LB 924 was placed on final reading on Feb. 25 by a 43-0-0 vote.
I urge you to contact your state senator to continue supporting passage of LB 924 when the Legislature reconvenes July 20. In light of all that has happened recently, LB 924 is a sensible step toward improving relations between law enforcement officers and the people they have sworn to protect.
vice president for action,
League of Women Voters of Nebraska
Unions have much to answer for
Sen. Ernie Chambers, with all due respect, the best place you could take your sign is down to the local police union and ask them about the accountability of the few bad officers they have and why they are not held accountable and able to transfer to other departments.
Also make one and insert the word "Teacher" and take it to the Nebraska State Education Association lawyers and ask them the same questions about teachers, as it happens there, also.
Marvin Haas, Saint Edward, Neb.
A good man
My husband has more integrity than anyone I've ever met. For example, he contacted a business who forgot to send us a bill, is meticulous about reporting our taxes and rarely beats me at poker because he simply can't lie.
He also can't resist doing the right thing. He once saw a gasoline-drenched person attempt to light himself on fire and pulled him out of a moving car to safety. He's found runaway children. He's performed CPR for 15 minutes before help arrived. He has gone to houses with neglected children living in dog feces and held those little ones, sang "Baby Shark" and tied their shoes. He often comes home from work with a heavy heart.
My husband has had heart-to-heart talks with drug users and has convinced some to seek help and others to be better parents. One man sought him out after getting clean to thank him for his encouragement. He tells me that when he enters a nursing home, he stops to chat with residents and asks what's for breakfast that day.
He's angry about what happened to George Floyd and yearns for peace. He's a good man with strong morals. He's a great law enforcement officer. They're out there.
Terri Schilmoeller, Lincoln
Environmental Trust mistake
I am replying to Troy Bredenkamp's June 10 Pulse letter regarding the Nebraska Environmental Trust board's controversial decision to override its grant evaluation mechanism and defund several highly ranked conservation and environmental focused grants in lieu of approving a much lower ranked grant for $3 million over three years to Green Plains, Nebraska's largest ethanol producer. This grant will be used to fund the installation of ethanol blending pumps at private fueling stations to the tune of $37,000 each. While the Legislature approved of the concept of installing these pumps last year, it did not fund them, as Iowa lawmakers did.
In search of money to fund the installation of these pumps, the ethanol industry turned to the NET for a grant to accomplish this. This grant request was not consistent with the NET's stated mission. As a 35-year resident of Nebraska, I fully understand the importance of the agricultural sector to the economy. Diverting funds from an agency like the NET is not appropriate and compromises the continued mission of the NET. The total defunding of several highly rated grants, many of them ongoing projects, is frankly unprecedented and extremely harmful to the grant applicants.
Without a doubt, ethanol is important to the economy of Nebraska, but if the state government wants to subsidize corn production it should do so with state tax revenues and forego raiding funds that are designated for another use.
Board's wrong decision
While ethanol's benefits to the public at large remain arguable, the idea that the Nebraska Environmental Trust would provide grants to private entities for private profit is both antithetical to its mission and deprives projects of true public benefit much-needed funds.
Don't disrespect our country
Kneeling during our national anthem is cowardice and a betrayal to our beloved country, the United States of America, and to the brave men and women that gave life and limb to defend her!
Craig M. Barnhart, Gretna
Base renaming long overdue
The Marines have banned all Confederate flags from its bases, and the Navy has followed suit, banning the flag from its bases, ships, aircraft and submarines. Now the Army is considering renaming its Confederate-named forts/posts that are named after Confederate officers like Lee, Bragg and Hood and perhaps others. Long overdue, and why they were ever named after them in the first place is beyond me.
Some suggested name replacements are: heroes of the U.S. Army from Virginia, which includes Grant's fellow Civil War Union Gen. George H. Thomas to rename Fort Lee; 54th Massachusetts Regiment Medal of Honor recipient William Carney; Desmond Doss, Medal of Honor recipient for Hacksaw Ridge; Darryl "Shifty" Powers of the 101st Airborne Division; and Gen. George C. Marshall, who graduated from the Virginia Military Institute. Two others who do not have forts named for them are Grant and Sherman, who could be said to have been the Union generals who won the Civil War.
To put icing on the cake, I suggest starting a yearly Sherman Memorial bike ride from Atlanta to Savannah. This could start Nov. 15, when Sherman started the march, which would be agreeable with the southern climate. Think of it as a southern RAGBRAI.
Catch the latest in Opinion
Get opinion pieces, letters and editorials sent directly to your inbox weekly!