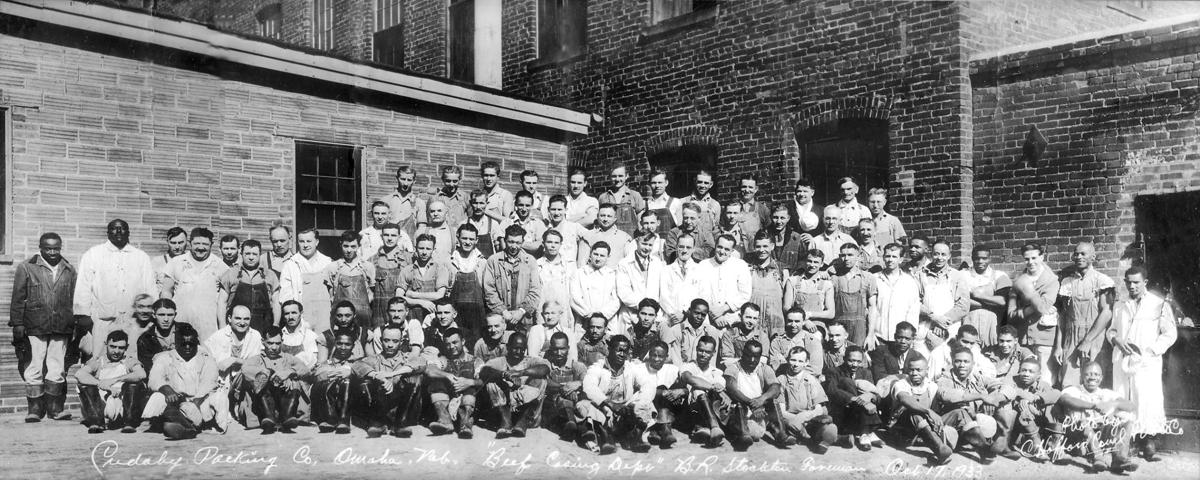 Omaha history shows white privilege
One of your readers saw a picture of 1933 Cudahy packing plant workers (July 5 Pulse) and assumed there was a level playing field because there were blacks in the picture. My Dad worked there in the '50s and early '60s. If the reader had done any research, she may have known there were jobs that were given to whites only. There were also many other facilities with the same practices. The Falstaff brewing company, located not far from the packing plant district, did not hire blacks at all. I don't think the writer's grandparents were subjected to this treatment.
To say a small percentage of the population has white privilege is wrong. White privilege means you are more likely to have more opportunity based on race.
To say blacks in 1933 had just as much opportunity as the "privileged" white people is absurd.
Emotional visit to memorial Wall
In your Sunday issue was the story written by James Martin Davis. I always look for his stories at this time of special days. It is so inspiring and also sad. Our country is in such turmoil now. What a shame for all, especially for those that gave so much and their families.
I went on a tour trip to Washington, DC several years ago. The guide asked us to be quiet and respectful at the Vietnam Wall, as there were those there who were mourning. We walked the wall. I cried all the way, and the woman with me talked the whole time. I was so ashamed of her.
I thank Mr. Davis for his military service and such touching articles.
Patricia Huntsman, Red Oak, Iowa
Strive for American unity
When I served my country in the U.S. Navy, I served with people of all races, creeds and sexes, and all we cared about was completing our missions. To make America great again, we need to let go of our bigotry.
Donald Sloter II, Ralston
Responsible behavior needed
This is simple. Everyone is talking about "police reform" because of all the shootings. Have you considered another reform that is many, many times safer and better for the community? Has anybody considered "resistance reform"?
If you are stopped, don't argue, don't try to be a "car lawyer" and please don't try to resist if you are being handcuffed. That alone would eliminate 99% of those shootings. You can resist in court with a real lawyer by your side. It makes no sense to be the next Rambo when you are being handcuffed. The life you save may be your own!
Flaws in OPS reopening plan
The reopening plan by the Omaha Public Schools is vague and doesn't properly outline what will be done during the online school days — whether that's left up to each individual teacher or school. This plan also doesn't take into account students who may have a more difficult time grasping certain concepts. Will they be able to easily reach their teachers? Or will they be forced to wait until they go back to school later in the week or the next week? Will the online school be like Zoom classes, or will they be the same "here's a worksheet do it" mentality that many teachers were forced to use back in March?
How will this affect schools that employ block scheduling, where a student has a different set of classes every other day? Or for schools like Morton Magnet Middle, which has a schedule that's a combination of both block and period, that requires a five-day school week to properly carry out? Also, why did they do this by last name? If they had separated the two groups by grade, it would likely be easier for teachers to give students adequate attention and education on their online school dates.
I also strongly believe that they should not make attendance mandatory this year, because there will be students who are scared to get COVID-19 because they know it would financially devastate their families or that they would die easily because they are immunocompromised. Then there's the students like me, the ones who have a parent who works with COVID-19 patients and has to get tested once a week. I, personally, am scared to go to school because I might get someone else sick.
This reopening plan and the plans of several other Omaha-area school districts will do more harm than good in the long run.
Destructive right-wingers
Although I know enough to check any facts I read in the Public Pulse, I had almost forgotten that it was an opinion page and that some people have very strong opinions. Thank you, William Lake ("Destructive leftists," July 3 Pulse). My strong opinion follows.
As actions in Washington, D.C., Jacksonville and now Florida, Texas, Arizona etc. prove, it is white, rich and privileged lives that matter.
By destroying the greatest document in world history, the U.S. Constitution, this authoritarian regime and its puppet Republican buddies have shown their true colors.
True to form, they did not stop with trying to muzzle free speech and the press. They turned on the intelligence community, the generals and even a Gold Star family.
Many have MAGA hats at home. They hate our democracy and hate what it stands for, except as it applies to them.
They idolize and pray to the likes of Vladimir Putin and Donald Trump.
Catch the latest in Opinion
Get opinion pieces, letters and editorials sent directly to your inbox weekly!