Swartz's Delicatessen | Breakfast, Burgers, Reubens | Omaha, NE
"Fire and meat and man and no room for a fourth."
About Swartz's Delicatessen | Breakfast, Burgers, Reubens | Omaha, NE
Swartz's Delicatessen Does Breakfast | Best Breakfast in Omaha | Bagels fresh Daily from New York City | Weekend Breakfast Brunch
Breakfast bagels at Swartz's come from a bakery in New Jersey. They're prepared, boiled and flash frozen to insure absolute freshness. The best breakfast Bagel in Omaha is right here in the Westside area. Shervin Ansari, the owner says next time to try their "everything" cream cheese, which includes chive, caper, red onion, lox and dill. You won't forget it.
Weekday Breakfasts | Eggs | Matzo | Whitefish
Swartz's is known for the breakfasts during the week and Brunches during the weekend.

The Bagels come from a bakery in New Jersey and then shipped to Omaha for the final baking to insure freshness.

The weekday breakfast menu is great. One of Omaha's best breakfast spreads. Breakfast plates include eggs, eggs with potatoes, eggs with whitefish, omelets, omelets with smoked salmon and hollandaise sauce etc.

Noshes include Latkes, Oatmeal, Eggs, Fruit, Coffee cake, Sweet Kugels, Hash Browns etc.

Then you can get into the specialties like blintz, fried matzo, eggs Florentine, corned beef hash, white fish Scramble, Hoppel Poppel (scrambled eggs with knockwurst, potatoes, Green peppers, and onions), Lox and eggs, the Kitchen Sink, and special Turf and Surf that is out of this world.

The menu goes on and on with signature Breakfast Platters and pancakes served with pure maple syrup.
Saturday Brunch | Sunday Brunch | A Jewish Delicatessen Known for Breakfast
Saturday and Sunday feature the best brunch on the Omaha side of New York City. Platters served with bagels and whatever schmear you can imagine… Whitefish, Smoked Nova Lox, Tuna salad and combo that picks the best of everything!

The Best Weekend Brunch in Omaha also features a full array of breakfast plates and Noshes. If you are around or live in Westside, district 66, Happy Hollow, Westgate, Elmwood, Sunset Hills, Loveland or anywhere in Omaha, You've got to see our breakfast choices.


The Chosen Restaurant
Did we mention that all the meats and are created and smoked in house. The fish is purchased fresh daily from Absolutely Fresh.
Swartz's also Does Lunch | Best Matzo Ball Soup in Omaha
Swartz's is also A FULL SERVICE Deli with fabulous, fresh sandwiches big enough for the hungriest appetite. Large servings of Corned Beef, Salami, Whitefish Knockwurst, Matzo ball soup rated the best in Omaha, Chopped Liver, Latkes, Pickled Herring, Hummus, Chicken soup, and the best salads and salad combos you can dream of.

Check out these reviews from The Omaha World-Herald and the Reader

Dining review: Swartz's is the classic deli that Omaha's food scene has been missing | The Omaha World-Herald

May the Swartz be with you | the Reader



Is this your business?
Promote your business through our innovative Marketplace system! It's free to sign up!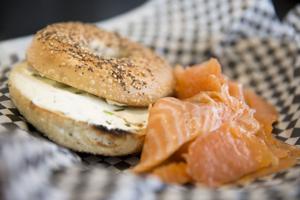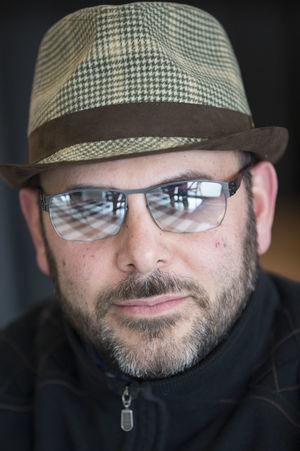 Omaha Can you say Reuben?
Can You Say Best Reuben In Omaha?
The Reuben may have been invented here in Omaha at the Blackstone, but it is perfected at Swartz's Delicatessen Home of the "Best Reuben in Omaha"
House cured Corned beef, our special Reuben sauce with double baked rye.
Omaha, have you ever tried a Reuben made with house cured, house smoked pastrami?  The spices and the smoke meld together to create a sensory taste explosion.
All of specialty sandwiches can get the special Reuben treatment.  Add sauce, kraut, cheese and heat it with double baked rye.  Omaha You've gotta try one.
Omaha is the birthplace of the Reuben Sandwich.
Omaha, Nebraska, 1922 the origin story is that Reuben Kulakofsky  a Jewish Lithuanian-born grocer residing in Omaha, Nebraska, was the inventor, perhaps as part of a group effort by members of Kulakofsky's weekly poker game held in the Blackstone Hotel from around 1920 through 1935. The story goes; Reuben Kulakofsky takes a break during a card game and fixes himself a sandwich consisting of corned beef and sauerkraut. Hence, "The Birth of the Reuben" the sandwich first gained local fame in Omaha when it was placed on the Blackstone's lunch menu, and its fame spread when a former employee of the hotel won a national contest with the recipe In Omaha, March 14 was proclaimed as Reuben Sandwich Day. Swartz's Delicatessen has been recognized as having Best Reuben in Omaha, Nebraska
Do you have pastrami recipes?
What is the origin of pastrami?
Is pastrami better on rye bread?
Who invented the pastrami sandwich?
What is the difference between pastrami and corned beef?
What is pastrami made of ?
How do you cook pastrami?
What is the definition pastrami?
Stop in and find out the answers. 
The best burger in Omaha,
Maybe the best burger anywhere.
At Swartz's, we use 100% Fresh never frozen hand packed Angus beef. 
Imagine our Avocado Wagyu Bacon burger or the Barbecue Wagyu Bacon Burger.  Top it off with our famous in-house smoked pastrami or corned beef… Or both!
Try the pastrami topped patty melt on double baked rye