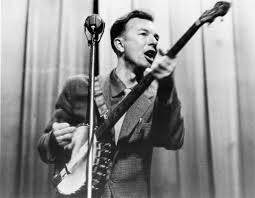 How is it that Justin Bieber and Pete Seeger occupied the same planet?
Once again, I was jostled awake this morning by my wife's insistence that the TV news fill up the gray-lighted dawn filtering through our window shades. And, once again, the talking heads were all aquiver with the latest antics of the Bieb — or whatever in hell you call him.
He's a bad, bad boy, ain't he? Saccharine pop tunes and Kool-Aid mixed with vodka and yellow Italian sportscars. Never heard that one before.
Meanwhile, on Tuesday, we bid adieu to one of the kindest, gentlest, most talented and politically-committed artists the world has ever known in Seeger.
Network news gave his passing all of 30 seconds and preferred to steer clear of any of the hard-hitting aspects of Seeger's life: his pacifism, his activism, his still-held conviction in small-c communism; which is to say: a simple belief that we are, as a human race, bound each to the other, that the smallest acts of kindness or evil have far-reaching implications for us all.
Seeger's is a dying breed on the American scene: a committed artist who achieved widespread success. He's the kind of star that had to have been birthed in the more organic fame cauldron of this nation at mid-century.
Maybe star isn't nearly the right word.
He was our conscience, the voice of soft reason, a Cassandra who, through his music, brought truths to bear that even the most hardened heart could recognize.
With Seeger, we could all feel what he wanted us to feel — a positive closeness, an optimism about who we are as fellow travelers on this wild and wayward journey. We are more present in Pete Seeger's music, more convicted and mindful in our expressions of daily life.
But as usual, it did not take long for the American Extruded Culture Machine to crank out pseudo-talents like Bieber and his minions to ensure we're distracted.
For now, Bieber may rule the airwaves, drowning out Seeger's high-chinned brand of folk.